Craig Chalmers seeks more widespread drug testing
Last updated on .From the section Scottish Rugby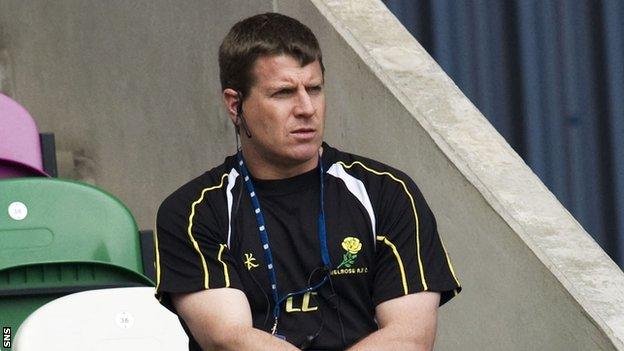 By Jane Lewis, BBC Scotland
Former Scotland rugby international Craig Chalmers is calling for more drug testing in Scottish rugby.
"The testing isn't as widespread as it should be," he told BBC Scotland.
"I'm not saying everyone's doing it but a number of guys will be experimenting. It's a case of educating the coaches and the fitness guys."
Melrose back Sam Chalmers failed a doping test at a Scotland Under-20 training session two years ago and admitted to taking two anabolic steroids.
Scottish Rugby statement
"As a governing body, we continually endeavour to educate players at all levels of the game on the consequences and repercussions which come with taking banned substances, from both a health and a sporting perspective.
"Scottish Rugby also works closely with our anti-doping partners, UK Anti-Doping and World Rugby, to ensure that our policies are highly effective in cracking down on the use of banned substances."
Last month, he told the BBC that, while he did not take an illegal substance, it was one that was "illegal in rugby" and that putting it in his body was the "worst mistake" of his life.
Now, as he nears a return to playing with Sydney club Southern Districts, his father has warned that the problem still exists in Scotland.
"Top-level players get tested regularly, I would say, age group rugby every now and again; but it's at the lower levels, the guys at the clubs, I wouldn't use the word rife but it is going on," he said.
"Players want to play for Scotland, Edinburgh or Glasgow. If they are not big enough or strong enough, the big thing is you've got to work hard.
"Sam made a very, very poor decision. He has lived with that for the last 23 months and is just about to come out of that."
In a statement, Scottish Rugby said it is "fully committed to the fight against doping in sport in order to protect the integrity of the game".
It says it has "two anti-doping educators, who will be hosting roadshows, starting next season, at clubs and schools throughout the country to educate and inform on the risks of illegal performance enhancing drugs".
The former British and Irish Lion praised the efforts of his former club Melrose in dealing with the problem, saying they take the issue seriously, but thinks more could be done by Scottish Rugby.