James Haskell backs World Rugby's anti-homophobia pledge
Last updated on .From the section Rugby Union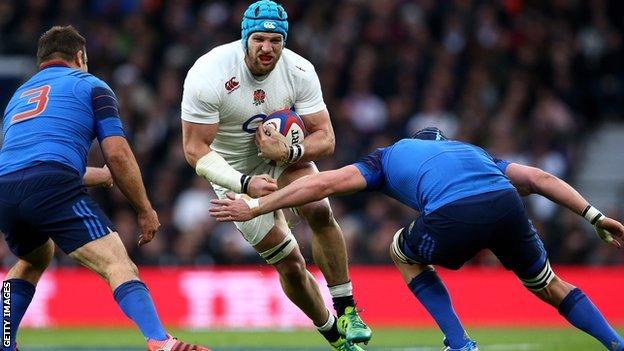 England's James Haskell says homophobic language remains "too common" in sport.
A recent 'Out on the Fields' survey, taken by more than 9,000 people, claims 77% of UK participants had "witnessed or experienced" homophobia in sport.
Rugby union's governing body, World Rugby, recently signed an agreement with International Gay Rugby aiming to "educate and eliminate homophobia".
"I think homophobic language is still too common in sport," said England flanker Haskell.
The Wasps skipper, 30, added: "Even if the jokes and banter you sometimes hear are not meant to be harmful, I think it creates an environment where gay people don't feel very welcome."
Wales winger Alex Cuthbert, 25, and former Australia captain John Eales, 44, have also put their voice behind World Rugby's pledge to eliminate homophobia.

Cuthbert said openly gay ex-Wales international Gareth Thomas and referee Nigel Owens have helped rugby become more aware of effects of homophobic language.
The study, conducted by Repucom and initiated by Bingham Cup Sydney, the World Cup of gay rugby, adds 70% of UK participants thought youth sport was not safe or welcoming to lesbian, gay and bisexual people.
The trio of international stars will send messages of support through social media for 'International Day Against Homophobia and Transphobia' on Sunday, 17 May.