Glasgow Warriors go from insipid to inspired at 'Fortress Scotstoun'

By Tom English
BBC Scotland at Scotstoun Stadium
Last updated on .From the section Rugby Union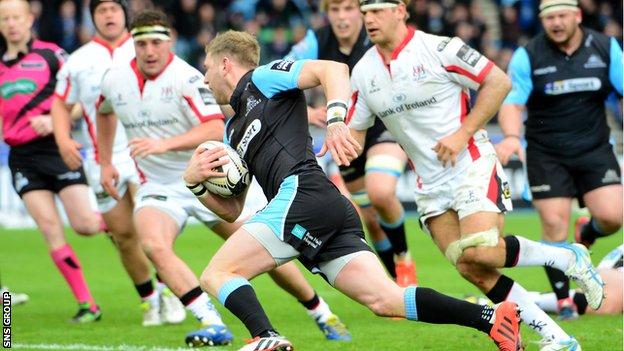 In the early minutes of the second half at Scotstoun there was a line-out on the main stand side of the pitch, a routine set-piece that wouldn't have mattered a damn except for the light it shone a light on Glasgow's mindset at the time.
Ulster were in position first. Organised and buzzing and in the lead; 10-6. Glasgow trooped into line sluggishly.
Jonny Gray stopped en route to take some instruction from the sideline and then assumed his place, slowly. Their mission to bank a home Pro12 semi-final was always going to be mountainous, but now, in these bleak moments, it had taken on the look of Everest.
As a team they lacked the characteristics that are normally as much of a given in this place as the wind and the rain.
They lacked aggression and continuity and any semblance of try threat.
They have individuals who bring badness to the table week-in and week-out but their edge had been blunted and, for once, the noise of the home crowd had been hushed. It was quiet. Too quiet.
It changed. Oh how it changed. The metamorphosis began with a near-clearing of the bench.
It wasn't so much a tactical masterstroke from Gregor Townsend as a desperate bid to galvanise his team; a rolling of the dice. Four new forwards appeared and brought some grunt with them. Suddenly things began to happen.
Niko Matawalu moved to the wing from scrum-half and found some attitude and space. Then Stuart Hogg came in a second wave. Silent for so long, he created a score down the right-hand side that reminded you of how special a player he can be.
Glasgow now had the lead but in the business of scaling that try-mountain it was merely akin to putting on the boots and arriving at the foot of the climb. Glasgow had less than 25 minutes to score three more times.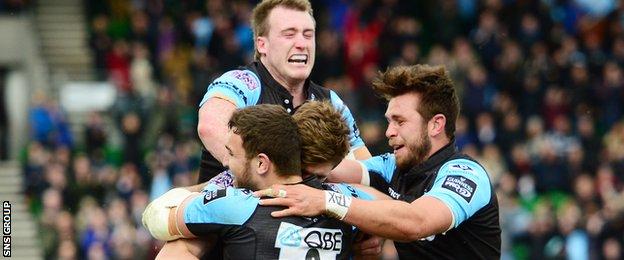 At Scotstoun they roused themselves, more in hope, you sensed, than expectation.
What happened in the next 13 minutes will go down in Warriors legend if they manage to go all the way and win the title in Belfast at the end of the month.
Hogg's audacity seemed to trigger self-belief in all those around him. It was as if somebody flicked a switch that made Josh Strauss rediscover himself as a ball-carrier and made Ryan Wilson rid himself of the horrors of the past six months.
They piled forward, a reborn force of wit and dynamism and power. Finn Russell was a glorious microcosm of all three when making roadkill of Paul Marshall, the Ulster scrum-half, for Glasgow's second try.
It was a delicious moment, but it still wasn't nearly enough. As it stood, Glasgow were heading away to the Ospreys.
Scotstoun is a cauldron in moments like this. It's not for nothing that Glasgow have an unbeaten Pro12 record in this place that stretches back to the autumn of 2013.
It would be fanciful to think that the Ulstermen were intimidated by the thunder of the home crowd. Rather it was the impact their noise had on the Warriors that was undeniable. It lifted them and carried them forward.
We have seen this amalgam before, this coming together of fans and players in a heady blast of inspiration and, here, we saw it again.
Ulster faded fast amid the onslaught. Andrew Warwick, their loose-head prop, got binned just after the hour-mark and Glasgow reacted to it like lions feeding on a carcass. When Ulster were at their weakest, they were made to suffer.
Russell dummied his way over for the third try and before Warwick's torment was up, they were hit with a fourth, Richie Vernon cutting a gorgeous line and galloping in for a score that brought them to the top of the table and a home draw against the same opposition on Friday.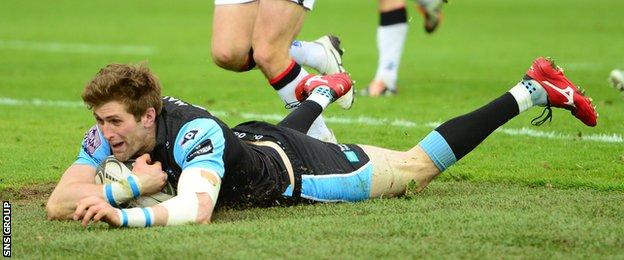 We say the same, but it may not be. Depending on their injury profile Ulster could be a very different beast next week.
They'll have Tommy Bowe on the wing from the start, as opposed to the bit-part he played here. Jared Payne and Darren Cave will be in their midfield presuming they recover from the shoulder and ankle knocks.
They'll have Paddy Jackson and their totem, Ruan Pienaar, at half-back.
Townsend calls Pienaar the best scrum-half in the world when he's afforded time and space to create. Much of what Glasgow do on Friday will centre around stopping the South African, dragging him into rucks and taking him away from the pockets of freedom where he tends to cause havoc.
Up front? A different proposition again. Rory Best, their great leader, will play and Ian Henderson will be bringing his own brand of menace from the beginning, probably at second-row where Franco van der Merwe is struggling. Roger Wilson should came back at number eight.
Neil Doak, the Ulster coach, will pick a team that will be driven on by the prospect of playing in a final in front of their own people at the Kingspan.
Townsend said at the start of the season that anything other than the title could not be classed as success. He left himself with no safety net and it was to his credit.
He spoke like a man who believed, absolutely, in his players and their capacity to deliver silverware and, as he watched them dig themselves out of a crater against Ulster, he wouldn't have been in a mood to change his mind.
It was a tumultuous stuff in a stadium that has become a fortress. In this battle of the Pro12 heavies, Ulster will come again on Friday - but with bigger guns.