Adam Jones: Harlequins to make most of Wales star - Conor O'Shea
Last updated on .From the section Welsh Rugby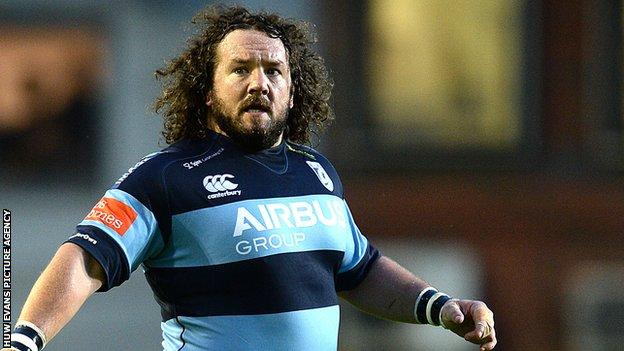 Former Wales prop Adam Jones could enjoy plenty of game time at Harlequins next season, says director of rugby Conor O'Shea.
The three-time Grand Slam winner, 34, will leave Cardiff Blues in the summer after signing a one-year deal.
O'Shea will help the prop fulfil his coaching ambitions and believes he has plenty to offer on and off the field.
"I've said to the youngsters, milk this guy for everything he's got but... he's not here to make up numbers," he said.
"I think the great thing from our point of view [is] the complementary nature of what Adam can do."
Asked whether tight-head Jones, capped 95 times, could continue playing beyond next season, O'Shea said: "One hundred percent, I'm not ageist... whether you're young or old doesn't matter."
"We know that if we get our scrum and maul back to where it has been historically… we will be a very, very formidable group to play against and that's what Adam wants to do.
"I know he's got it within him to not just play on to be getting a contract, [but] he wants to play on to win and mentor young players. We'll be tapping into his experience."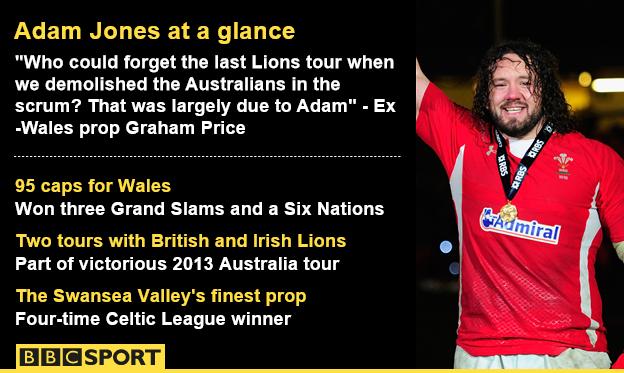 O'Shea, who has also secured the services of Wales centre Jamie Roberts, says he is keen to help Jones learn the art of coaching.
"It would be stupid not to. The guy is a rugby education in himself," he said.
"I think we've got two of the most exciting young tight-heads in the game (Will Collier and Kyle Sinckler), who we haven't had at our disposal as much we would like this year but they'll get over those injuries and they'll learn off Adam. It's going to be exciting.
"One of the greatest learning curves [Harlequins prop] Joe Marler has ever had was the infamous game down at the Millennium Stadium a few years back (when England were beaten 30-3 by Wales) and Adam, whether it be legally or illegally, taught him a few things that day that stood Joe in massively good stead.
"He probably got pulled apart after that particular game. It wasn't his fault but he learned from what Adam was doing.
"When we signed [Adam], Joe just sent me a text and said 'Glad he's on my side now'."