Six Nations must stay on free-to-air TV says WRU chief Roger Lewis
Last updated on .From the section Welsh Rugby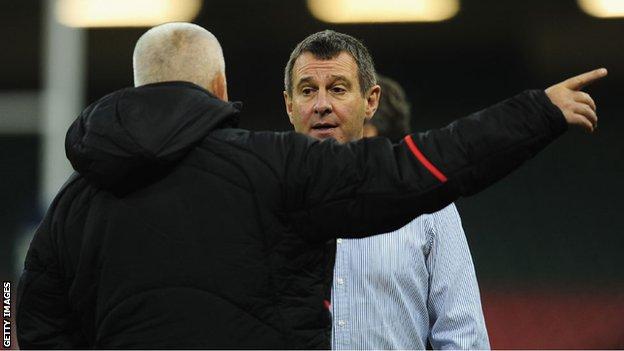 The Six Nations Championship must remain on free-to-air television in future, says Welsh Rugby Union group chief executive Roger Lewis.
The current deal with the BBC runs until the end of the 2017 tournament.
But the Six Nations board may consider offers from pay-television providers when the rights are up for renewal.
"This is a hot topic... I've made my position absolutely clear: I think the Six Nations has to stay on free-to-air television," Lewis said.
"Look at that last Saturday [of the 2015 Six Nations], it was fantastic.
"Millions upon millions of people watched it... those numbers are not produced on pay-to-view television.
"So for the game of rugby it's so important, but for Welsh rugby it's critical.
"We've got to get the right deal though."
WRU chairman Gareth Davies has previously said that he and his counterparts among the other five nations would prefer the tournament to remain on free-to-air, but warned that he expected a "substantial increase" for the next deal.
Under rules set out by Ofcom, the UK's independent regulator, the Six Nations is considered as a Category B event, meaning it can be shown on pay-television provided there is sufficient secondary coverage, such as highlights, on free-to-air.
Only Group A events such as the Olympics, the football World Cup and Wimbledon are ring-fenced for free-to-air broadcast.
Lewis will leave the WRU after the 2015 Rugby World Cup to become the new chairman of Cardiff Airport.