Jason O'Halloran's 'perfectionist gene' to target Scotland's ills
By Jamie Lyall
BBC Scotland
Last updated on .From the section Scottish Rugby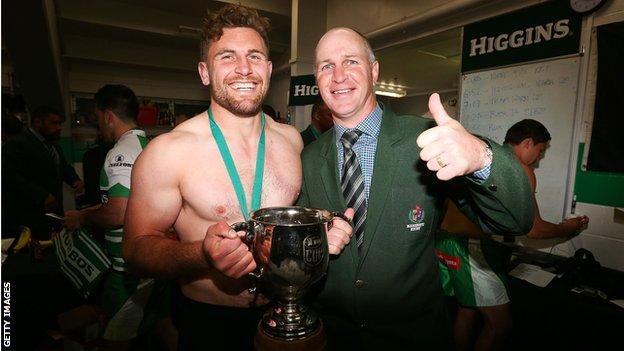 Carving out a professional rugby career around the disruption and discipline of four daily insulin injections fostered a meticulous streak in Jason O'Halloran he likes to call his "perfectionist gene".
Diagnosed with diabetes at 21, the slight midfielder learned to plan his meals and listen to his body.
He had to think faster, read the game better than his bigger, stronger rivals; All Blacks like Eroni Clarke and Frank Bunce. He became established as an astute, dependable cog in a Wellington Hurricanes backline that sparkled with the talents of Jonah Lomu, Tana Umaga and Christian Cullen.
"I had to be a bit better at picking up early cues around how they were going to defend or attack to give myself a head start," he says.
"I always saw myself as an advocate for those guys - my job was to provide them with quality ball so they could do their thing. What I really appreciate in rugby is selflessness; you need to build that by having a good time off the field too."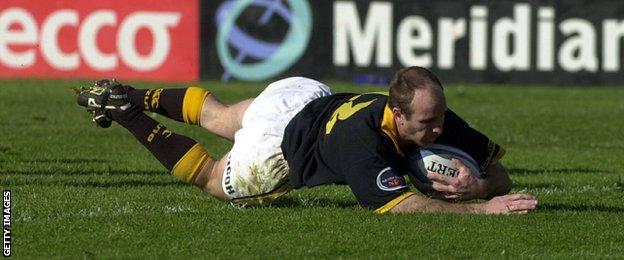 Rugby took him from New Zealand's capital to Japan, overcoming the death of his mother to win a solitary All Blacks cap, before he dipped his toe into the turbulent waters of coaching.
Opting not to dive headlong into a top role, he served a shrewd apprenticeship under Dave Rennie and Chris Boyd, two leading lights of Super Rugby, and former Ulster boss Mark Anscombe, with the Manawatu Turbos and New Zealand Under-20s, gathering knowledge and insight from each.
"It's that perfectionist gene," he says. "I wasn't keen to jump in at a level where I was going to be learning on the job and be a mediocre coach at (provincial) ITM Cup level. I wanted to be in the top third of that group."
The cash-strapped Turbos were, O'Halloran admits, a "massive salvage job"; a squad assembled and cultivated the hard way, with no marquee stars and a strong reliance on local talent.
After four years nurturing the region's academy players, producing a handful of All Blacks, his perfectionist gene was satiated and he was ready to plough his own furrow.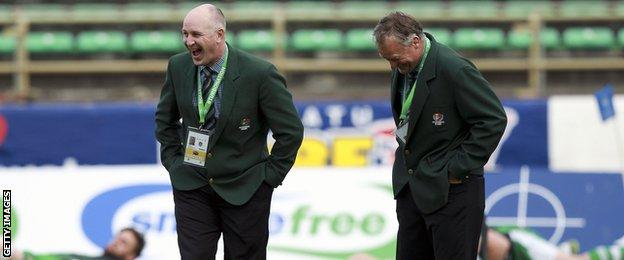 He took over from Rennie as head coach and, in 2014, with an intelligent, incisive brand of rugby, secured Manawatu's first title for over three decades with Scotland supremo Vern Cotter's brother Jeremy, his trusted lieutenant.
O'Halloran recently knocked back two offers to join Super Rugby coaching set-ups, but when Cotter Snr came calling, he decided the chance to work with an international backline was too good to pass up.
"I see a lot of similarities between Scotland and the challenge I took on when I first came to Manawatu," begins O'Halloran, who moves to Murrayfield as backs coach in November after the Rugby World Cup.
"And there are a lot of comparisons I can make with the cattle you guys have got and what I've got. The underdog tag is one I quite enjoy, but at the same time, if we get Scotland to where we want to get to, we're going to have to get comfortable with that favourites tag. We've got to snap out of that."
His analysis on the players he soon inherits has begun, spooling through footage of the Scots' Six Nations Championship whitewash.
"I'm really excited by the group of talent you've got there," he says. "Stuart Hogg was one of the leading players in the Six Nations in terms of attack stats, line breaks, defenders beaten, offloads, metres made; he's an outstanding talent.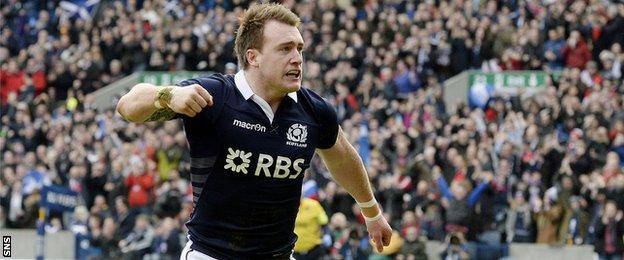 "Likewise, I think Mark Bennett's an outstanding talent, he's really good on his feet, always looking to attack.
"I like the look of Dougie Fife on the wing. Although Finn Russell's got some rough edges, I like his intent in attack and he uses those blindside wingers and inside channels pretty well."
It may not require astounding tactical genius to identify freneticism as detrimental to Scotland's efforts to cross the whitewash, but O'Halloran has a plan to refine his new recruits.
"What I'd like to do is add a little more composure to the group once they get in behind the opposition," he says. "Throughout the games I watched, there were times where Scotland were really dominant but didn't get any points."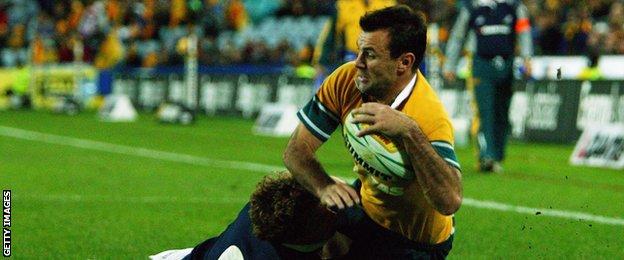 O'Halloran favours a co-ordinated but holistic approach to the game, influenced by Australian stalwarts Joe Roff and Toutai Kefu he worked with in Japan, and thrives on strong bonds with his playing group, tuning in to what makes them tick. His expertise is likely to prove invaluable to the development of Scottish rugby's flagship regional academies and schools set-up.
"The Australians opened my eyes to a different style of footie; I think we're quite insular in New Zealand and we think our way's the only way," he says. "But, when I was talking to them, I thought, if I can amalgamate some of that with what we do in New Zealand, I can come up with a reasonably exciting style of footie.
"We need to work on accuracy - offloading is a really important weapon, but inaccurate offloads kill you. My team in the ITM Cup last year had the fewest offloads in the competition but the most line breaks.
"Being selective with our offloads is going to be key - that's probably where Scotland do let the pressure valve off the opposition. They throw a couple of dusty offloads and enable opposition to escape."
It is most intriguing to hear O'Halloran talk of the pitfalls of "endless drills" - perhaps a trait of past Scottish teams has been a rigid adherence to flagging game-plans, backline play without freedom that represents sheer sacrilege in the Kiwi heartlands.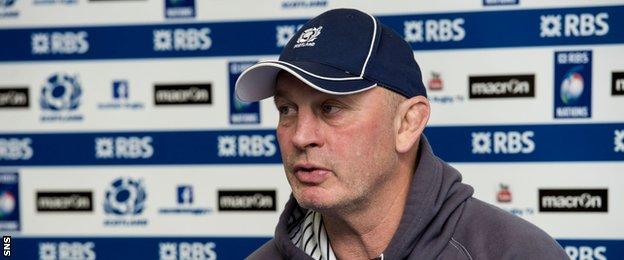 "We need to give them as much game-relative training rather than doing everything via drills," he says.
"I think more game awareness stuff at training would be really good for Scottish guys so they're making more decisions in training rather than running through drills endlessly. That's how I look to develop my players; they certainly have more fun and they're competing more regularly.
"I guess I'm making a few assumptions based on what I'm seeing in games."
Engineering Scotland's attack has long proved an onerous task, but an hour in O'Halloran's company, together with disgruntled rumblings over his departure in the New Zealand media, leads one to make the assumption that Cotter has chosen his perfectionist wisely.