Worcester v Bristol: Championship final 'unique', says Warriors' JT
Last updated on .From the section English Rugby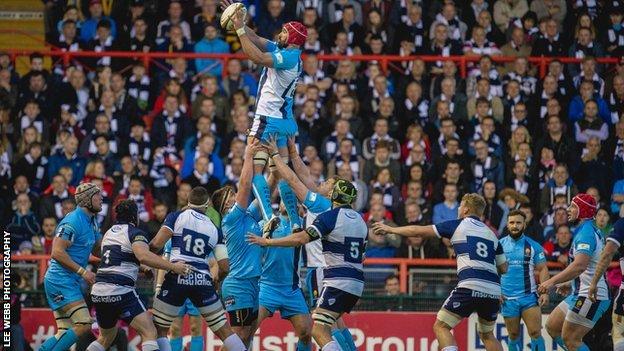 Worcester forward Jonathan Thomas says Wednesday night's Championship play-off final second leg against Bristol comes with a 'unique' pressure.
The vastly-experienced 32-year-old former Wales international is well used to the biggest of rugby occasions.
But he was still taken aback by the atmosphere generated in the first leg at Ashton Gate last week and expects it to be matched at Sixways.
"Pressure wise, it's as big as anything there is," Thomas told BBC Sport.
"The unique thing, and I spoke about this with the Bristol lads after the match the other night, is that there is so much pressure on the game. You can't name any other final played over two legs.
The Championship play-off final's Wales factor
Worcester lock forward Jonathan Thomas scored seven tries in 65 appearances in his eight years as a Wales international from 2003-11.
Warriors also have Welsh flanker Sam Lewis in their ranks, after making the same move from Ospreys in early March, but, after scoring a hat-trick in the semi, he misses both legs of the final following the sudden death of his father.
Bristol have five Wales internationals in their ranks - Dwayne Peel (76 caps, 2001-2009), Ryan Jones (74 caps, 2004-14), Gavin Henson (33 caps, 2001-11), Nicky Robinson (13 caps 2003-09), Matthew Morgan (one cap, 2014)
"If you play in a Heineken Cup quarter-final or a Six Nations decider at the Millennium Stadium, there's pressure, but this is about the difference between playing at the elite level or not. People's jobs are on the line.
"This is the difference between success and failure. You've got two really good sides, two quality coaches, two ambitious clubs up against each other and someone's going to lose out, so much riding on it.
"Put all that into the melting point and it does make for a great spectacle. Last Wednesday night was a great occasion - and I've played in some big games."
Thomas admitted that being one of a handful of Wales internationals on the pitch at Ashton Gate, along with former team-mates Ryan Jones, Dwayne Peel and Gavin Henson, added to the exhilaration.
"For me particularly it felt very much like a derby game. Like playing against your brother in the back garden. You don't want to beat anyone more than that.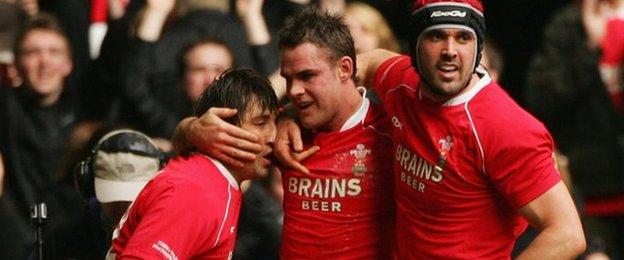 "I've played with Gavin since I was 16 right though when we started at Ospreys, Dwayne when I was 20 and then Ryan too. And they'd got Matthew Morgan out there too."
It added to the irony for Thomas them that it should be Henson, Bristol's most influential player with his long kicking both from the tee and out of hand, whose second-half exit on a stretcher with a broken shin may yet prove the turning point of this contest.
"It was a pretty nasty one. He needed gas," added Thomas. "I sent him a text the next day to say how well he'd played and that my thoughts were with him.
"He was outstanding on the night, but it was no surprise to me. I've seen him do that countless times.
"Gavin was unlucky in the middle stage of his career. He suffered a lot of groin problems and that stopped him kicking. But he's over that now and when he's on his game there's nobody better. He's been rejuvenated at Bristol. The lads there say he has been great."