Bath v Saracens: Jacques Burger on the Premiership final
By Chris Jones
BBC Radio 5 live
Last updated on .From the section Rugby Union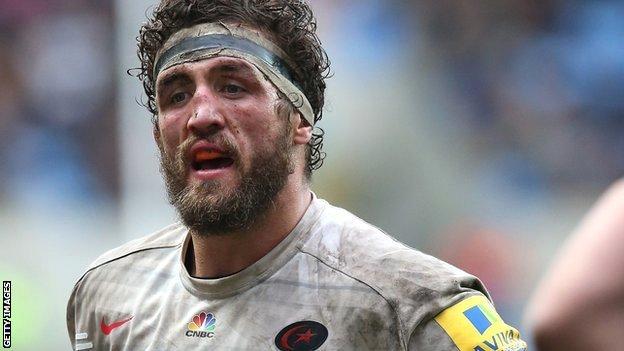 If Saturday's Aviva Premiership final is being billed as "Beauty against the Beast" - the carefree attacking play of Bath's young backs against the suffocating Saracens defence - then there is little doubt which individual player represents the latter in this analogy.
When Sarries are at their best - when their defence is at its most intense and brutal - flanker Jacques Burger invariably leads from the front.
Against Clermont Auvergne in the Heineken Cup semi-final last year, Burger made 28 tackles as Saracens steamrollered their way to the final.
And the Namibian was at it again last weekend as the north Londoners bullied their way past defending champions Northampton to reach a second successive Premiership showpiece.
Quite simply, when Burger is good, so too are Saracens, and the 31-year-old admits he feels a personal duty to spearhead the defensive effort.
"Yes I definitely do; you can't wait for other guys to do something," Burger told BBC Radio 5 live this week at the club's Harpenden training base.
"We always talk about being first and throwing that first punch, and I feel personally responsible in the defensive part of it to make a statement.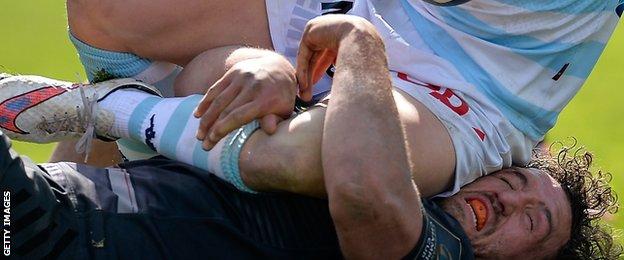 "It doesn't always happen. I make a lot of mistakes. You get bumped the odd time, but to be there mentally and try and put the opponent under pressure and dominate them physically is vital in the essence of the game to get the rest of the guys up.
"It's infectious - it gets a team's vibe up and up - and that's the little bit I can do."
One hit from Burger on Ken Pisi rocked the foundations of Franklin's Gardens, as the Saracens' 'Wolfpack' defence prevailed against the champions.
"It was something we didn't really get throughout this year," Burger admits. "We knew the challenge of going to Northampton was massive. If we weren't up for it physically they would dominate us.
"So it was great seeing all the boys being really up for it. Physically we were very up for it."
Does Burger personally have any regard for his own safety? It's hard to imagine he does when he flies - often recklessly - into tackles.
"You think about it a lot going into the match, try and keep yourself as fresh as possible. But as soon as the kick-off goes you just run around and try and smash anything that moves," he says.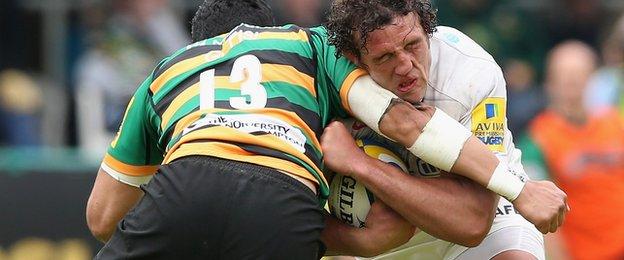 The fact Burger is still operating at this level is a minor miracle considering he spent 20 months out of the game with a serious knee injury suffered three years ago, and he still has to ice the joint daily.
And although he has been recovering well this year, he admits at the age of 31 he is entering the twilight of his career.
"It's bloody hard work, but I know I haven't got too much longer left in me. I don't know how many opportunities I will get like this to win a Premiership so I'm excited to go out there and just have a crack," he said.
Which brings us on to Bath, and Twickenham this weekend. The ultimate test of the Saracens Wolfpack? And is he putting a bullseye on the chest of Bath's England fly-half George Ford?
"Not at all. I think he's one of those guys that if you push too hard on him he can step you, he is such a good player, a special player. He will punish you if he gets the opportunity," Burger explained.
"I try not to target any specific player because one to 15 they have an incredibly good team.
"They are such a good team with such dangerous players. So it's going to be one of the biggest challenges of the year.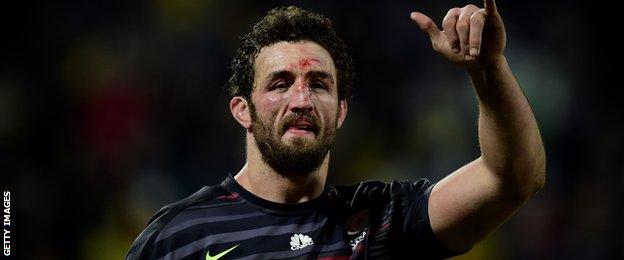 "Defensively we need to be up for it, and we will be."
All over the pitch on Saturday there are individual battles to saviour, and few will come with more of a health warning than Burger's head to head with Sam Burgess in the back row, with Burger admitting he would love to put Burgess on his backside early on.
"It would be nice to do that! But I'm sure he will be saying it will be nice to bump me and run over me like a truck in the first carry," added the Namibian.
"We are so different, me and him, because he is such a good attacking player, and I am more a defensive back rower.
"I'm excited for it. Playing against the best in the world brings the best out of you. I have massive respect for them."
No doubt the feeling is mutual.