Dylan Hartley: England hooker 'gutted' to miss Rugby World Cup
Last updated on .From the section Rugby Union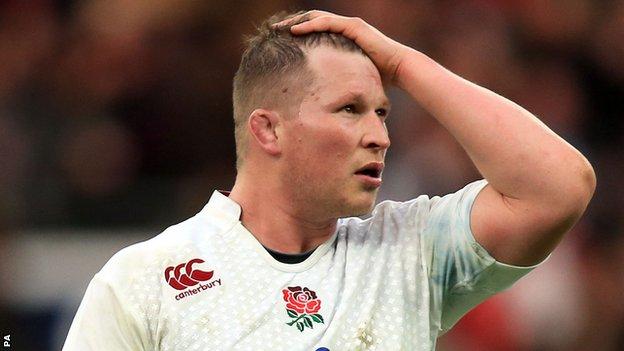 Banned England hooker Dylan Hartley is "gutted" to be missing the World Cup but denies reports he is ready to quit international rugby.
"Am I gutted about missing the World Cup? Stupid question - of course I am," he told The Sun.
"There is no truth in the speculation I may quit international rugby."
Hartley's ban would have ruled him out of England's opening World Cup game against Fiji on 18 September.
He was warned by head coach Stuart Lancaster last year over his disciplinary record, which has now seen him banned six times, missing 54 weeks of his career through suspensions for offences ranging from gouging and biting to abusing a referee.
Hartley, who has 66 international caps, added: "I've been unlucky with getting it wrong on the big stage a few times now. Maybe it's down to emotions?
"I feel I can still contribute and as long as Stuart Lancaster thinks that too, that's all that matters. I need to channel my hurt into training because, when the World Cup starts, I need to be in a good place fitness-wise in case of injuries."