Rugby World Cup: Tom English picks his Scotland squad

By Tom English
BBC Scotland
Last updated on .From the section Scottish Rugby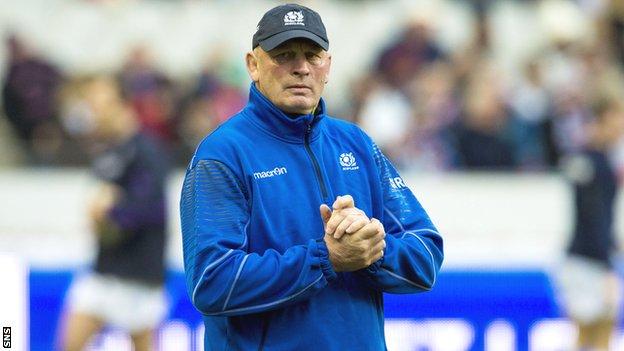 Now that Vern Cotter has his in place the rest of us can start second-guessing about who's going to make the cut and who isn't come the deadline on 31 August, the point at which the current group of 46 players is going to have be culled to just 31.
Some things we already know. Cotter is not for weakening on the Kelly Brown front. He's also not a fan of Roddy Grant in the back-row - that's a harsh call on Grant - and neither does he have Geoff Cross or Dougie Fife in mind, despite the pair of them having played a part in the Six Nations.
Cotter calls his squad a "living document" - by which he means it could change at any time.
Brown, Grant, Cross and Fife won't be taking much comfort from that, though. Not with 46 names on the list. It's not just going to take one injury for them to enter the equation, but multiple injuries. They need something akin to a plague to strike specific areas of the squad for them to get a look-in now.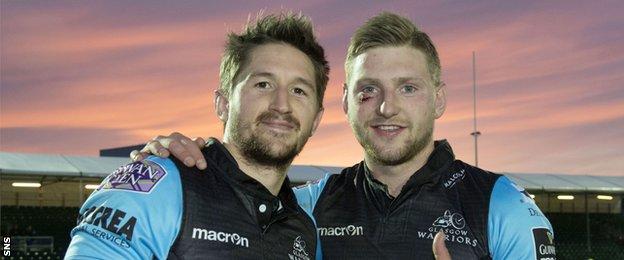 There are others who have made the long-list but who will surely not make the short-list - Damien Hoyland, Rory Hughes, Allan Dell and Hugh Blake, although in the case of Blake, you can't be so sure. Cotter is sweet on him. He has obviously seen things in the flanker that few others have seen.
This is all a process of elimination. If you take out those four that leaves you with 10 more players to cut before you're left with your final 31. There are four scrum-halves in the training squad. A maximum of three will make it - Greig Laidlaw, Sam Hidalgo-Clyne and either Henry Pyrgos or Chris Cusiter.
Given his excellent end-of-season form, particularly his outstanding performance in the Pro12 final, Pyrgos has to be the hot favourite.
So, we're down to a cut-list of nine.
Tom English's Scotland World Cup squad
Outside backs (5): Stuart Hogg, Tommy Seymour, Sean Maitland, Sean Lamont, Tim Visser
Centres (4): Mark Bennett, Alex Dunbar, Matt Scott, Peter Horne
Stand-offs (2): Finn Russell, Duncan Weir
Scrum-halves (3): Greig Laidlaw, Sam Hidalgo-Clyne, Henry Pyrgos
Props (4): Alasdair Dickinson, Gordon Reid, WP Nel, Jon Welsh
Hookers (3): Ross Ford, Fraser Brown, Stuart McInally
Locks (4): Richie Gray, Jonny Gray, Grant Gilchrist, Rob Harley
Back-rows (6): Ryan Wilson, Adam Ashe, Blair Cowan, John Barclay, Josh Strauss, David Denton
The split between backs and forwards is most likely going to be 17 forwards and 14 backs. In the case of the backs - and in the hope that they will all be fit - you get to 14 very quickly. There's the three scrum-halves, then Stuart Hogg, Tommy Seymour, Alex Dunbar, Mark Bennett, Matt Scott, Finn Russell and Duncan Weir. That's 10.
Only four left. Sean Maitland is one. Now only three. Sean Lamont makes it because he's a wing who can cover the midfield. Peter Horne makes it because he's a centre who can cover at stand-off. That leaves one spot - probably a winger. Tim Visser could take it.
That's your 14. Part of the fun of the game is that you could lock 50 people in a room and they'd all come out with a different combination and that's especially the case when you think about the forwards.
Within the 17 forwards, what's the split? Three hookers, four props, four locks and six back-rows. That part alone would cause rows.
The three hookers? Ross Ford, Fraser Brown and Stuart McInally, who makes it because he has that magic quality of versatility. If needs be, he can do a job in the back-row where he excelled off the bench for Edinburgh at times this season.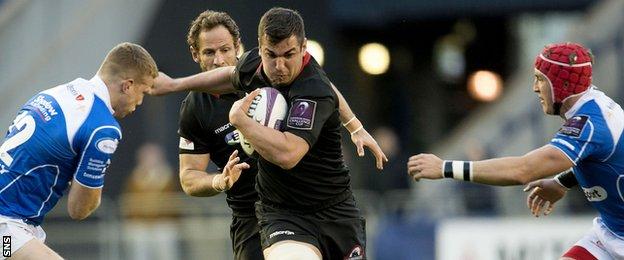 The props situation is made all the more fascinating - and uncertain - by the fact that the two mainstay tightheads are not in the training squad. Of the last eight Tests - five in the Six Nations game and three in the autumn - Euan Murray has started six of them - one of the Tests he missed being on a Sunday against Wales, when he was not available because of his religious beliefs.
Of those eight matches, Cross came off the bench to replace Murray, who has retired from international rugby, in six of them as well as starting one - against Tonga. But he's been left out by Cotter.
On the face of it, it's a strange decision but Cross has disappeared off the face of earth at his club, London Irish, and that move south has probably cost him his chance of playing in the World Cup. He's just not playing enough rugby.
Alasdair Dickinson is a shoo-in at loosehead, but who's with him - Gordon Reid or Ryan Grant? Reid might just shade it but, of course, it could be that Cotter goes with five props and one less back-row and both Reid and Grant make it.
On the other side of the scrum, where the post-Murray and Cross chasm exists, it's WP Nel and Jon Welsh.
The second-rows begin with Richie and Jonny Gray and, presuming he's fit, Grant Gilchrist, Scotland's most short-lived captain in history, with the fourth slot going to Rob Harley, who's in the long squad as a second-row as opposed to a blindside, ahead of Jim Hamilton or Tim Swinson.
Again, versatility is the key. Harley can bring his own brand of menace and mayhem to both rows.
Behind the second-rows you're looking at six back-rows. Johnnie Beattie started the autumn Test with Tonga and the Six Nations matches with France, Wales and Italy but he's nowhere to be found in the squad of 46. The final six we'd go for are Josh Strauss, David Denton, Blair Cowan, John Barclay, Ryan Wilson and Adam Ashe.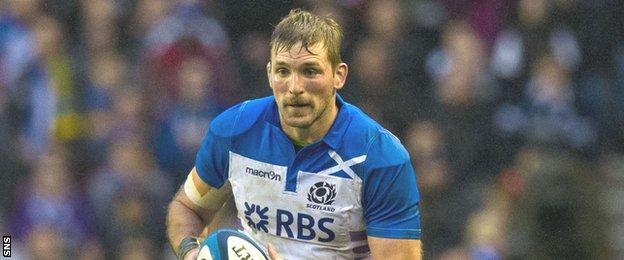 Strauss can play six or eight and if you get over the fact that he's in the squad on the dubious residency rule then he could be a terrific addition. Denton and Cowan are also certainties.
Barclay has made a comeback from the wilderness and the hope is that he completes his journey to the full squad come the end of August. Scotland needs his leadership as much as his ability as a fine number seven.
Not long ago, Wilson wouldn't have had a prayer of getting near this squad because of his off-field behaviour but his form for Glasgow in recent weeks has been powerhouse stuff and he's making himself hard to ignore again - for the right reasons this time.
Ashe completes the six, but he needs to find his best stuff in those World Cup warm-up games or he could be vulnerable. At the peak of his game, he's powerful and direct and exactly what Cotter is looking for.
That's a squad of 31, but it will change. Injury will change it, for a start. Or loss of form. Or the kind of head-wrecking unforeseeables that are testing Stuart Lancaster's patience at the moment down in England. There's always something that will upset the best-laid plans.
For now, Cotter has taken the first step towards the World Cup. He has many more to take, but time will pass quickly from here on in.