Jerry Collins: Shane Williams joins tributes to former All Black
Last updated on .From the section Rugby Union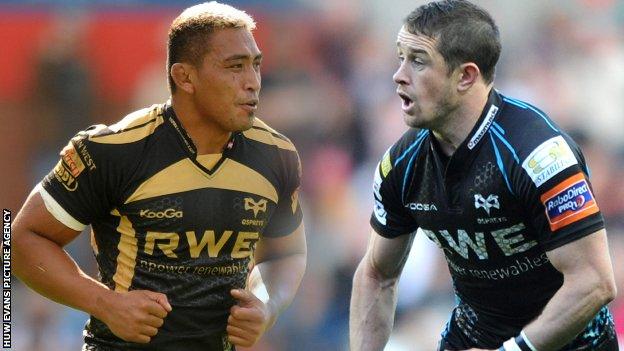 Former Ospreys star Shane Williams and coach Sean Holley have joined the rugby world in paying tribute to ex-All Black Jerry Collins, who has died in a car crash in France along with his wife.
Reports in France say a bus was in collision with the couple's car in the early hours of Friday, also leaving their two-month-old daughter, Ayla, in a critical condition in hospital.
The legendary New Zealand flanker, 34, played for Ospreys from 2009 to 2011.
"It's horrible news," said Williams.
"I've been speaking to Lee Byrne, James Hook and a couple of the other ex-Ospreys, and we still can't believe it. It's terrible news for the family and just fingers crossed at the moment that Ayla can pull through," added the prolific Wales winger, who retired from his playing career in 2014.
"Jerry was the kind of person who would always make the effort to come and meet you.
"All the people who played against him and with him have always kept in touch because that was the personality he had. He was always very friendly."

Collins helped Ospreys win the Magners League in 2010 and his former head coach at the Welsh region, Sean Holley, says he was "a warrior on the field".
An Ospreys statement added: "He was his own man, a true individual, and a giant of the world game, Jerry made a huge impact during his short time in an Ospreys jersey and will be sadly missed by everybody in rugby, his family and friends."
The Welsh Rugby Union said: "Jerry will be remembered as one of the most ferocious players on the field in the professional era, but also as one of the nicest off it."
The Samoa-born back-rower spent two years in Japan playing for Yamaha Jubilo, from 2011-2013, before joining French second-tier side Narbonne in January 2015.
He made his All Blacks debut in 2001, captained the side three times and played for New Zealand at the 2003 and 2007 World Cups.
"He was a legend of the game as an All Black [and] he had some enormous performances for the Ospreys... In the big games, he fronted up," said Holley.
"He was a true character and was much liked by the boys and off the field he would give up his time, particularly for the younger fraternity, and I would imagine there are a lot of them this morning who are very, very sad.
"Fans loved him because he was such an iconic character. He would go and share a beer with them after games.
"He loved life, he loved people. It's a sad, sad loss."