Mark Dodson bullish about Scottish rugby, despite cash limits

By Tom English
BBC Scotland
Last updated on .From the section Scottish Rugby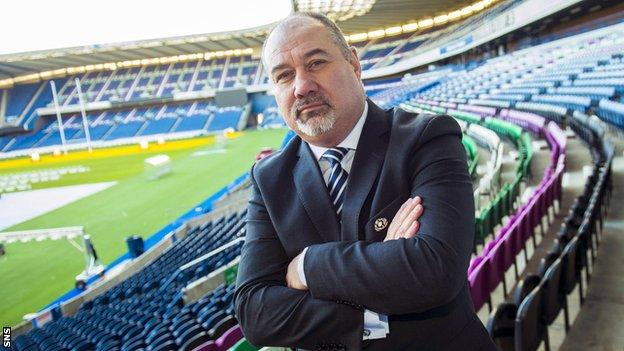 In 20 years of the professional rugby age you could probably count the good news stories in the Scottish game on the fingers of one hand - or both hands if you were being generous.
On Thursday, Mark Dodson, the chief executive of Scottish Rugby, spoke about the union's latest rugby academy, operating out of Edinburgh Napier University. The Edinburgh programme is run alongside others in Cumbernauld, Aberdeen and the Borders and all are for players age 14 and up.
"Across all four academies we'll be casting the net wide to find the very best players at each age level and we'll probably take in about 90 athletes this year and that number will grow as we become more expert and get fully up to speed," said Dodson.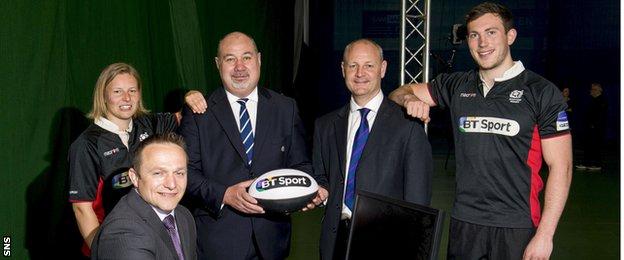 "Everywhere else [the main rugby nations] has had academies for about 15 years and we have fallen so far behind because of finance but also because we never really came to terms with professionalism until recently.
"You have to recognise where we came from. We were about eight to 10 years behind [in rugby infrastructure]. This is the fourth time we've had a go at professionalism and the first three we got wrong."
In a wide-ranging interview on other matters, Dodson shares his thoughts on interest in Glasgow Warriors' coach and players, where Edinburgh could soon be playing, residency rules and the Scottish Sevens team.
'Glasgow's stars: I've had phone calls'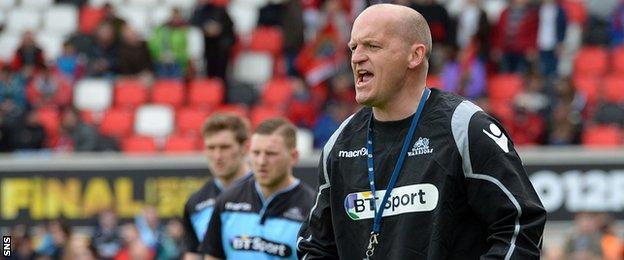 The by-product of Glasgow's progress under Gregor Townsend, their ascent from small crowds and no joy to 10,000 sell-outs and silverware, is that their talent is now being watched more closely than ever.
"It's not going to be easy [to hold on to the big names]," says Dodson. "These guys are hot now. If we don't recognise that the Finns [Finn Russell] and the Hoggys [Stuart Hogg] and the Gregors [Gregor Townsend] are not in demand then we're crazy.
"What we've done, though, is have continual dialogue with the players and their agents explaining the journey and getting them to buy into it and saying to them they can win things here."
Glasgow have some very young and highly-marketable Scottish assets - Hogg, Russell, Jonny Gray, Mark Bennett, none of them over 22 years of age - and the fight to keep them starts now.
"Sometimes when a foreign player goes to France or England he can be played to death," Dodson claims.
"They respect how they are looked after here. They don't easily trade that in. It's not all about money. It's massively about money, but it's not all about money.
"I've had phone calls, from a range of clubs about a range of players. Gregor? I haven't heard anything about Gregor but I hear what you guys hear and that there is interest in England and France.
"He's a smart guy. He built this side and he's probably going to want to see the dividends. He knows how much we value him. He's just won his first trophy as a coach.
"Why would you want to walk away and leave at this stage? My instinct is that we're not going to lose him. The players? I'm confident. I think you'll find there'll be no surprises next year."
'Residency rules - I live within the world I'm given'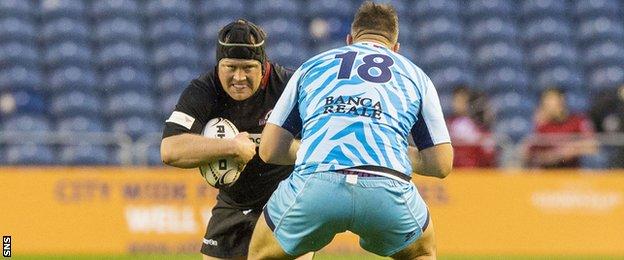 When Vern Cotter announced his training squad for the World Cup, the names of Josh Strauss, WP Nel and Mike Cusack drew comment because they qualified through the controversial three-year residency rule. Indeed, 19 of the 46 players chosen by Cotter were not home-developed.
Every major nation embraces the residency rule, even those nations who are veritable player factories. Does it make right, though?
Dodson argues: "When you've got five million people in the country and a small player base, it's unreasonable to think that we can produce - without any academies or a firm grip on professionalism - 31 players [for the final World Cup squad] that can compete on the big stage, especially when England and New Zealand and Australia are pulling people in from pretty much everywhere.
"My job is not to sit and pontificate about the rights and wrongs of the thing, my job is to win. I've got to use all the tools at my disposal to make it happen.
"If you want us to be a winning team we have to do this, but don't complain to me if we end up picking 31 Scots and fail, because I'll get pilloried for that and so will the national coach for not doing what everyone else is doing. I just live within the world I'm given."
'Scott Johnson - the criticism has been vicious and untrue'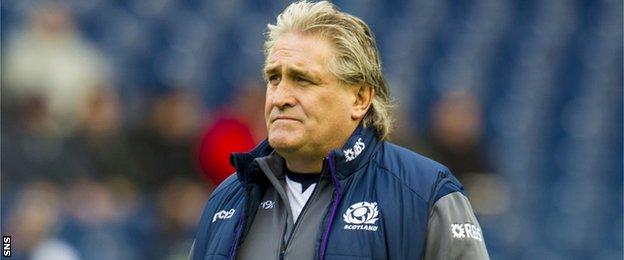 Scott Johnson is an entertainer and a survivor. Scotland's director of rugby is also the most controversial character in the domestic game given that not many people know, precisely, what he does for that £250,000 salary.
His boss defends him robustly, saying: "Everything you see here in this academy, all the planning around the academies, the work on player acquisition, oiling the machine between Vern and Alan [Solomons, Edinburgh's coach] and Vern and Gregor [Townsend] - that's Scott Johnson. He works tirelessly. I think it's money well spent.
"Scott's problem was that he was a national coach when things didn't go well and sometimes people don't react well to the way he handles himself in the press. They don't think he's serious enough or cares enough. He cares more deeply than virtually anyone I've met.
"He won internationals when he was coaching the team. He capped 13 or 14 players in that period because I asked him to. Holding the status quo post-Andy Robinson was not something we wanted to do. You saw the average age of that squad.
"We wouldn't be in a position with this squad if Scott hadn't done the things he did. He took an awful lot of criticism to allow us to get where we are now. Some of it was personal, vicious and fundamentally untrue."
'We said to Vern, who do you want?'
In the appointment of Jason O'Halloran as Vern Cotter's backs coach, post-World Cup, Scotland added another foreign operator to a ticket that already had a Kiwi as head coach, a Welshman as forwards coach, and an Australian as director of rugby.
Dodson rejects the view that the Scottish coach is becoming an endangered species.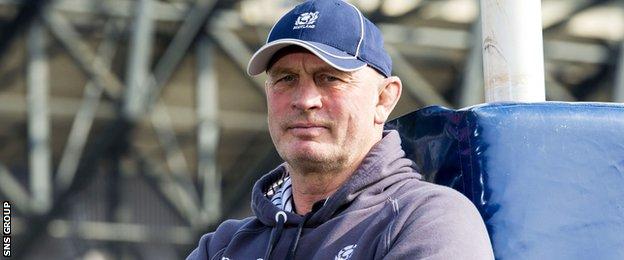 "I have to get the best people I can get," he explains. "The best we believed we could have got was Vern Cotter and we managed to secure him against all odds.
"Once Vern was in place we had to give him the space to say who he wanted around him. At first, he said 'I want to stick and see what I've got'.
"He spent six months looking and then he wanted to make changes. You then say 'who do you want?' One of the outstanding young coaches in New Zealand at the moment is Jason. Vern knows him well, he works with Vern's brother. He's a new voice.
"And then there's Nathan Hines. He's hugely respected in rugby circles and he's also the kind of bloke that people have been saying we need to get in order to make us more difficult at the breakdown.
"We want Duncan Hodge [the current backs coach] to get real life, week-in, week-out management experience. After the World Cup, that's what he will do with Edinburgh. You now have Duncan and Stevie Scott, two of our best coaches, running with Alan Solomons.
"My ambition by the time I finish here is to have Scots in all the key coaching positions.
"We have 38 coaches across academies, age-grade, professional and national, and 32 of them are Scots. We're bringing them through."
'Sevens team - it's going to be different'
The confusion and uncertainty surrounding the future of the Scotland Sevens team caused considerable rancour in the game. The vibe from Murrayfield was that the Sevens side was going to be killed off, then it was announced that it was surviving, but nobody was quite sure in what form.
Dodson confirms how close the Sevens side came to the axe while revealing that though the team will live on, its purpose will alter.
"This year we faced unique financial problems. We had a £1.2m reversal on our income because of the euro collapse. All our money paid to us from World Rugby and European Rugby is paid in euros and that's cost us £1.2m.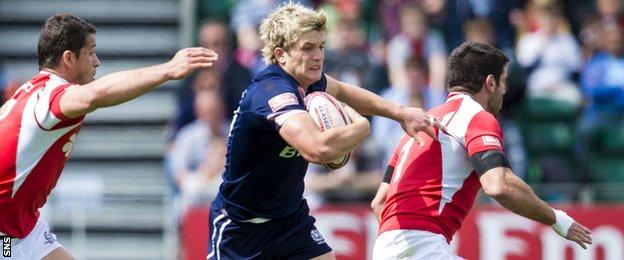 "On top of that, I've put an extra £1m into the pro teams to widen and deepen the squads so that we can be competitive at a time when the World Cup is on. That's now a £2.2m reversal.
"I told the Sevens group that we had to make some tough choices. Sevens this year is going to cost around £1.1m to do it the way we have done previously because there are now 10 tournaments.
"And we lost the Sevens leg in Scotstoun and we're furious about that. It was a real blow. No justification for it. We were just about to break even after eight or nine years' effort of making losses and it's taken away from us. The timing was shocking, the way it was done was appalling.
"The truth is we did consider closing the Sevens team, but when we looked at the overall budget perspective we managed to trim other things and keep Sevens.
"The Sevens pathway is going to be slightly different. It's going to be a pathway to develop 15s players, it's not a pathway to develop Sevens players. It's about finding the right way to give players game time when they're not getting game time and it's about bringing people back from injury, but we're going to try to compete as best we can with a reduced squad.
"The reduced squad has a very clear purpose now. It's not just about going around the world being a Sevens player.
"It was a tough decision. There was a lot of emotion around it. Supporters want Sevens, but they also want us to have academies, they also want to see us buying the best players and keeping the top talent.
"We have a nest and there are so many birds in that nest and I can only afford to feed so many of them."