Alex Grove still hopeful of Scotland recall after six-year absence
By Jamie Lyall
BBC Scotland
Last updated on .From the section Scottish Rugby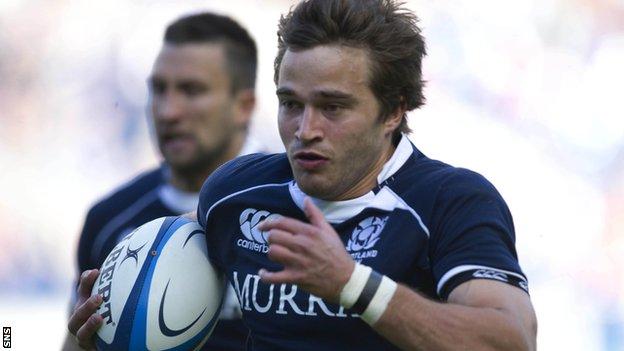 There is a seemingly innocuous line embedded in the back issues of a Worcestershire newspaper only the most eagle-eyed rugby anorak could be expected to spot.
Amid a smattering of coverage on the fortunes of the local cricket and bowling clubs, the sport section features the thoughts of the man it describes as "former Scotland centre" Alex Grove.
Few in Scottish rugby circles, let alone the paper's circulation, would necessarily bat an eyelid at the label.
Indeed, a compelling case could be made that ex-international is precisely how 27-year-old Grove ought to be portrayed, given the six years that have passed since his three caps and national boss Vern Cotter's bountiful options in midfield.
However, while Scotland revelled in the unprecedented euphoria of Glasgow Warriors' Pro12 triumph, Grove's Worcester Warriors out-gunned Bristol in a breathless, utterly absorbing two-legged Championship play-off to secure their return to the Premiership at the first time of asking.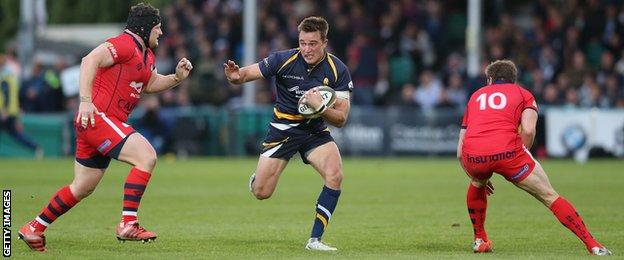 "I would never close the door on international rugby, it's as simple as that," he says. "If I'm back in the team and playing in the Premiership next year I'm giving myself a better opportunity.
"As it stands, I don't think I should be in the mix, because there are people playing well ahead of me, and I've got no complaints with that. It doesn't mean I'm not hungry for it, I'm desperate to get back in the international fold."
For all his magnanimity, with Grove, there is a niggling sense of what might have been. His baby-faced appearance and modest stature, by today's burly standards, belie a fearsome tackler with an unflinching steeliness coaches crave.
His stars aligned a few weeks short of turning 22 when injuries to his midfield rivals and a new head coach in Andy Robinson eager to impress his ideals upon Scotland's play paved his path to a trio of autumn Tests in 2009.
"Worcester were in the semi-final of the European Challenge Cup in summer 2009, and I had a conversation with Andy Robinson which I thought was a joke," he chuckles. "I thought it was probably one of the lads winding me up. I made him repeat his name and assure me it was him on the other end of the line."
Grove didn't do much wrong. In fact, he did quite a lot right, thwarting and felling Australia's dazzling backs as Scotland recorded an improbable 9-8 victory over the wasteful Wallabies.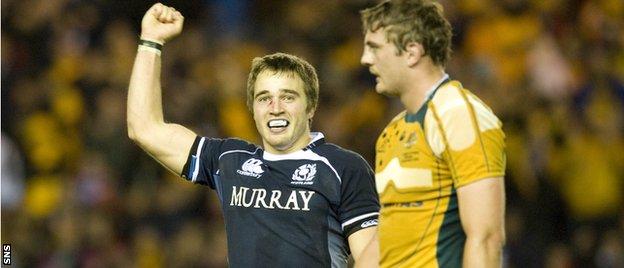 He's been included in squads since; he's toured Argentina, Samoa, Fiji and Australia as recently as 2012, but never again donned the jersey.
The player himself confesses to no lament; there are no pangs of jealousy or envious glances cast towards the men in possession: Mark Bennett, Alex Dunbar and Matt Scott, all of whom made their international bows around the same age and whose position, under different circumstances, Grove might occupy.
"If I was playing week in, week out for a Premiership side, and we were playing well, and we were near the top, then I've got a good case," he states. "Until then, I'll continue to deal with immediate goals rather than concern myself with Scotland selection when I haven't got a case to be arguing.
"Whenever you get an opportunity, as I did in 2009, if I'd have had a shocker and played really badly they would never have come knocking again. To have stayed with the A team and toured with Scotland was probably a result of taking those opportunities."
One-club men are increasingly rare but, barring a pair of brief loan spells, Grove has been with Worcester since his academy days.
He isn't afraid of abandoning home comforts, but why would he turn his gaze elsewhere, he asks, when he finds challenges, improvement and ambition in spades under Dean Ryan at Sixways?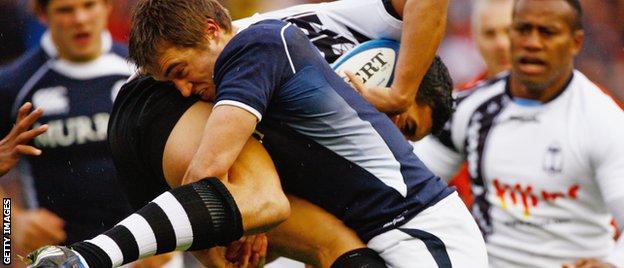 "It's the people," he begins. "While it's changed quite a lot, there have been a few great people that you want to play for or play with."
The same intrinsic loyalty drew him to Scotland. Eligible via footballing grandfather Ron Wylie, teenage Grove played with the Scottish Exiles, an impressively prolific development pathway under Rob Brierley, and was captivated by the togetherness instilled in the group versus the clinical nature of regional trials.
"It felt like a club, even though it was representative rugby," he says. "A lot of these trial systems, playing for counties or districts, always used to be every man for himself.
"You had all these selectors standing there with pieces of paper or clipboards putting a tick or cross next to people's name when they do a good kick, pass or run.
"That's not really what rugby's about, it's about playing with 14 other guys and using the other guys around you as well."
England's Stuart Lancaster, then in charge of the Saxons but once a Scottish Students player, called Grove just days after Robinson to gauge his interest in swapping thistle for rose.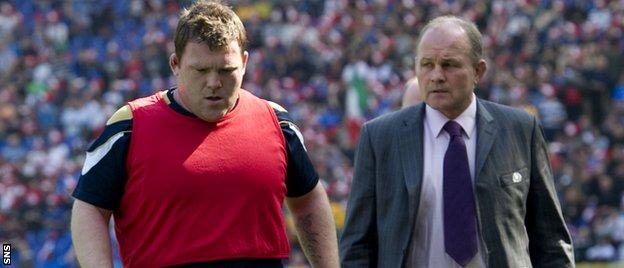 "I said to him, 'I'd like to keep this nice and simple; I was given an opportunity with Scotland, I've got a lot of good mates up in Scotland, and it was about playing rugby with my mates'," Grove recalls. "I'd almost feel like I'm letting down people that have given me an opportunity.
"It was one of the shortest phone calls. He said, 'I completely understand, and you've made the right decision'. It was quite easy to be honest with him and stick to what I believed in."
A few months after Lancaster's inquiry, the young Grove defended for his life as Scotland clung desperately to a 9-3 lead with the seconds ticking away and Australia bludgeoning their way towards the Murrayfield whitewash.
When their resistance finally faltered, Ryan Cross plunged over to score, and Matt Giteau prepared to strike, and miss, the match-deciding conversion, it was the sight of Scotland cult hero, 112kg prop Allan "Chunk" Jacobsen, that ingrained itself in Grove's imagination.
"There was a few of us saying 'it's still 9-8, we're still winning'," he recalls. "Everyone's heads were down, but the kick was still to come.
"But my best memory, and one that will probably live with me forever, was Al Jacobsen in a three-point stance, ready to chase down the kick. I think he outpaced everyone!"
Jacobsen thundering towards Giteau is a poignant display of the camaraderie with which Grove blossoms, but there is time yet for him to paint a few more Test memories.