Alex Dunbar heads to Philadelphia for knee rehabilitation
Last updated on .From the section Rugby Union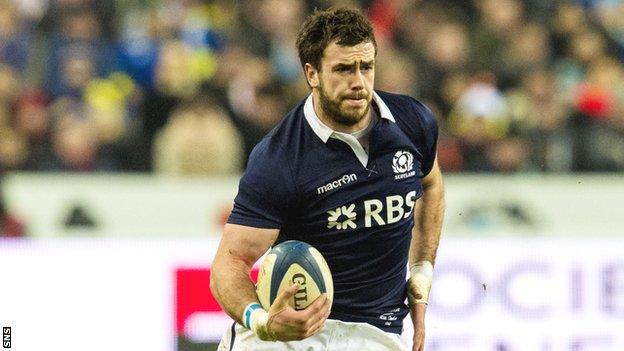 Centre Alex Dunbar heads to the United States next week to continue treatment on his injured knee with a world-leading rehabilitation specialist.
Since surgery he has been trying to regain full fitness in time for this year's Rugby World Cup.
Dunbar, 25, will spend three weeks in Philadelphia with Bill Knowles.
He will then return to the national squad for further assessment and the next phase of his rehabilitation.
Scottish Rugby's head of performance medical, Paul McGinley, said: "Alex remains on schedule at this stage and that, 14 weeks down the line, he is now in the right place for this trip to the States.
"Evidence suggests that the earliest you could expect somebody to safely recover from ACL (anterior cruciate ligament) reconstruction is around six months, and that is tight; but that's the timescale to which we're working if he is to feature in the Rugby World Cup.
"We're doing everything we can to give him the best chance of keeping to that timeline and making the competition, while paying close attention to his long-term welfare."
Dunbar's focus has been to build strength and stability in his knee, before progressing into running on an anti-gravity treadmill that allows him to run with less force and impact.