England women 'speed dating' new coach before Super Series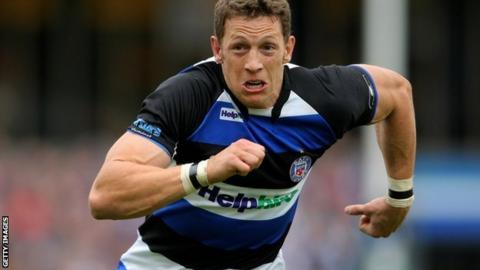 The new England women's lead coach and his players have been getting to know each other by "speed-dating".
Ex-Bath scrum-half Scott Bemand said it was a "pretty eye-opening" experience.
"It was all about getting to know the team and making them comfortable with our ideas so that when we do start challenging them, we get their buy-in," he said.
England face USA in the first match of the Super Series on Saturday before facing New Zealand and hosts Canada.
The world champions' squad includes three debutants - Megan Jones, Lark Davies and England Under-20s centre Rachel Lund, who was a late call-up.
Number eight Sarah Hunter will captain the side as injury rules out fly-half Katy Mclean.
The Sevens squad's third-place finish at the World Series in Amsterdam last month sealed qualification for Team GB at the Rio 2016 Olympics and the coaching team were able to select from both the XVs and Sevens players for the Super Series.
The England women's programme is still headed up by Simon Middleton, who oversees the XVs and Sevens, with Bemand as lead coach for the XVs alongside assistant Matt Ferguson.
The 36-year-old, who also played for Harlequins and Leicester, says he has had a wealth of support since his appointment last month.
"The amount of phone calls and messages I had congratulating me when it was announced was incredible," he said.
"[Former Bath team-mates] Lee Mears and David Flatman were some of the first, in fact I've just been to speak to Meersey to speak through a couple of things and get his input.
"I knew the pressure I'd be under, I'm in the public eye, this is England sport and, as the world champions, for us to defend the World Cup, that is going to be incredibly tough.
"However, we've got young exciting players and the reason I've come into this job is because I believe we can do it. "
Both Bemand and Ferguson took up their positions at a four-day training camp where they got a taste of the culture within the squad.
"There was a game in driving rain where (Saracens scrum-half) Leanne Riley was on the touchline not involved, and she was there drying balls for both sets of hookers," he said.
"The culture is first class and the whole squad is prepared to look after each other, both on and off the pitch."
He and Ferguson take over the roles following the departures of Gary Street and Graham Smith, who led England to their 2014 World Cup victory.
Bemand is keen to build on their legacy.
"Both Streety and Smithy brought a massive amount of success to the group," he said.
"We hope the women who have been in the system a long time see us as a challenge and we can invigorate them.
"Similarly the girls who have been on the periphery, it's a chance to be viewed with fresh eyes. So there's plenty to play for with everyone really."
England Super Series fixtures:
27 June: England v USA, Calgary, 23:00 BST
1 July: England v New Zealand, Red Deer, 23:00 BST
6 July: England v Canada, Edmonton, 01:30 BST
England women squad
Bianca Blackburn (Worcester), Rowena Burnfield (Richmond), Rochelle Clark (Worcester), Amy Cokayne (Lichfield), Victoria Cornborough (Richmond), Lark Davies (Worcester), Heather Fisher (Thurrock), Vicky Fleetwood (Saracens), Hannah Gallagher (Saracens), Sarah Hunter (Captain) (Lichfield), Megan Jones (Bristol), Laura Keates (Worcester), Ceri Large (Worcester), Justine Lucas (Lichfield), Rachel Lund (Worcester), Katie Mason (Bristol), Alexandra Matthews (Richmond), Sarah McKenna (Saracens), Marlie Packer (Wasps), Fiona Pocock (Richmond), Amber Reed (Bristol), Leanne Riley (Saracens), Emily Scarratt, (Lichfield), Abbie Scott (Darlington Mowden Park Sharks), Emily Scott (Thurrock), Tamara Taylor (Darlington Mowden Park Sharks), Lydia Thompson (Worcester), Kay Wilson (Thurrock)