Rugby World Cup: England players being 'pushed to the limit'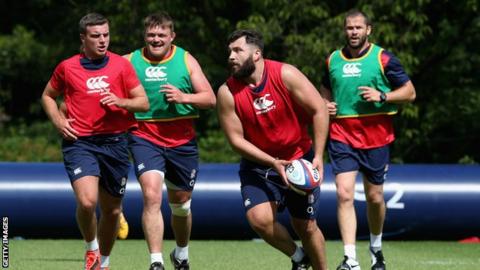 England's players are being "pushed to the limit" in their pre-World Cup camp, according to forwards coach Graham Rowntree.
The extended training squad met at Pennyhill Park last week for fitness work, before a trip to Denver in 10 days' time.
"They are working harder than I've seen them work before," said Rowntree, 44.
"It's good for us to see them push themselves to the limit, because that's what it will need to win a World Cup."
Speaking to BBC Sport, he added: "We are constantly reviewing training and watching them closely, because we want to see them competing against each other.
"Ultimately we will find out who wants it the most, and who wants to get into the best condition they can be."
Morgan looking good after lay-off
Around five players will be cut from the squad next week before the remaining 45-man party departs for north America, and Rowntree revealed number eight Ben Morgan is making excellent progress from a broken leg, which at one point threatened his participation in the World Cup.
Rowntree is confident both Morgan and prop Joe Marler - who is recovering from shoulder surgery - will be fit to play in England's warm-up matches in August.
"Ben is in incredible condition. I have not seen him looking as good before," Rowntree continued. "Fit, raring to go. He has had a long pre-season but he will be ready to do some rugby when we get to Denver, as will Joe Marler. Ben is on track."
Burgess is "impressive"
Bath's rugby league convert Sam Burgess is part of the training squad, and Rowntree says the coaches remain open-minded as to his best position. Burgess started his union career at centre before moving into the back row for his club.
"What an impressive character he is," Rowtree added. "An impressive man. We are very open-minded still at the moment. We don't have to make that decision as yet."
And while temperatures of up to 35 degrees this week will prove a "challenge", Rowntree says the excitement is building in the group with the tournament fewer than three months away.
"The lads are excited, we are excited. Home World Cup. It's unbelievable. The lads know that and are training with that in mind."