Jack Nowell: England and Exeter wing says knee surgery 'paid off'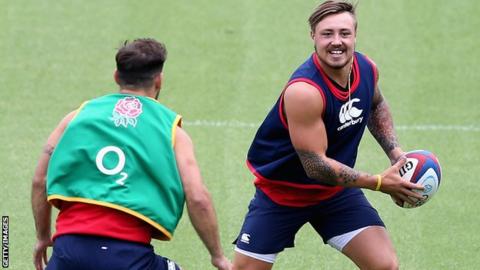 England and Exeter Chiefs wing Jack Nowell has said an operation on his knee last summer "has paid off".
The 22-year-old missed England's tour of New Zealand last year due to the injury but has since regained his place in Stuart Lancaster's side.
"We did think hard about it (the operation) but luckily enough it's paid off," Nowell told BBC Radio Cornwall.
"While they were in New Zealand it was the worst decision of my life, but now it's definitely one of the best."
Nowell has won eight senior caps for his country and played the last three matches of this year's Six Nations, scoring two tries in their final game against France.
He missed pre-season and the first three club games of last season as he recovered from surgery, but went on to make 16 Premiership appearances for Exeter as they finished fifth.
"Taking that bit of time off this time last year definitely helped me a lot, although it was tough to give up that 14 shirt for England," Nowell said.
"I've worked extremely hard to try and get that back, so it's just about keeping it during this training camp.
"Looking at it now, my knee is pretty much 100 per cent. I'm able to train with the boys pretty much all the time now."
England's 50-man training squad for this autumn's home World Cup have been in a camp preparing for the tournament and will travel to Denver, United States, next week for altitude training.
Around five players will be cut from the squad before the trip, which will see a continuation of the squad's fitness work.
"It doesn't sound pleasant but I know the boys are very excited for it. I think we might be pushed to the limit again," Nowell said.
"We're not looking too much into the rugby side of it at the moment. We're rarely chucking a ball around, we're not looking at any key moves - we're concentrating on the fitness."