Rugby World Cup: Mike Cusack eyes finals chance with Scots
By Jamie Lyall
BBC Scotland
Last updated on .From the section Scottish Rugby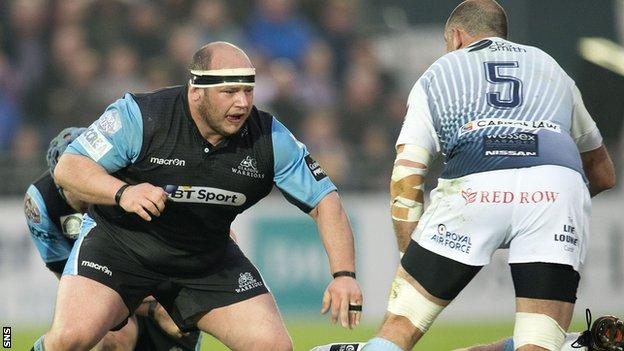 With his rich Yorkshire brogue, flashes of deadpan wit and quaint phraseologies, Mike Cusack has the air of a wizened farmer from a James Herriot novel - and a physique that suggests he can put away plenty of the county's fine ale.
The tight-head is one of those rapidly-depleting throwbacks to the amateur days when props were typecast as simple beings, bruisers who were first to start the fight and last to leave the bar, and furious, 15-man rugby was as alien a concept as a teetotal forward.
"You haven't watched training very often then," Cusack jests by way of riposte.
He is certainly not known for marauding midfield breaks, making his name in more conventional fashion, pulverising opponents in the scrummage.
But, since signing for Glasgow Warriors in 2011, Cusack's time in the set-piece, where he is most at home, has been cruelly constrained.
He had been starved of rugby for more than a year from late 2012 with persistent shoulder troubles when, just as he thought his medical woes were over, he was struck down by a mysterious illness only recently overcome.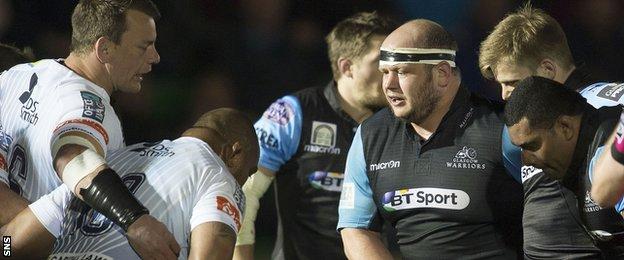 "I'd been out for so long with my shoulder, I'd come back to play one game, you think you're back in there, back to playing," he reflects.
"From the illness to be cleared to play again, it wasn't actually that long in comparison to my shoulder. That probably affected me even more so than an illness.
"The doctors were top-drawer and the people at Glasgow did so much research to see how I could get back. I had a lot of tests and it was quite a difficult time."
Cusack is understandably cagey on his latest setback - an ailment he describes as "complex and quite rare" - but spending so long on the treatment table did strengthen his tendency to live in the moment.
Now a week short of his 31st birthday, it's hard to imagine the born and bred Doncastrian's hefty form anywhere but the front-row, yet he spent his early teens terrorising scrawny stand-offs from the back of county league scrummages.
"My older brother joined on a Sunday at Doncaster and, when we were old enough, me and my younger brother followed on," Cusack continues.
"It was only something to do on a Sunday morning really - we enjoyed it along with many other sports we played.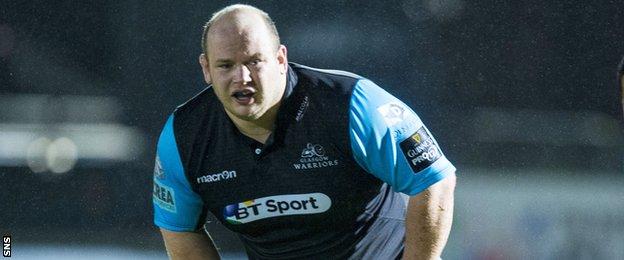 "I played number eight coming up to about 15 - then, when 15 struck and we went to scrummaging, I didn't really have much choice about where I was going to play!
"The coach said: 'You're a big lad; you're in (the front-row)'."
Rugby never seemed a viable career option then, but by the time Cusack turned 18, he was beginning to force his way into the Leeds Tykes reckoning, a club grappling with life in England's top tier.
After five years at Headingley, with game-time against England's elite largely frugal, he returned to his home town and Doncaster Knights, where he fell under the tutelage of scrum guru Massimo Cuttitta.
It was the larger than life Italian who engineered Cusack's switch from the left side of the scrum to the right, loose-head to tight-head.
"There's been a few good 'uns," he says of his fiercest adversaries with a solemn nod and the beginnings of a grin.
"My first start for Leeds was against Leicester Tigers at Welford Road, against Julian White. That was a tough day at the office. I was about 18 or 19.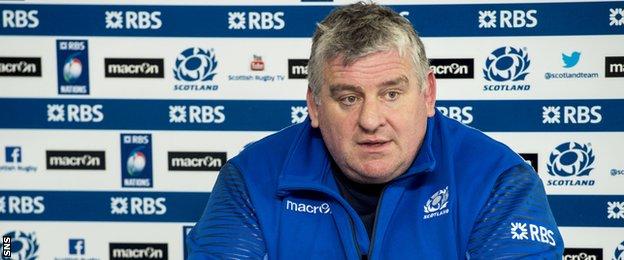 "I'd played a little bit on tight-head now and again at Leeds, but that was more because we had one prop on the bench and some people aren't very accommodating in moving over, especially if you're the younger lad. With my body shape and size, Massimo encouraged me to give tight-head a bash.
"If you're used to playing one and you move across, you're getting hit by the hooker and loose-head at once. It is massively different."
When Cuttitta was hired as Scotland's scrum coach, he found his prop stocks less than abundant and the SRU's drive for foreign recruitment strong.
He wasted little time in drawing the attention of his colleagues to the colossal scrummager not too far south who might, with three years' residency complete, become the cornerstone of the Scottish pack.
"It was a big decision to make, but I wanted to play as high as possible," says Cusack.
"(Playing for Scotland) was spoken about a little bit, but between coming to Glasgow and now I've been through a lot. I'm not one that looks many years down the line, especially with past history, difficult times."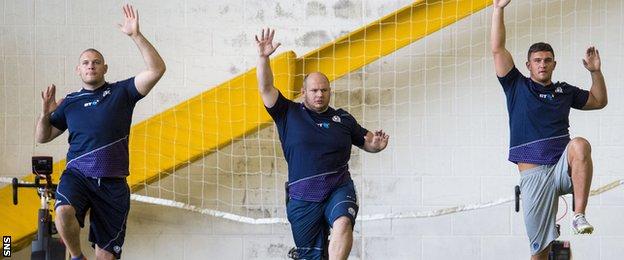 With Cusack's unenviable medical record, things haven't quite worked out as planned - Cuttitta is gone and it is only now, four years on, with the World Cup approaching, that he can mount a credible case for Test selection.
Yet to sit alongside this quintessential Yorkshireman, imposing frame encased in Scotland's latest blaring camouflage training kit like a giant bear caught in a paintball fight is an oxymoron in the extreme.
It's a global game these days, the lines of nationality growing ever-blurred, but after all this time in Glasgow, does the big chap consider himself a naturalised Scot, or an Englishman representing Scotland?
"I've picked up some terms," he chuckles. "I do feel a bit Glaswegian; I love it up here. The lads are great and the people are quality as well. I'm certainly glad I came."
There are four warm-up matches between now and when Vern Cotter will slice his 46-strong training squad to 31 for the showpiece and, with as many Warriors starts to his name this season, Cusack could use them all to readjust to the rigors of regular rugby.
There are numerous uncertainties still to overcome. But, if you dare look a little further down the line than Cusack allows, there is plenty too to suggest Scotland have snared a good 'un.