World Cup 2015: Truck tyres and tennis balls in Wales training camp
By Gareth Rhys Owen
BBC Wales Sport in Switzerland
Last updated on .From the section Welsh Rugby
As they prepare for this autumn's World Cup, Wales are making much of the brutality of their two-week training camp at altitude in the Swiss Alps.
In 2011, Huw Bennett was being flogged in Poland as he prepared to play hooker for Wales at the World Cup.
Four years and a career-ending Achilles tendon injury later he is a strength and conditioning coach - the one who now does the beasting.
With a degree in sports science, Bennett is working on the basis that players' performance will improve from living at altitude and training to a greater intensity in thinner air.
"You can get that extra 1%," says 51-capped Bennett, much leaner now than he was as an international hooker.
"You don't play rugby at altitude, but we want the adaptations from training at altitude."
Curious German tourists
The first session is a mixture of skill and fitness drills. At one end of the pitch coach Rob Howley fires a tennis ball from his racket which is caught like an expert slip fielder by Leigh Halfpenny.
Elsewhere, back-rowers Taulupe Faletau and Sam Warburton toss a gigantic truck tyre around as though they're emptying the bins.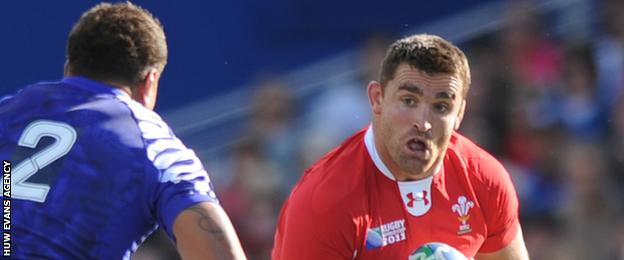 Some short, sharp exercises, and before you know it they're back on the cable car to their living quarters some 1,000m higher than the training ground.
"We can't push the players to the absolute limit in every session," concedes Bennett.
"There are certain sessions where we like to take them close to the line. But what's great in this environment is that the guys will push themselves."
The ride back up the mountain is even quieter than the downward journey was. Silent and drenched with sweat, the players are inspected by a group of curious elderly German tourists.
"Very muscles" says one in broken English as she points towards captain Sam Warburton. It raises smiles galore, but energy levels are too low for fits of laughter.
My two cardinal sins
It's unlikely I'll ever be invited back to the team room for lunch.
The food was healthy, delicious and plentiful and I even managed to avoid the temptation of going toe-to-toe with second-row Jake Ball's mammoth portions.
However, I did commit two cardinal sins.
Firstly, I questioned the quality of the squad's music playlist, much to the annoyance of prop and DJ Gethin Jenkins. In my defence, I'm not the first to do so.
Secondly, I forgot to clear my table after finishing my food.
A punishable offence at any dinner table and a crime worthy of a team fine. In this instance I offer no defence - only an apology to the Wales press officer who has been punished on my behalf.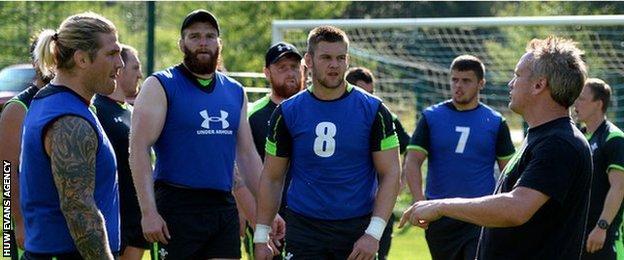 By mid-afternoon the temperature is touching 30C as the players tackle weights.
The dumbbells and benches are dusted off for another session of breathtaking intensity which leave the players exhausted.
With three months to go before the World Cup I can't help but think of potential burnout as I chat to Bennett.
"We try our best to create the best environment here," he adds.
"But we haven't had to do anything, the guys are pushing themselves.
"They know the benefits they got before the 2011 World Cup and these are professional rugby players who want to be the best product they can."
Hitting the games consoles and conserving energy
The players eventually return to the gondola after a spin in a bus and a quick dip in the pool.
As quick dips go it's more fitness session. Again the word "brutal" is in the air.
At this point it's time to leave the camp, but I'm pretty confident that there's little left to see.
The players will eat, hit the games consoles and conserve energy because they know that tomorrow will be just as difficult.
And to think that the World Cup is not until the end of September.