Scotland: Matt Scott laments the 'curse of centres'
Last updated on .From the section Scottish Rugby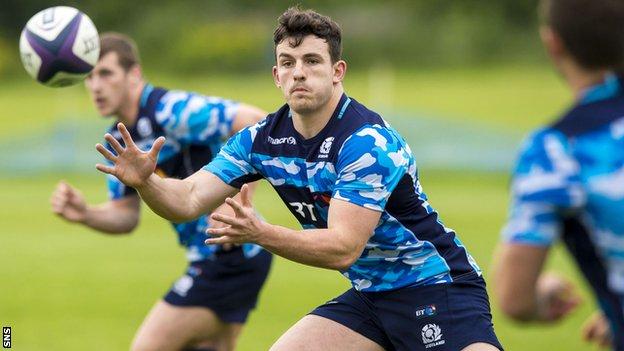 Centre Matt Scott fears Scotland's number 12 and 13 jerseys are cursed but believes he has come back from his own shoulder surgery a stronger player.
Saracens' Duncan Taylor is a doubt for the Rugby World Cup with a shoulder complaint and Mark Bennett and Alex Dunbar have also had injury problems.
"Maybe it says something about the position of centre," said Edinburgh's Scott, 24.
"It maybe has a bit of a curse on it at the moment."
He added: "I've been able to put in a good amount of work on my upper body strength. Now I feel I have got my size back."
Scott has struggled with shoulder injuries, believing the trouble has held back his progress for about 18 months and reduced the impact he was able to make on the field of play.
But he returned to full training on Tuesday and hopes to be fit in time for Scotland's opening World Cup warm-up match against Ireland next month.
Glasgow Warriors' Bennett had a similar complaint and hopes to be fit for the tournament.
As does his club-mate Dunbar, who will return next week from a specialist rehabilitation facility in the United States, where he is receiving treatment for knee ligament damage.

"But all of us are working really hard behind the scenes and we're giving ourselves the best possible chance," said Scott, who has not played since Scotland's Six Nations defeat by Ireland on 21 March.
"I'm feeling really good and delighted to be back full training.
"I got the all clear just over a week ago and we had an off-week, so I was chomping at the bit to get back training with the guys. My first session today went really well."
Scott also underwent surgery last summer after dislocating the shoulder and missed Scotland's November tests.
One of six anchors inserted into the shoulder was loose, causing bone fragment to cause him problems, inflaming a ligament and forcing another operation.
"It was tough being told, especially because we didn't know what was causing the trouble with my shoulder," he said.
"The surgeon said it could have been three or four months, or it could have been six months, which would really have put me in jeopardy of missing the tournament.
"I didn't know where I stood, but the best-case scenario has happened, so I'm thankful for that. The surgeon has done a great job."