Ben Foden: Full-back hopeful of England World Cup call after injury
Last updated on .From the section Rugby Union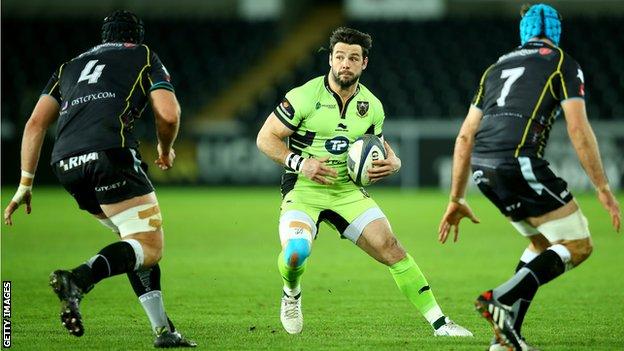 Northampton Saints full-back Ben Foden says he is waiting for a World Cup call from England after returning to full training with his club.
But of the 45-man party at England's US training camp, only Mike Brown and Alex Goode are recognised full-backs.
"I'm ready hopefully for when that call comes from Stuart Lancaster to join the team," Foden told BBC Northampton.
"Our pre-season started last Monday, so I've been in and done everything that everyone else has done.
"I'm not the fittest obviously, having not run for six months, but I'm getting there. The lungs are slowly returning and my body's getting used to the hard work."
Foden, who has won 34 caps, suffered his most recent injury in a European Champions Cup match, and previous knee and ankle problems mean he has not played for his country since the 2013 autumn internationals.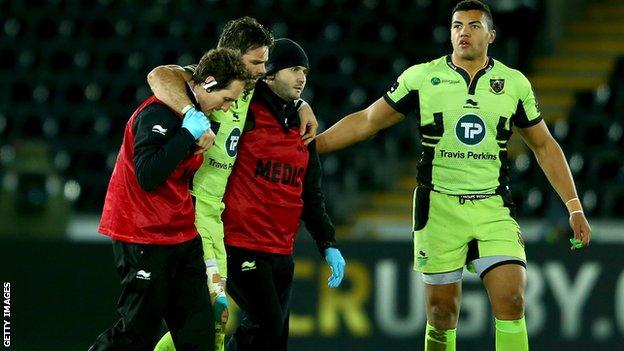 England head coach Stuart Lancaster was not willing to pick any injured players in his original squad, but has indicated that the former Sale man is still under consideration for a place in his squad.
"I've got to be hopeful. I've done the hard work and got myself ready," said Foden.
"If I can get back to the squad then I'll give myself a fighting chance to hopefully put on the white shirt and show why I should be selected.
"I need a little bit of luck on my side, or a little bit of a favour from the coaches to give me the opportunity, but the best I can do is show the coaches that I'm fit and hungry to play in a World Cup."
Foden's return to training proved a painful experience when part of a tooth was cracked during a game of touch rugby this week.
"James Craig [Northampton forward] got a bit too excited and managed to fend me in the face, but luckily the dentists have fixed me up and hopefully I'm going to save the tooth," he added.
"I've got a mini brace holding it together and it's a bit sore but I'll survive. The worry is it might turn black and die."