Scarlets: National rivalries spur World Cup dressing room banter
By Dafydd Pritchard
BBC Wales Sport
Last updated on .From the section Rugby Union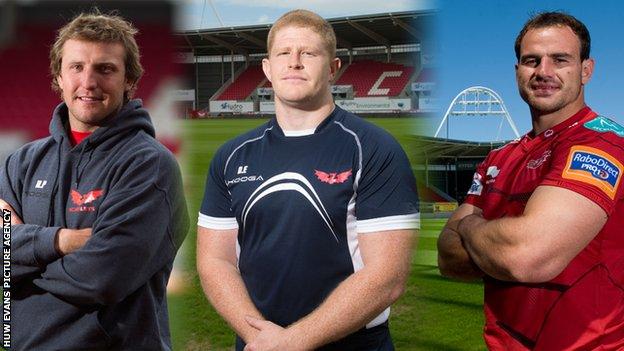 A New Zealander, an Australian and a South African walk into a room. It sounds like the preamble to a joke and, in this case, it's the basis for several jokes.
The southern hemisphere trio all play for Scarlets, three giants packed into the region's cosy press room.
They are Kiwi centre Hadleigh Parkes, Australian-born but Wales-qualified prop Dylan Evans and South African lock George Earle, all teasing each other as they assess their respective nations' World Cup hopes.
While their Wales international colleagues toil in the searing heat of a World Cup training camp in Doha, those left in Llanelli have to make do with humbler surroundings.
"We can't afford to go to Qatar or anywhere like that, so the trainers have turned the heating up in the gym," says Parkes.
"It's a bit of a mess in there to be honest, a lot of sweating going on."
Fighting talk
It does not take long for attention to switch from gruelling pre-season regimes to the World Cup.
The group which has fuelled most pre-tournament debate has been Pool A, pitting England, Wales and Australia together.
For Evans, born and raised in Australia with a Welsh father, will there be any split loyalties when the two countries collide?
"Not at all - I'm going for Wales all the way," says the 26-year-old loose-head prop.
"My family are the same but I'm not sure about my friends."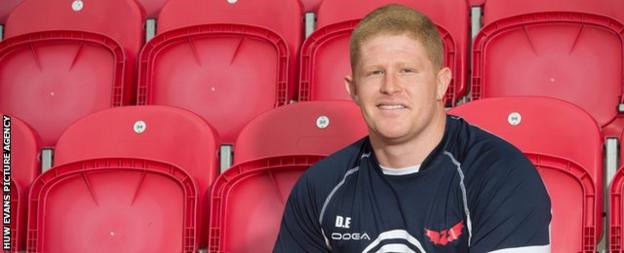 So Evans' commitment to Wales is beyond doubt but, sitting next to a New Zealander and a South African, there must surely be some room for some fabled Australian larrikinism?
Before the prop can reply, Parkes steps in: "It's hard for the Aussie to give a bit of banter because they're losing every game to us - and the Springboks too!"
The New Zealander's interjection prompts a few laughs, and a spirited response from Earle.
"Just to mention New Zealand have choked many times in the World Cup," the burly Springbok says.
Friends in high places
Earle would like to watch his country in action at the World Cup, but the tournament's timing could scupper those plans.
"With a baby due on the first day of the World Cup, I'll try my best but I don't know if my wife will let me," he adds.
"I've got a few friends in the squad, and they're pretty popular with the tickets at the moment."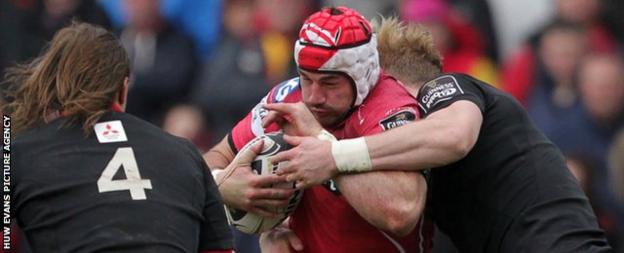 Parkes is another with friends in high places, having played alongside All Blacks such as Conrad Smith and Julian Savea during his time with Super Rugby side the Hurricanes.
Is the 27-year-old not offended by Earle's claim that New Zealand are serial chokers?
He simply grins and says: "That's fair enough I guess. So long as you made the quarter-finals last time, eh George?"
Bold predictions
Before the World Cup starts, Australia, New Zealand, South Africa and Argentina conclude this year's Rugby Championship with the final round of fixtures on Saturday.
Australia need a convincing bonus-point win against New Zealand in Sydney to win the title, though the All Blacks are the strong favourites.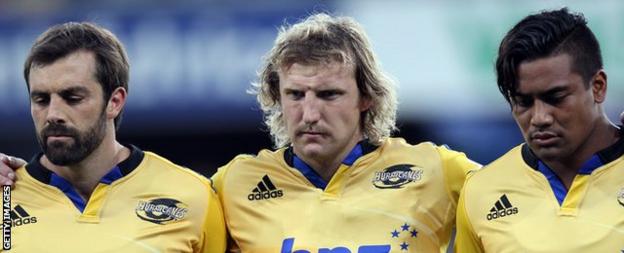 "It's very important because they [Australia and South Africa] are our biggest rivals," says Parkes.
"South Africa have always been a tough encounter and the Australians are kind of like your big brother - you like them but you never want to lose to them."
Evans smiles at this simile and, asked to predict who he thinks will win the Rugby Championship and World Cup, he repays the compliment by tipping New Zealand to triumph in both.
Parkes unsurprisingly backs the All Blacks to win the two tournaments as well.
But Earle makes a World Cup prediction which might not be too popular in his adopted west Walian home.
"I'm going to go for a northern hemisphere team and I'm going to say England."