Brett Beukeboom: Canada forward impresses Cornish Pirates boss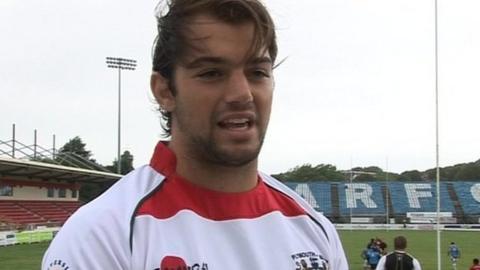 Cornish Pirates head coach Ian Davies says new signing Brett Beukeboom has impressed him while playing for Canada.
The 24-year-old forward, who joined the club earlier this summer from Plymouth Albion, has been part of the Canadian side at the Pacific Nations Cup.
Fellow Canadians Aaron Carpenter and Matt Evans are also with the Pirates.
"Brett Beukeboom especially has stood out. He's somebody who is probably on the fringes of the squad at the moment," Davies told BBC Cornwall.
"Matt and Aaron are established internationals so they're virtually certainties to go to the World Cup, whereas Brett is in that squad of 'maybe he will, maybe he won't', so it was good to see him having a good tournament."
Canada finished last of the six teams at the Pacific Nations Cup, losing to Japan, Tonga and Samoa.