Unified rugby - making a difference to the learning disabled
By Jamie Lyall
BBC Scotland
Last updated on .From the section Scottish Rugby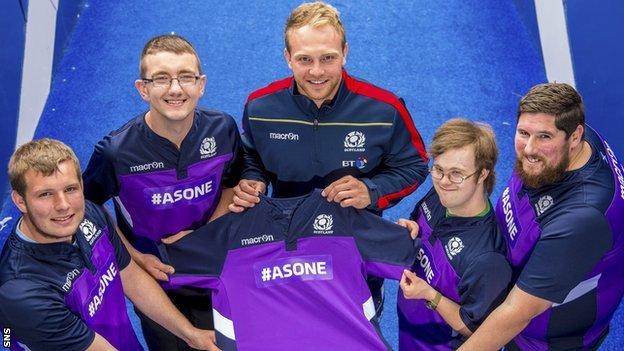 "It's just normal guys playing rugby, all having fun and a couple of drinks after the game."
So says Gregor Devine, a luminary of The Clan, Scotland's unified rugby squad operated by the charity Trust Rugby International (TRI).
The concept itself is not especially novel: players who suffer from learning disabilities compete alongside non-impaired counterparts.
What sets The Clan and their equivalents across Europe apart is their use of full-contact rugby, rather than the popular "touch" iteration of the sport.
The collisions are full-blooded, the passion for the game fierce - the ethos never wavers from inclusion and fun.
The only discernible difference from the mainstream club game is the implementation of uncontested scrums - utilised in part to safeguard those who are new to the sport, or who experience neck instability as a result of Down's Syndrome.
TRI exploits rugby as a vehicle for enhancing the lives of its participants, fostering confidence and social skills, and splintering any philosophical barriers that still persist around illnesses that are not always visually apparent.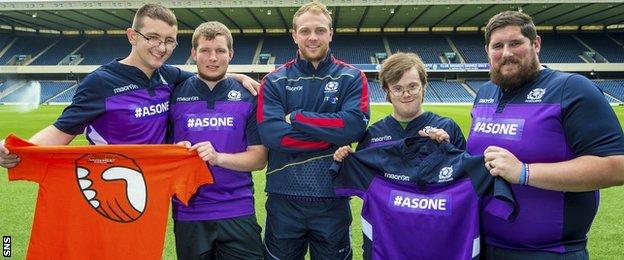 "The sad thing is it's maybe people that are close to them that think, 'I don't know if they could do that'," reflects Stephen Main, a Development Team Leader with TRI, who also coaches and plays for The Clan.
"Then they come along, give it a shot and find out that they can clearly do it. They can join in, they can take a tackle. There is a stigma, people maybe think, 'I don't know if I could do that, it's maybe too tough'."
Gregor is a strapping young chap, scarcely out of place in mainstream rugby where he still plays for Trinity Academicals. But physical prowess and ability are some way down the list of attributes that are central to The Clan's fabric.
"I use Gregor as an example," continues Main. "He first came along last June, he'd previously played rugby but he was quite shy, never really got involved.
"He was always on the outskirts, but now he's right in the middle, he's really confident, he's captain of the Edinburgh Clan, and he's done a great job - he takes that very seriously.
"Physically, one of our players has lost three stone since he started. He saw it as a goal. He started off playing unified rugby, then he's improved and improved, then last year he played the tail end of the season for Kilmarnock seconds."
Main gestures towards another youngster, Josh Rogers, one of Gregor's team-mates in the capital.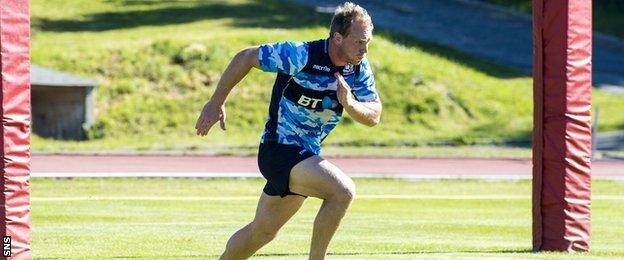 "When he first came along, Josh wouldn't talk to anybody," he says. "Just me or one of the coaches.
"Now he's up giving fist-bumps and high-fives to everyone, and getting involved with the whole team afterwards."
The Clan, Main explains, originated in Ayrshire, with Edinburgh joining the party with their own unified team more recently.
In June, the two initiated a parody of the 1872 Cup contested annually by pro-teams Edinburgh and Glasgow Warriors. A more experienced Ayrshire outfit triumphed; mention of the result induces a comedy snarl from captain Gregor.
Now, however, backed by Scottish Rugby, they prepare to join forces, representing Scotland at the first-ever mixed ability World Tournament in Bradford later this month.
"It's my life's dream," says Josh. "I always wanted to play for Scotland."
Standing on the touchline inside the vast Murrayfield bowl, the players are visibly gleeful as they receive their match jerseys from Scotland duo Greig Tonks and Fraser Brown.
"It's more about making people enjoy themselves," begins Tonks, who has attended Clan training sessions and contributed his expertise.
"It's a good chance for guys who would probably have otherwise never played rugby. These guys are just desperate to play and have fun with their friends, connect and create friendships and have a good time."
Provisions are made for more vulnerable players, who wear red caps during games, and are treated with a degree of physical discretion in a manner that does not detract from their rugby experience.
With sufficient progression, familiarity and coaching, several of Main's protégés are hoping to shed their headwear.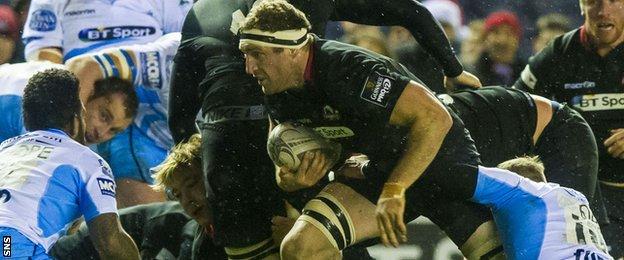 "I came along to the very first session in Kilmarnock," says Calum Lenaghan, one such red cap bearer. "My social worker found rugby for me - I love making new friends after the games."
"It's maybe not just the physical presence," adds Main. "It's the mental presence as well. How much they get involved, what it's like when they get tackled, or after they've been tacked, we're taking all these things into account as well."
In keeping with The Clan philosophy, the selection process for the tournament was not focused on tries scored or tackles made.
"It's based around how people work together, their communication and their dedication in coming along to training," asserts Main.
The dearly-held values of rugby are perhaps less prominent as the sport begins to come of age and embrace its professional status.
But here, in Ayrshire and at Murrayfield, it is most heartening to see the profound impact of the game, creating opportunities for a group of people who can still be marginalised.
"My club was all about winning, winning, winning," concludes Gregor. "But here, it's not about winning, it's about having fun.
"It's about giving these guys the chance to play the sport. They've been wrapped in cotton wool the rest of their lives, but this is their chance to expose themselves and show who they are.
"It's just an amazing thing to be part of."