Heroes' welcome for Wales' World Cup hopefuls in Colwyn Bay

By Ross Harries
BBC Scrum V
Last updated on .From the section Welsh Rugby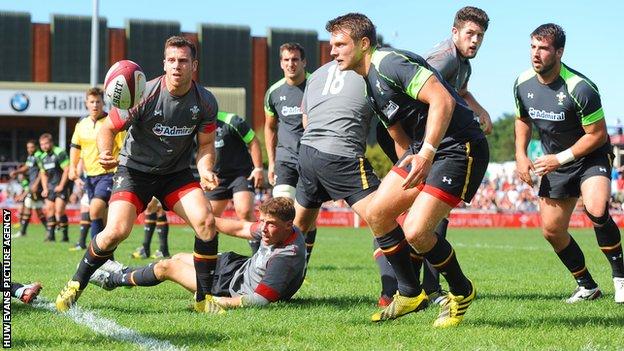 After training camps in Switzerland and Qatar, Wales' 46-man World Cup training squad travelled to Colwyn Bay to continue their preparations for the tournament. BBC Scrum V's Ross Harries was there to see the players greeted as heroes.
The squad was welcomed like a tribe of pilgrim heroes, travelling north to spread the World Cup gospel.
When it was announced last month that Wales would be holding an open training session at Parc Eirias, they received 10,000 ticket applications in 24 hours.
Half of those who applied were left disappointed. The other half packed the stands, and cheered and roared as their heroes went through their routines.
It was a timely reminder that while the professional arm of the game occupies a 60-mile stretch of the M4 in the south, the passion for it runs far wider and deeper.
The Welsh Rugby Union's general manager for north Wales, Rupert Moon, said it felt as though "One Direction had come to town" such was the level of adoration.
So impressed with the reception and facilities was Sam Warburton that he renewed calls for a region to be based in north Wales.
He also mentioned how novel it was for fans to see the players up close, noting that fans in south Wales can "see Jamie Roberts... about in Cardiff all the time".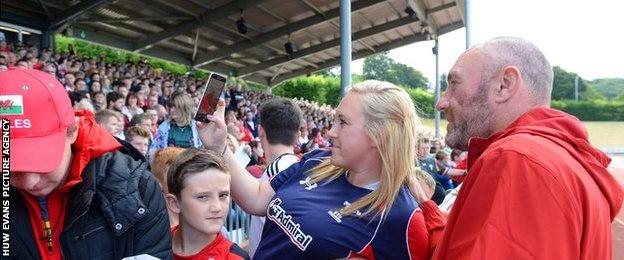 No reason to panic
The north Wales sideshow provided a welcome distraction from the ongoing post-mortem following the Ireland defeat.
The mood within the camp was more one of defiance than desperation.
The loss was an ugly one; no one was denying that. But accusations that their World Cup preparations are in disarray were dismissed.
Conditioning was always the initial priority. Rugby would come later. Ireland did look slicker, more cohesive, and better organised, but that was because they have chosen to concentrate more on rugby.
Wales' obsession with fitness is nothing new. They followed a similar programme four years ago, and lost their opening warm-up match against England.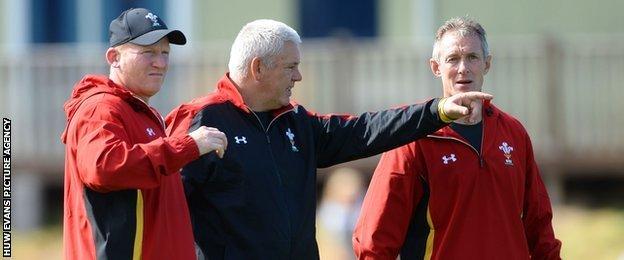 Wales forwards coach Robin McBryde stated wryly that it wasn't "our intention to play as poorly as we did", but any panic or alarm outside the camp was not in evidence on the inside.
"Our first match is against Uruguay on 20 September," McBryde added. It was not quite Gareth Jenkins' "judge me on the World Cup" from 2007, but the sentiment was the same.
Sharpening the focus
Rumours had abounded during the previous week that Warren Gatland would use this session to stage a trial match.
There wasn't a full 80-minute game, but there was something approximating that, with an extended period of 15 on 15, presided over by a referee.
Among those wearing bibs to denote the fact they couldn't do full-contact, were Eli Walker, Luke Charteris and Bradley Davies.
But, tellingly, there were no such precautions taken with George North.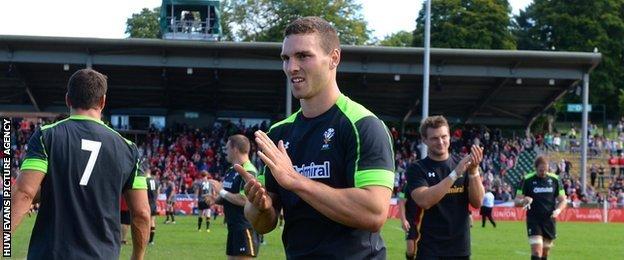 The wing has still to pass his return-to-play protocols following his concussion-enforced lay-off, but McBryde confirmed he was no longer a World Cup worry.
As one of the few north Walians in the squad, North's presence was cheered more vociferously than most.
The organisers' sense of irony deserted them momentarily when all members of the media were ordered to switch off their cameras as the ensuing session was taking place "in secret".
Well I hope the 5,000 strong crowd are good at keeping secrets.
Last chance saloon
Former Wales fly-half Jonathan Davies said during his match commentary on Saturday that it was like playing with a trap door beneath you.
Several of those who featured may well have felt like they'd fallen through it.
But according to McBryde, the game at Parc Eirias was a last chance for those fringe players to give a final account of themselves in an exercise designed to replicate the intensity of a match.
The squad will be cut by around 10 players, possibly as early as Wednesday night.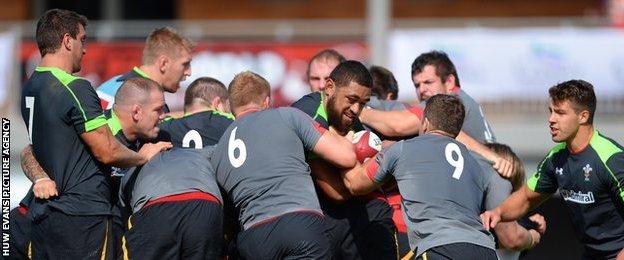 Sam Warburton, who has played his part in more than a few intense training camps, said he sensed an increased sense of desperation in today's sessions.
"I could tell that there are boys there who were maxing out because they know its their last chance of showing what they've got," he said.
For those fighting for World Cup survival, this trip was less about spreading the rugby gospel, and more about showing what they can do.
All of them are heading towards a career summit. What they did in north Wales may determine whether they make it or not.