Scotland head coach Vern Cotter has much to ponder for World Cup

By Tom English
BBC Scotland
Last updated on .From the section Scottish Rugby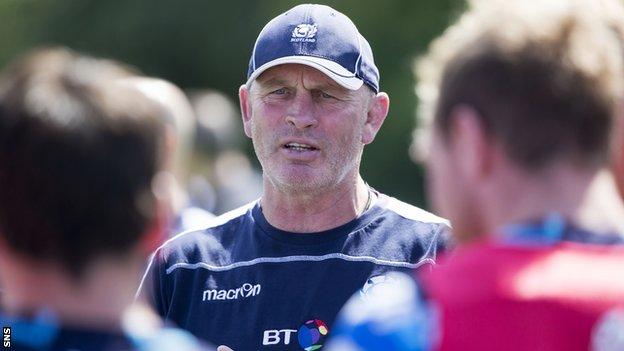 Ireland v Scotland
Date:
Saturday, 15 August
Venue:
Aviva Stadium, Dublin
Kick-off:
17:00 BST
Coverage:
Listen on BBC Radio Scotland 810MW/DAB/online
During the week, two of Scotland's group opponents in the World Cup revealed their hand, Samoa and United States both naming their 31-man squad for a tournament that is now less than five weeks away.
Mike Tolkin, the coach of America, and Stephen Betham, his counterpart in Samoa, have finished pondering the myriad head-wreckers that are now addling Scotland head coach Vern Cotter's mind.
Both have gone with 18 forwards and 13 backs. Both have five props, four locks and four centres. Beyond that, it's a juggling game, an exercise in assembling a body of players that are not just talented but versatile.
There is a premium on guys being able to do a job in more than one position - locks who can metamorphose as back-rows, centres who can fill in at fly-half, wings who can be trusted at full-back if crisis hits.
On Thursday, Cotter was asked whether he had decided on how many forwards and how many backs he was intending to pick in his final 31. He said he didn't know. And it was easy to believe him.
This is a complex jigsaw he's trying to put together and facing Ireland in Dublin on Saturday is his first attempt at it. After that, he has two more opportunities - against Italy in Turin and again at Murrayfield the week after. That's it. He has to name his squad by 31 August at the latest. All the puzzlers must be figured out by then.
The captaincy issue
Henry Pyrgos, the impressive Glasgow scrum-half, captains the side in Dublin. There will be a different captain in Turin and a different one again in the rematch with the Italians in Edinburgh. Only then will Cotter decide who's going to get the gig for the World Cup.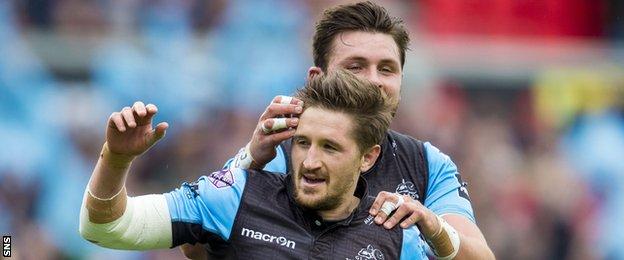 Cotter likes his scrum-half to be his on-field leader. He made that plain on Thursday. "A half-back with character is always someone who fits that role because he's combining with his forward pack and he's not very far away from play to talk to the referee," he said.
"He's generally involved in games from start to finish. It's good to have a half-back there. Henry has leadership qualities and that's why he gets the nod for this game. And he's positioned well - so it's for two reasons."
Greig Laidlaw remains the favourite to start the World Cup as first-choice number nine and captain, but Pyrgos has been given a big opportunity to change the narrative. He was terrific in the Pro 12 final win against Munster in Belfast, an individual and collective performance that was of the highest class.
Laidlaw has an added string to his bow by way of his goal-kicking but with Finn Russell's accuracy from the placed ball on the rise all the time, so Laidlaw's advantage is less than it was.
Pyrgos is a threat to him, no question. Sam Hidalgo-Clyne, also in the 23 for Dublin, isn't far away either.
In search of Mr Versatile
One of the questions that Cotter will be asking himself is whether he needs one full-back or two in his final 31.
Greig Tonks is a 15 who will be playing 10 against Ireland. Ruaridh Jackson is a 10 who will be playing 15. They both need a big day. They need to show Cotter that they bring things to the table in more than one position.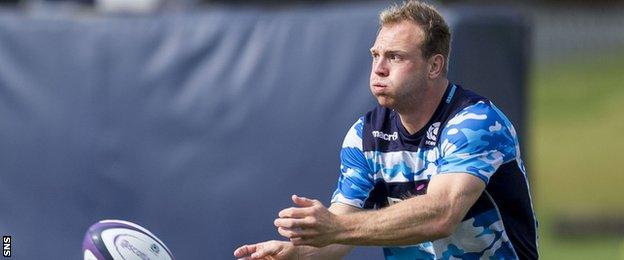 Right now, it's Stuart Hogg as first-choice 15 and, probably, Sean Maitland as second choice. At 10, it's Russell as first-choice and Duncan Weir as his understudy with the adaptable Peter Horne after him.
Horne's versatility as a centre and a stand-off makes him a certainty for the final cut. Jackson and Tonks have a limited window in which to influence their coach's thinking at 10 or 15. They have to make the most of it against Ireland.
The battle at second row
It would be a surprise if Cotter goes for any more than four locks. At least two of them are already guaranteed - the Gray brothers, Jonny and Richie.
Rob Harley, on the bench in Dublin, has been picked as a second-row in the wider training squad so he'll make it as well given the prowess he can draw on in the back row.
That leaves one slot remaining. Jim Hamilton and Grant Gilchrist start in Dublin and the likelihood is that only one of them will make the World Cup squad. So, it is a battle within a battle.
Gilchrist has eight caps and a bad injury profile but Cotter clearly thinks a lot of him - enough to give him the captaincy early in his reign at Murrayfield only for injury to intervene.
Veteran Hamilton is up against it. He's a warrior, though. A proud man. What happens with the numbers four and five in Dublin will be a story unto itself.
The riddle of the back row
This is where it gets really complicated. Samoa have gone with six back-row forwards while America have gone with seven. Others might go with five depending on whether they have a lock who can do a job there (Harley) or even a hooker who can double-up (Stuart McInally).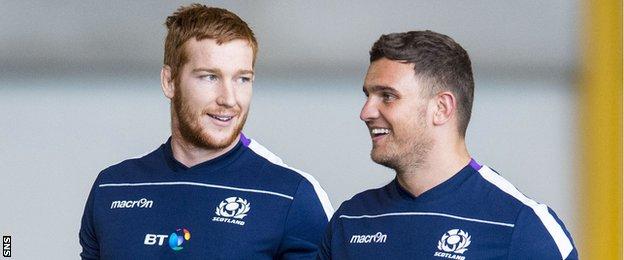 Cotter will likely go for six back-rows. Three of them are obvious - Blair Cowan (who can play six or seven), David Denton (who can play eight or six) and the soon-to-be qualified Josh Strauss (who's also an eight or a six). Ryan Wilson's thunderous conclusion to Glasgow's season puts him bang in the frame also.
That's four. There's room for two more from John Barclay, Adam Ashe, Alasdair Strokosch, Hugh Blake, John Hardie and Hamish Watson.
Blake, the lesser-spotted Kiwi, will make his debut in Dublin. His has been a charmed life. Plucked from Otago by Cotter, he has started one match for Edinburgh since his arrival from New Zealand. Cotter's faith in him is unmissable.
"He offers a different form of play," said the coach of the new open-side. "He gets to the wide channels quicker and he has a good step and carry. He's working hard on his defence. He is a young man coming through and he has a pedigree."
Barclay is on the bench in Dublin. Uncapped since the autumn of 2013, he has become something of a cause celebre in the minds of many fans, particularly since the arrival on the scene of Cowan, then Blake and now Hardie, another number seven out of New Zealand.
The back row is a tough area to call. Barclay has experience and has done wonderfully with Scarlets but there's something about the way Cotter speaks of Blake and Hardie that makes you wonder about Barclay's prospects.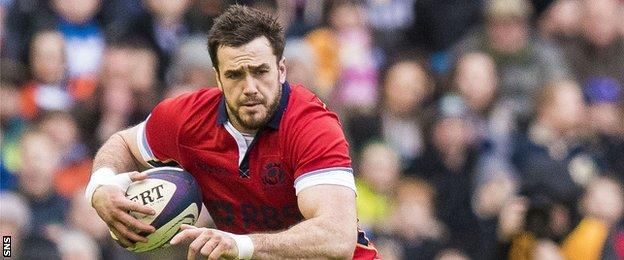 "He [Hardie] doesn't say much, he just gets on with his work and he's another one with a different profile to any of the other loose forwards we have," said Cotter.
"He's got a good skill-set and likes to keep the ball alive. He's very fast on his feet. All these players improve competition for spots. There's not a lot of players who are comfortable within this 46 [training squad]. They're either playing for the 31 or for their ranking within the 31. They bring out the best in each other and they're learning from each other as well."
All of these things will start crystallising in Cotter's mind this weekend, but there is another decision to be made soon and it has nothing to do with form. Alex Dunbar is critical to Scotland's midfield but he's injured and in a race against the clock to be fit come deadline day.
"At the moment it's 50-50, we don't know," said Cotter of Dunbar's prospect of making it. He says he will be close to fitness, but can't be sure how close. Would he pick him anyway and gamble? "I was never any good at gambling," the coach added. "The bets I put on the horses I lost every one.
"We'll have to make a decision based on where he's at. Over the next two weeks we'll get an idea whether it's positive and we can hope or whether we have to think about other options. I'll listen to [team doctor] James [Robson]. If he comes and tells me there's hope, I'll believe there's hope. If he tells me there's no hope, then I'll listen to him."
So much rugby to be played and so much thinking to be done.