Scottish grit and graft is grounds for cautious optimism

By Tom English
BBC Scotland in Dublin
Last updated on .From the section Scottish Rugby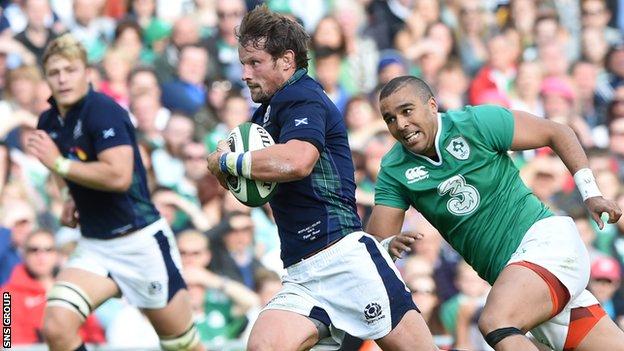 Fifteen minutes into this contest the temptation, from a Scottish perspective, was to bury the head in the hands and keep it there.
Those were joyless moments for the visitors. Joyless and pointless.
Ireland had scored with their first attack of note and as they did so the memory returned to Murrayfield in the spring when Joe Schmidt's men not only won the Six Nations championship but annihilated the Scots in the process.
Even so early in the match, the penalty count was high. At the breakdown, it was a rout. Sean O'Brien, playing number eight, dynamited the Scotland back-row with such ferocity that Hugh Blake, the new openside in blue, cut a bewildered figure. There, but not there.
For half an hour, the traffic went one way. It wasn't that Ireland were slick; they were not. They were error-prone and wasteful.
The issue was the impending dread of the hosts hitting their stride and the points mountain that might follow when it happened.
The anxiety for Scotland lifted suddenly. One minute they were under the cosh and the next they were level.
The moment was a reminder of what Vern Cotter's team can bring to the table, a blessed relief that their World Cup preparations were not going to begin with a dynamiting of their confidence.
It was David Denton who did the heavy blasting. Denton is not a player of all the talents. He doesn't have great hands or great vision, but he's got great bulk and he knows how to throw it about.
In the build-up to Blair Cowan's score - and for much of the evening - the number eight battered his way forward. Not pretty, but effective.
Scotland's remaining World Cup warm-up games

Italy (away)

Saturday, 22 August

Italy (home)

Saturday, 29 August

France (away)

Saturday, 5 September
He left Mike Ross in a heap on the floor in the seconds before Richie Vernon played in Cowan. His was an uncomplicated but thumping contribution.
Cotter will be pleased by what happened in Dublin. Not by the loss or the concession of some soft tries or the first-half penalty count or numerous other things, but by the fact that his team dug in and troubled an Ireland side right to the end.
Some of us doubted they'd live with the home team for so long.
It was a decent beginning to the World Cup countdown, but the fact is that this was peace-time rugby. The wars have yet to come. In war-time, Ireland have a capacity to bring out the big guns and the scary intensity and do the kind of damage they were incapable of in Saturday's 28-22 friendly win.
Ireland can transform themselves. They have more gears than they showed. That's something that will not be lost on Cotter and something worth remembering.
A six-point loss represents a step-up from a 30-point drubbing the last time these sides met, but it's relevance is questionable. It's only in the heat of proper battle do you really learn what a team is made of.
For Scotland, the signs were encouraging, though. Ruaridh Jackson filled in well at full-back, Sean Lamont caused Ireland problems with his physicality, the second-choice centres - Richie Vernon and Peter Horne - competed well against more illustrious counterparts. All of those guys advanced their cause.
So did Greig Tonks at fly-half. He had an ambition in his play. Before Saturday his chances of making the final 31-man squad looked remote, but he's made a case. That's all he could do.
A few others did the same. Grant Gilchrist carried prodigiously and took over the captaincy when the bright Henry Pyrgos departed.
Barring injuries you'd think that Cotter's final four lock forwards are now set - the Gray brothers, Rob Harley and the Edinburgh man who got to captain's armband after injury cruelly denied him the chance over the last year.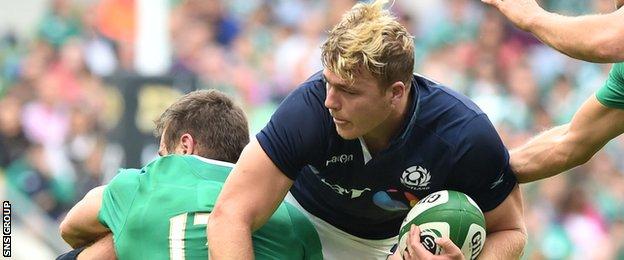 You read the tea-leaves and see what you can find. Cowan is a seven who played six in Dublin - and played impressively. Might Cotter be about to go down the two sevens road in his first choice back-row for the World Cup?
Blake is an out-and-out seven with the emphasis on the out-and-out. He won't make the final cut. He showed nice touches, but at the collision zones he was a like a toy car being smashed by an articulated lorry. Blake is young and might come again, but now is not his time. John Barclay came off the bench just before the hour-mark and made an impression.
Asked later to name their best Scotland XV right at the minute, former Scotland internationals and now BBC pundits, Chris Paterson and Peter Wright, both opted for Barclay at seven - and Wright went for him as captain.
Others went backwards. Jon Welsh toiled in the scrum. Ryan Grant picked up an injury and we wait to hear the prognosis. Grant wasn't having a good time even before his injury, however. Gordon Reid and Mike Cusack played well off the bench.
There was some good stuff out there. Pyrgos might fall short of ousting Greig Laidlaw from the team that plays the big Tests in the months ahead, but he's a threat to him all the same and he took his try wonderfully.
Lamont is nobody's idea of a clinical try-scorer out wide but he has a bullish strength that can inflict pain on defenders and there were several reminders of it in Dublin. His work leading up to Horne's converted try, that put Scotland into a 22-21 lead, just after an hour's play was thunderous.
Scotland couldn't close out the win and they will have regrets about that. It was a day that brought optimism, but one that wise heads will lace with caution.