Scotland display in Ireland sets World Cup warm-up marker

By Mike Blair
Former Scotland scrum-half
Last updated on .From the section Scottish Rugby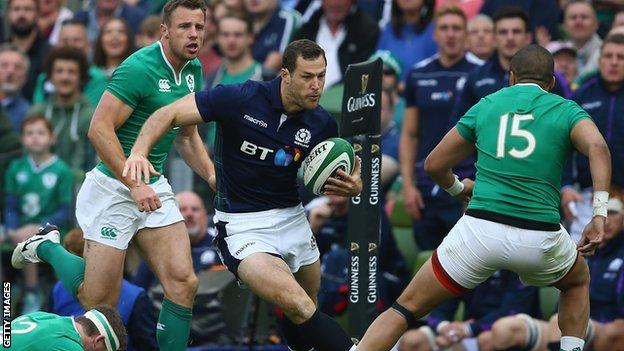 As with most tight games, there are critical moments that influence the result. They could come at any time - some are obvious and some less so, a decision made or not made by the referee or a player - and the game changes.
Tim Visser, who had looked dangerous on the ball all afternoon, had been released up the left-hand side. He beat two Irish defenders before stepping inside Simon Zebo, only to be taken down by a stray left boot. Play continued and from the next phase, Dave Denton, who otherwise had a fantastic match, sadly didn't execute a clear overlap on the far right-hand side.
Scotland head coach Vern Cotter
"I think there were some good things and some things that we can work on. We definitely need to be more accurate at times, the intentions were good but we let Ireland score a couple of tries perhaps a little bit too easily. We were short in our support to our ball carriers in the first half and they quickly showed us that we'd need to get there quicker. It's a very good start and I'm hoping we can fix these things. It's important to improve and that's what our focus is on now. We will play a different type of opposition next week."
I know it's all purely conjecture but imagine a yellow card for Zebo, putting Ireland down to 14 men for 10 minutes, together with a converted try (to take the score to 19-7) and suddenly the game has a totally different complexion. But that's rugby.
Anyway, enough ifs and buts: my point is that games can be swung on a number of factors or little things.
Picture the best teams in the world, such as New Zealand, who are ruthless with their chances, however they arise. If you watched the first 20 minutes of the Bledisloe Cup game against Australia at the weekend and someone said New Zealand were going to win 41-13, you wouldn't have believed it.
They hung in, though, absorbed the pressure and then had a 10-minute purple patch in the second half. Game over.
Scotland's remaining World Cup warm-up games

Italy (away)

Saturday, 22 August

Italy (home)

Saturday, 29 August

France (away)

Saturday, 5 September
As I said in my previous article, though, I don't believe that winning this international in Dublin, as strange as it sounds, was the primary focus for Scotland.
Did Vern Cotter satisfy any fringe selection issues?
I don't think anyone played their way out of selection. The majority of players put their hands up to say 'pick me'. Of the players that Cotter will have had a particular eye on, I think Denton showed that he was hungry to regain the number eight jersey, Greig Tonks and Ruaridh Jackson proved their versatility and both looked comfortable in their relatively new positions.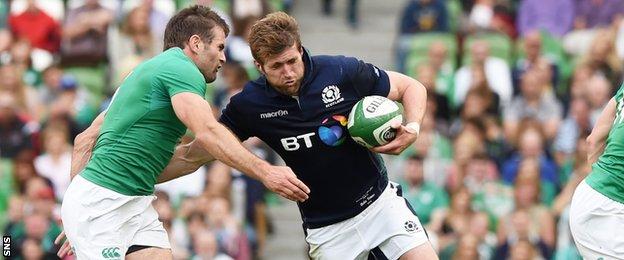 Hugh Blake made some yards on the ball. He played quite a wide role in attack compared to John Barclay, who was an effective, more industrious carrier. Grant Gilchrist was impressive in his first game back for about nine months. He was aggressive and gnarly - good traits for a second row.
Richie Vernon showed up nicely through out the game, his experience and know-how at the breakdown made the wide rucks quick and secure. He was caught once on an outside break by Zebo, but I believe 13 is the hardest position on the pitch to defend and often errors are more visible than in other positions. This one mis-timing shouldn't affect his selection chances.
Did we see rhythm and good understanding of the structures?
Scotland looked comfortable on the ball. They had a balanced attack playing off scrum-half, stand-off and in the wider channels.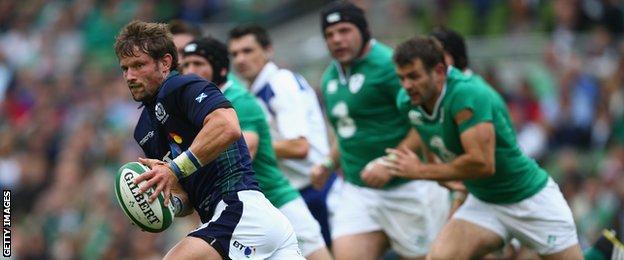 It wasn't perfect but opportunities were being created for mismatches and one-v-ones and often at international rugby, with defences generally so impressive, this is the best that you can hope for in terms of structured team play.
The quality of passing was sharp and Tonks got the ball through his hands very quickly giving time and space to those outside him.
Defensively, Scotland were OK. Matt Taylor will want some improvements though, certainly around two of the Irish tries.
I'm sure he will be studying hard the post-tackle work in the lead-up to the first try. The ball was too quick and clean, like a rugby league play-the-ball, and if you can get that type of ball four or five phases in a row then you're in trouble.
The lead-up to the Zebo try was soft as well. Sure, Ireland's attack was sharp with Ian Madigan twice brilliantly exposing the inside defence, but your first three defenders from the ruck are your cornerstone of the defence and this shouldn't be broken easily.
Injuries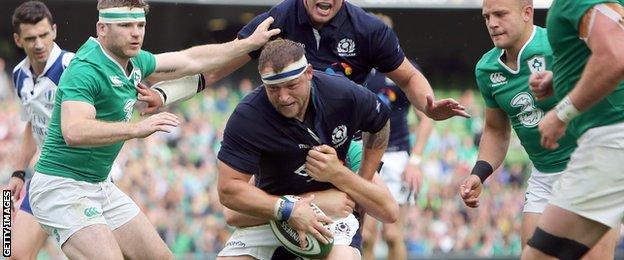 It looks like Ryan Grant might be in a bit of trouble but nothing has been confirmed. The competition between him and Ali Dickinson for the loose-head spot was starting to fire up so lets hope it's nothing too serious. There seemed to be a few fatigue-related concerns with some cramping but potentially no other longer-term concerns.
Summary
I think Cotter will be happy with the first hit out but disappointed not to win. These players have put down a bit of a marker for next week so he will be hoping that whatever side he picks to face Italy continues the momentum, but just gets that little bit sharper and more ruthless.