Scotland defence coach looks for improvements against Italy
By Jamie Lyall
BBC Scotland
Last updated on .From the section Scottish Rugby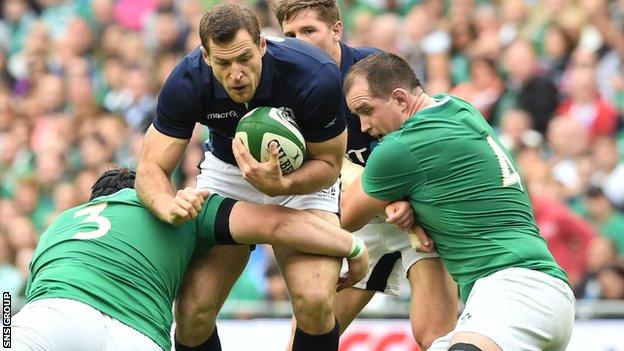 Defence coach Matt Taylor says Scotland ought to have produced a more accomplished performance in Saturday's 28-22 loss to Ireland.
The Scots were ahead three times in Dublin but shipped four tries to the Six Nations champions.
"We've been training together for a number of weeks now so we should have been better than we were," he said.
"The main reason we didn't get a victory was that we didn't execute getting out of our zone very well."
Following a shaky opening, an experimental side won plaudits for their showing at the Aviva Stadium but defensive lapses frustrated Taylor.
"We've worked hard on our kick chase and our exiting and they did a couple of things that we didn't adapt to quick enough, like setting their forwards to one side and kicking to our backs.
"In saying that, when we did give the ball back we needed to be better with our tackling and better with our systems."
Scotland face Italy in Turin on Saturday - the second of four warm-up matches for next month's World Cup - and Taylor added that the squad was working hard to rectify the set-piece woes that plagued the pack in Dublin.
Italy are renowned exponents of the scrummage and driving maul, using both to great effect in defeating Scotland during the Six Nations.
"We had a really good live [scrummaging] session against Edinburgh today," revealed Taylor. "It got pretty heated at moments, pretty rough and ready, so that's probably a good lead-up for the Test.
"We've been training hard on our set-piece, but we've got a session this afternoon where we'll be looking defensively at how Italy counter-attack and opportunities around that."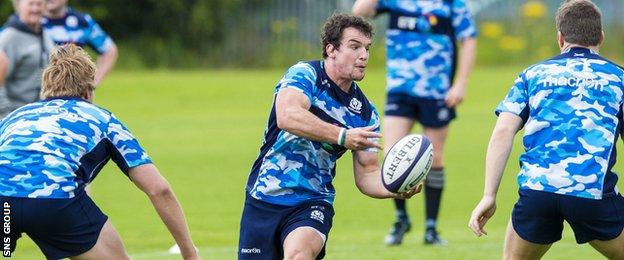 The trip to Turin marks the first chance for New Zealand import John Hardie to impress in the back-row, following in the footsteps of ex-provincial counterpart, Hugh Blake last weekend.
"My grandma was born in Fife and I always knew I was joint international," said Hardie, who played for the Highlanders.
"I was trying to come over a bit earlier, but things didn't work out.
"The boys were really welcoming - it was probably like the first day of school when I first turned up. I didn't know a lot of people, but they've made me really welcome and I've got to show them how much it means to me to be over here."
Hardie was added to the World Cup training group in July, and though no plans are afoot to assign him to either Scottish pro-team after leaving the Super Rugby winners, he has expressed his desire to remain north of the equator.
"I came over here for two months on my own back," he added. "I haven't got a club, so I've risked a lot.
"I'll definitely be looking in the northern hemisphere. I don't know what's available or what the go is [regarding the Scottish pro-teams].
"I'm going to have to play well and make a statement, but that comes with team unity and teamwork."