Tom Coventry: London Irish head coach settles in to work
Last updated on .From the section Rugby Union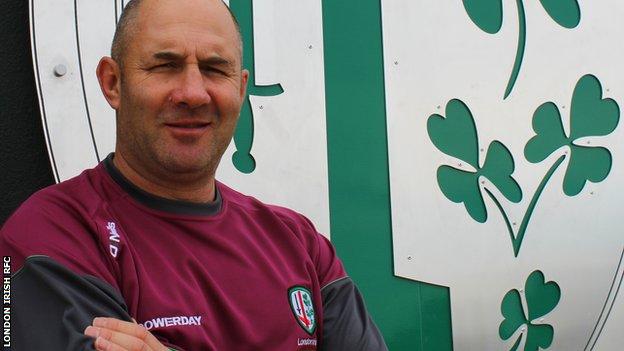 Tom Coventry is a man with a plan. To bring a new style of rugby to London Irish and test his coaching skills and experience against the northern hemisphere game.
The New Zealander has the benefit of a longer-than-normal pre-season to prepare the Exiles for their Premiership opener against Leicester Tigers on 18 October.
Speaking to BBC Radio Berkshire, the former Samoa co-head coach and Waikato Chiefs assistant coach shared some of his plans for the months ahead.
Getting to know you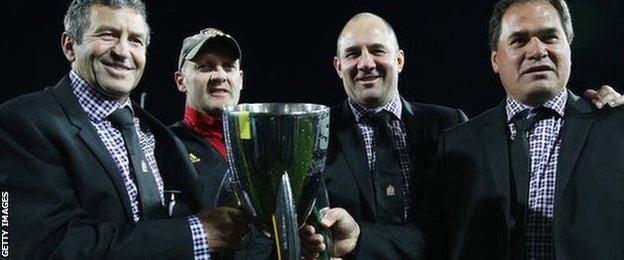 Coventry was initially expected to begin his Irish post after the World Cup, but instead reported for duty on his first day at the Exiles's training base at Hazelwood in Sunbury following the conclusion of the Super Rugby tournament.
"I've had a good first month settling in here. The weather's been kind to me and I've got a flat just down the road in Esher," he said.
"The players have been good in training, they've been really coachable. The facilities here are first class, which is really useful when settling in to a new club.
"We've taken time to sit down one-on-one with players to get to know them and understand their time with the club. There's quite a few new players here as well.
"So, it's been getting to know them, getting my feet under the desk and getting used to being part of the club for the first month, making some observations and some subtle changes to the way we've been doing things."
Pre-season testing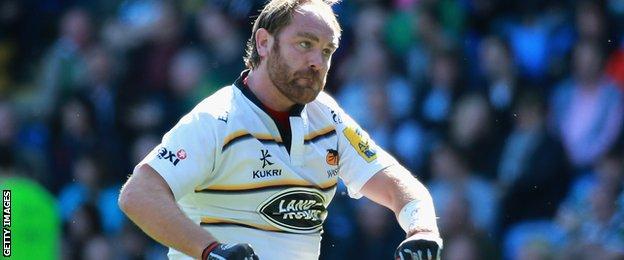 With the 2015-16 Premiership campaign not starting until after the World Cup group stage, Coventry is looking to maximise the extra time on the training ground to work with his new charges.
"It's very similar to the build-up we had with the Chiefs after the last World Cup in New Zealand," said Coventry.
"From a positive aspect, if you've got your team together for a long period of time, you can work on aspects of your game slowly.
"Sometimes getting boys back and pushing them into a competition quickly, you miss a few things out. So, there should be no excuses for not being prepared this time round."
What's the Tom Coventry way?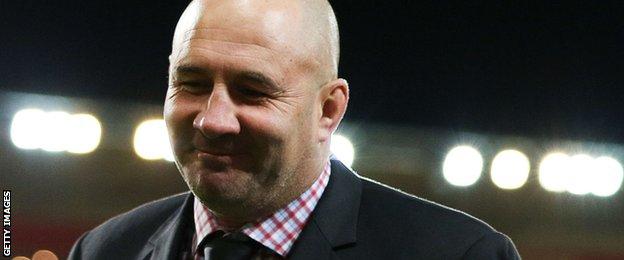 A former loose forward born and raised in Waikato, Coventry's playing and coaching experience have been solely southern hemisphere-based until now.
Having played for Waikato between 1988 and 1994, his coaching career began with Otago University before roles with Hawke's Bay, the Chiefs and Samoa at the 2011 World Cup.
"The game over here's marvellous," said Coventry.
"We (in the southern hemisphere) often look across at the Premiership and some of the developments in the game, especially the set-piece.
London Irish new additions 2015/16

Andy Goode - fly-half
Dominic Waldouck - centre

David Sisi - back row

Eoin Sheriff - lock

Aseli Tikoirotuma - centre
Matt Symons - lock

Ben Franks - prop

Sean Maitland - winger

Brendan McKibbin - scrum-half
"I know there's a different expectation around the way the game's played. Strong forward packs, very good at line-outs and scrums and driving play. Traditionally, position-based.
"Whereas at home, we tend to be a little more frivolous with the ball and with a little bit more of an attacking mindset.
"But, if we can mould some of those two bits together, you normally get a pretty good product.
"Regardless of whether we play in the southern or the northern hemisphere style of football, I'll be looking to make sure my team's pretty well prepared and they play a style of rugby which suits the type of athletes we have."
Season's ambitions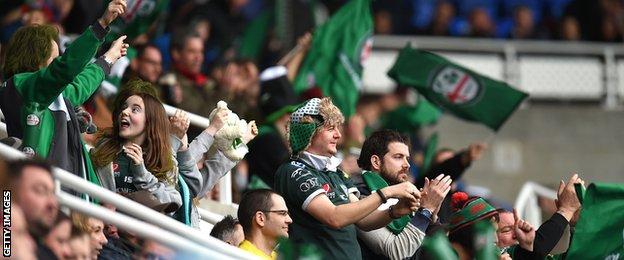 London Irish finished 10th in the Premiership last season during a campaign which saw the departure of director of rugby Brian Smith in January and the appointment of Glenn Delaney as interim head coach.
But can coaching staff stability deliver a return to a top-six finish for the Exiles this season?
"It's probably a bit early for me to put an expectation of this team out there as I haven't seen them play," replied Coventry.
"We want to do as well as we can and there'll be some expectations that we can climb up that ladder.
"Where we're going to finish, I'm not too sure. I'm probably not going to put a number on it.
"But, we want to impress people with the way we play and the way we commit ourselves to the game, the style of football we present and hopefully we can get a groundswell of support for what we're doing on the field.
"For me, it's just a new challenge to come out of the southern hemisphere and come back to the northern hemisphere and immerse myself in a new culture, a new club.
"New expectations, new challenges, it's exciting. That's what coaching sport's all about for me.
"The next two or three months is going to be about getting this team to where I need it to be and enjoying the ride as we get there."
Tom Coventry was speaking to BBC Radio Berkshire's Tim Dellor.