Scotland Sevens stars not consulted over future - Eddie
By Jamie Lyall
BBC Scotland
Last updated on .From the section Scottish Rugby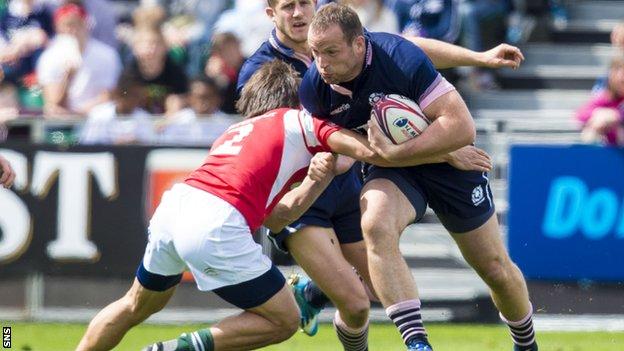 Scotland Sevens players were given no opportunity to put forward their views as the national set-up faced an uncertain future, James Eddie has said.
"Not really, we didn't have any chance (to offer input)," Glasgow Warriors back-row Eddie told BBC Scotland.
Scottish Rugby says the players were given the chance to have their say.
In a statement, it said: "Players were fully consulted prior to the Union making a decision with respect to the on-going structure of the Scotland Sevens team.
"The new Scotland Sevens set-up was endorsed unanimously by the Scottish Rugby Board some months ago and the team is now in full preparations for the season ahead."
Speaking of Scottish Rugby's choice to continue with the Sevens set-up, Eddie said: "I think the union made the right decision, and I'm glad they've stuck with and invested in it."
Sevens provided Eddie, 30, with a contractual escape route of sorts during a difficult period in his career where he seemed set to move to the French ProD2.
He has represented Scotland at 11 World Series tournaments since 2009, and last year's Commonwealth Games in Glasgow.
"I've played a bit of sevens throughout my career - I was going to go to France but I'm glad I stayed," he reflected. "That was during the last World Cup.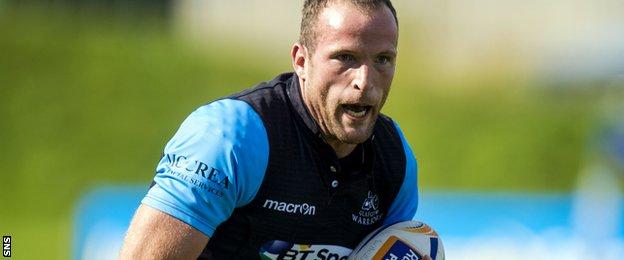 "It (the uncertainty) must have been tough for the guys but you can only control what's in front of you. We've got games to play. Sometimes it's tough but you've just got to let these things work themselves out.
"I think that showed, the guys played well, and they've still got the sevens - I think it's a good tool for the union."
Eddie's career outwith the abbreviated game is a curious case - he has been with the Warriors for nine seasons, signing a one-year extension to his current deal in May.
The statistics show he has played 99 league matches, starting just 40.
"It can be a bit frustrating sometimes and I've had a lot of stop-start in my career with injuries and things," Eddie added.
"It is tough, but sometimes a few years ago I spent a lot of time on the bench. (Ex-Warriors head coach) Sean Lineen had his bench players, his impact players and he saw me as that. I'd come on when guys were tired and get my hands on the ball and run hard.
"Obviously I would love to start week in, week out, but I've just got to take my chances when I get them."
Eddie is likely to enjoy a more sustained run than usual as Glasgow kick-off their Pro12 title defence with a chunk of internationals on duty at the Rugby World Cup.
With boss Gregor Townsend augmenting his squad with a host of short-term signings, he remained unsurprisingly coy on the prospect of leaving Scotstoun come the season's end.
"Personally, I want to play the most amount of minutes for Glasgow I've ever played in a season," he continued. "I really want to try and step up and help the club through this tough time.
"I would never say never; I'm just going to try and focus on playing rugby first and foremost and whatever happens will happen.
"Rugby's quite a fickle sport and a lot can change in a very short space of time. I'm just trying to concentrate on my rugby and the rest will take care of itself. "