Ryan Jones retires: Reaction to ex-Wales captain's announcement
Last updated on .From the section Welsh Rugby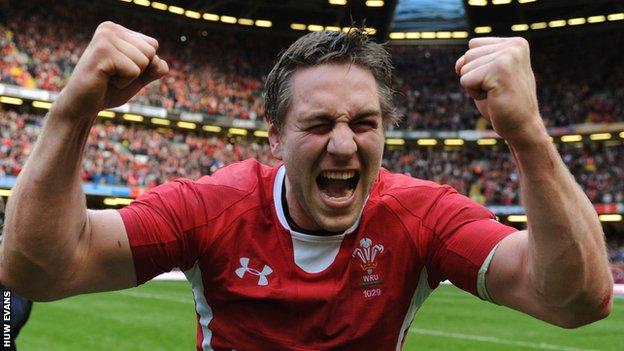 Former Wales captain Ryan Jones has been forced to bring an end to a decorated career because of a recurring shoulder injury.
The 34-year-old forward retires having captained Wales on 33 occasions in a 75-cap career, winning three Grand Slam titles - in 2005, 2008 and 2012.
Jones also played in three Tests for the British and Irish Lions on the unsuccessful tour to New Zealand in 2005.
Former team-mates, coaches and fans have been paying tribute to Jones' achievements.
Team-mates
Lions, Wales and Ospreys prop Adam Jones, a fellow Grand Slam winner in 2005, 2008 and 2012: "He did things in games that influenced the result, which is the mark of a special player.
"He's one of my best mates but you've seen him on TV, he's very boring! We've known each other for the best part of 15 years and we've come through quite a bit together.
"He's an incredibly intelligent bloke and whatever he decides to do in future, I'm pretty sure he'll be successful at it."
Lions, Wales and Bristol team-mate Dwayne Peel: "He's a good man to have around the squad and he's a leader more than anything. His record for that speaks for itself - he leads on and off the pitch.
"I'm just disappointed for him really, because over the past 12 months his body has been shot and this last injury, I've seen him the last couple of weeks, he just looks a broken man. He looks in pain more than anything."
Lions and Wales captain Sam Warburton: "Congratulations @RyanJonesOnline on an amazing career. Awesome to play with and a nightmare to play against! #Legend"
Former Wales captain Jonathan Davies: "Congratulations on a great career. Happy retirement."
Coaches
Warren Gatland, current Wales coach: "Ryan's career speaks for itself: he led his country 33 times, amassed 75 caps for Wales and won four Six Nations titles and three Grand Slams. That is a huge achievement.
"His pride and dedication for the game and his country shone through and he was a truly great leader. He led from the front and was a role model on and off the pitch."
Mike Ruddock, who gave Jones his Wales debut: "When you're a boy growing up you put a bit of a list together of what you'd like to achieve in life and he's actually ticked every box.
"He's a smashing guy, he's been a great rugby player, a great ambassador, a great family man - he's definitely on there with a list of all-time greats.
"I think it was November 2004 when I was Wales coach and I picked him against South Africa for his first cap. There was no better side to test someone in terms of their physicality and Ryan met that challenge head on and did very well."
Bristol coach Andy Robinson: "It's really disappointing for him. He's had a fantastic career. He's had 15 games for the club and it's a shame he can't play this season. He's a great leader and brought a winning mentality. He had a real impact in the development of our game.
"I've really liked coaching and working with him because of his understanding of the game. The finer details that he does have been exemplary."
Sean Holley, Bristol assistant coach: "It's a brave and grown-up decision by Ryan, which you'd expect from a man with such humility and integrity.
"He's wrangled over this injury he sustained in the play-offs last season. It's just a little bit too serious. He's such a warrior that he would've wanted to give his best shot to a comeback but I think common sense has prevailed and he's made the right decision.
"Throughout his career he's proved a lot of people right and a lot of people wrong. He's been dropped from the international and club stage and found his way back to the pinnacle, and that's the measure of the man. It's been an awesome career. He and his family can be very proud."
What the fans said on social media
David Goulbourn: "Great player. Wonderfully skilful, great hands and a fierce competitor."
Terry Sinnett: "Modern day legend for Ospreys and Wales. Will have everyone's best wishes for future."
Kevinchick: "Thank you! Ryan Jones, you made many Welsh fans proud with you're performance's in a Welsh Jersey. Great leader."