George North concussion was stressful - Becky James
Last updated on .From the section Welsh Rugby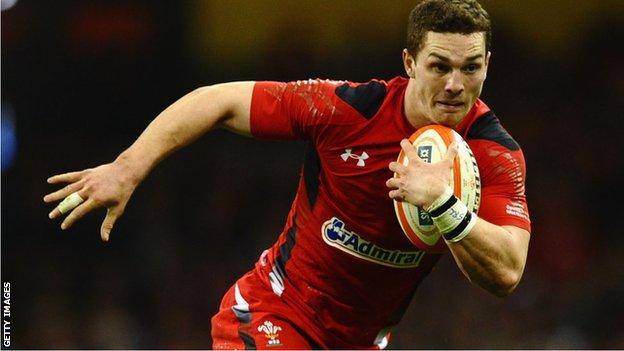 Sport Wales TV
When:
20:00 BST, Friday, 21 August, 2015
Channel:
BBC 2 Wales
Watching George North dealing with the effects of concussion was a stressful experience says his partner, Welsh cyclist Becky James.
The 23-year-old Wales and Northampton wing suffered four blows to the head in a five-month period last season.
He has not played since March, but is currently training for the World Cup.
"It's quite stressful to think how he was affected after the concussions and how his speech was affected for the first few days," said James, also 23.
"It's been hard to see him not playing and going through concussion protocols," added the cyclist, who has also spoken to Sport Wales TV about her own cervical cancer scare.
North suffered blows to the head during Wales's Test matches with New Zealand on 22 November 2014 and England on 6 February 2015.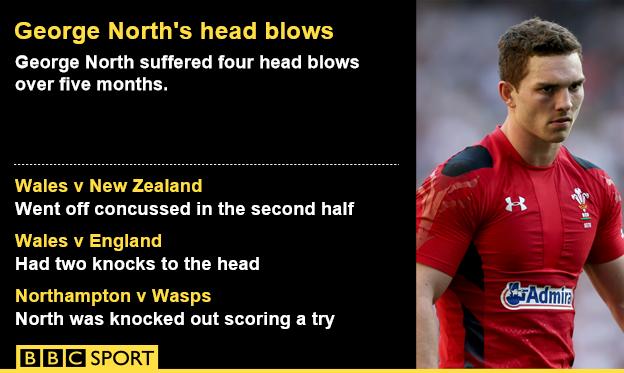 The British and Irish Lions player was knocked unconscious in the act of scoring his second try for Northampton against Wasps on 27 March this year.
Following that incident he was ordered to rest after being examined by a neurosurgeon.
James, a double track world champion in 2013, has suffered with knee and shoulder injuries and had a health scare when she required surgery following an abnormal cervical screening test.
She says North's injuries were traumatic to witness.
"Seeing him get so many concussions was awful," she added.
"It was more of a worry than my knee because it's your head at the end of the day and you only get one of them, but I could get my knee replaced if I need it one day.
"It's just crazy to think about the hits rugby boys have to go through."
How concussion is treated in rugby union
World Rugby has clear guidelines for the treatment of players suspected of suffering from concussion. It's broken down into what their website describes as "6 Rs". They are: recognise, remove, refer, rest, recover and return. A player suspected of being concussed, every stage of their assessment and recovery must be overseen by a suitable trained healthcare professional.
Read more
North said in May there were still some days when he still felt "terrible".
"To begin with it was assessment every day, because they like to monitor you for the first 24-48 hours. You can't really be left alone in case something happens," North said.
"I saw a specialist and it was recommended that I take a month off and then review post the time off.
"In that time I was able to do a little bit [of training] just to keep me ticking over - and then some days not being able to do much.
"Then it's just how you progress each day and hopefully make a return soon."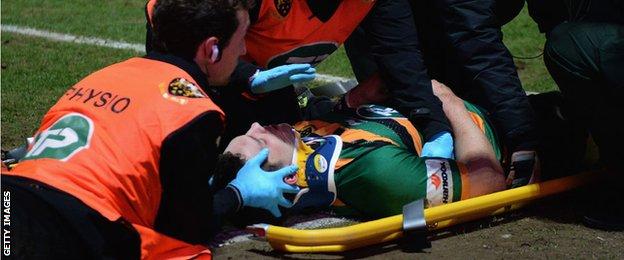 The former Scarlets winger is likely to be in Wales' final squad for the World Cup when it is announced on 31 August.
Wales kick off their campaign against Uruguay on 20 September, but North is expected to figure in one of the two warm-up games Warren Gatland's team have against Ireland on 29 August and Italy on 5 September.
You can watch Sport Wales every Friday on BBC Two Wales and on the iPlayer.