Ryan Jones explains his retirement decision & 2008 Haka standoff
Last updated on .From the section Welsh Rugby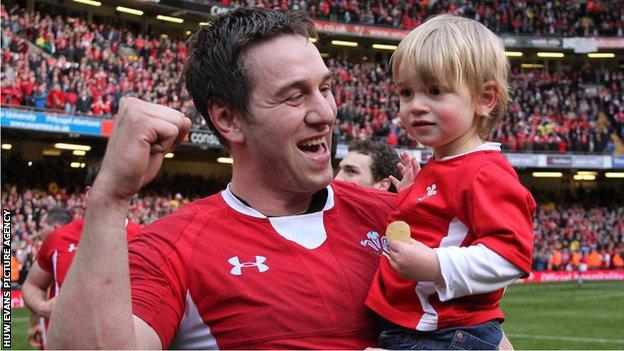 A desire for a normal family life guided Ryan Jones' decision to retire from rugby following a shoulder injury, and he says one of his most treasured memories is when Wales 'won the Haka'.
"I suppose it was my body that gave up in the end, sadly it's no longer able to do what I'd like it to do," he said of his retirement decision.
"My biggest factor was I wanted some semblance of quality of life post-rugby and first and foremost to be the best dad and husband I can be."
Jones was injured playing for Bristol at the end of the 2014-15 season, and told the BBC he could pinpoint the moment when his decision became clear.
"Waking up in a hospital bed yet again in early June surrounded by family and the doctor staring at me and saying 'enough is enough, I don't think your shoulder and arm can take any more' - from that point on I think it was a pretty straightforward decision to make actually although it was emotionally tough," said Jones
"I've got three little ones under five and they are quite active, like to run around and wrestle and play football and go swimming and I want to be a part of that - so, family first."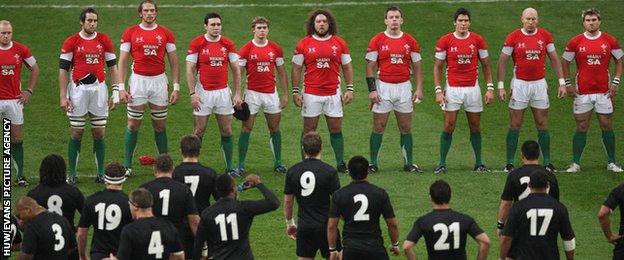 Why did Wales face down the Haka in 2008?
Jones played three Tests for the British and Irish Lions in addition to his four Six Nations titles with Wales as well as captaining his country 33 times.
In domestic rugby he won four Celtic League titles with the Ospreys.
However, his most treasured memory is of the famous stand-off between the All Blacks and Wales in 2008 following the Haka - New Zealand's traditional, intimidating pre-match ritual.
Wales refused to break eye contact in front of a cheering Millennium Stadium crowd. But why did they do it?
"The day before the game we spoke about what the Haka resembled and [Kiwi-born coach] Warren [Gatland] pointed out 'Does anyone know when the Haka actually finishes?'" said Jones.
"We all alluded to 'It's when they crouch down or when they do the sign across the throat or whatever,' and Warren said 'No, it's actually when a member of the opposition turns and walks away'.
"And someone asked 'What if no-one moves?' and Warren shrugged his shoulders and we decided very much then 'Well, we'll do that.'
"We didn't tell anyone and we just did it. It's a moment that lasted probably 30 seconds but felt like a lifetime when you've got 75,000 fans taking pictures, clapping and cheering.
"It's the day we won the Haka - but it's about as close as I got to beating New Zealand mind in 15 years, but it's a moment that I'll certainly treasure and the photo looks good too."
For the record, Wales lost 29-9.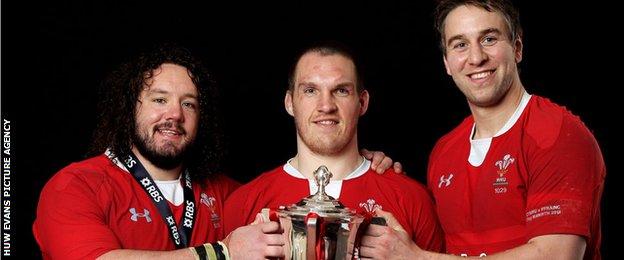 How do you feel about the tributes paid to you?
Many former players and coaches have paid tribute to Jones following his retirement announcement.
They include Wales coach Warren Gatland and Swansea City manager Garry Monk.
"I said to my wife 'It's like being a visitor at your own funeral'," added Jones.
"I'm very fortunate I've met some wonderful people along the way and I have actually been overwhelmed by the response and the outpouring and feeling of good will from the public.
"It does mean the world to me. Essentially I'm just a kid from Newport who happened to be okay at rugby - rugby has been wonderful to me and my family.
"Rugby has defined me. It's been my employment, my passion, my hobby and I hope it will be in the future."