Bristol can cope with Ryan Jones loss says Robinson
Last updated on .From the section Rugby Union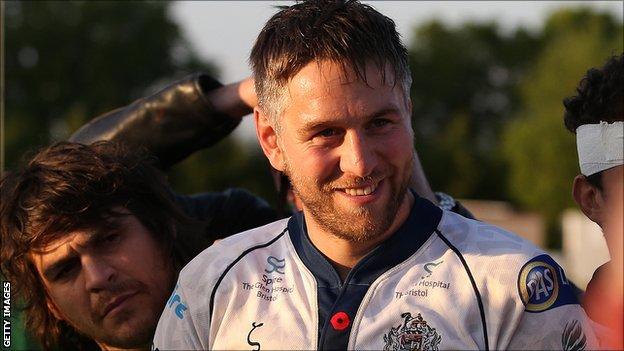 Bristol director of rugby Andy Robinson says the Championship club can cope with the loss of forward Ryan Jones after he announced his retirement.
The 34-year-old won 75 caps for Wales and won three Grand Slam titles.
The versatile back-row forward played just 15 games for Bristol, with a shoulder injury forcing his retirement.
"When you think Josh Ovens, Mitch Eadie, Nick Koster and Joe Joyce can play in the back-row we've got good coverage," Robinson said.
"We have James Phillips here on trial, the next month is going to be important for him as to whether we take him on board."
Speaking to BBC Radio Bristol, Robinson added he was happy with the structure of his squad with the season two weeks away.
"We have a number of young players here on trial so we are always looking at our squad and looking at the players to bring in," he said.
"Recruitment is always an ongoing process and I'll be looking at which players can come in and make a difference to the squad, but we are pleased with what we have here and it will only be an addition if I feel it can make a real difference."
Robinson described the loss of David Lemi and Gareth Maule for 12 weeks through injury as a "blow" but highlighted the importance of getting them back for the second half of the season.
He also expected second-row forward Ian Evans to return in December or January but said there was better news on centre Gavin Henson.
"He's working hard and has been in the gym every day and is making significant improvement," he said. "We are hopeful he is ahead of schedule, it needs time to heal as it was a break but I'm confident we'll see him back ahead of schedule.