Mike Blair: Welcome win for Scotland but issues to tackle

By Mike Blair
Former Scotland scrum-half
Last updated on .From the section Scottish Rugby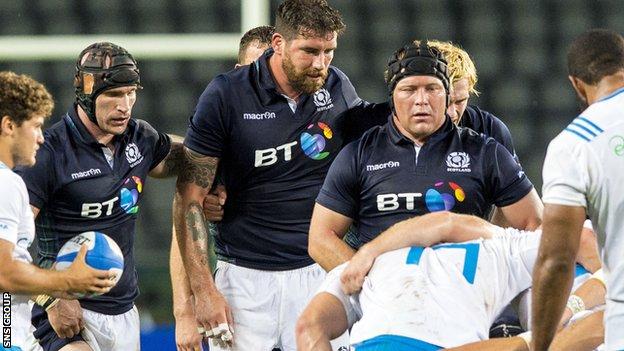 The game in Turin on Saturday, although a bit sloppier that the previous weekend's Test against Ireland, was possibly more important to Vern Cotter.
It did not come easily and you wouldn't say that the last five minutes were exactly a master class in closing games out but it was a win and Scotland will see this as a building block - the monkey is off the back and they have their first win of 2015.
We saw from the last 20 minutes how important the impact from the bench can be. It's not the change in quality of the player but the change of mindset and tempo.
Hamish Watson, Peter Horne and Henry Pyrgos brought with them a bit of desperation and attempted to grab the game by the scruff of the neck - not always an easy thing to do when the momentum is against you.
They were able to wrestle it back by taking the initiative.
A tap-penalty from Pyrgos, a turnover from Watson and the Horne support line from another good Watson offload were enough to swing the game.
Test matches are very often won in the last 10-15 minutes, when the substitutes are on the pitch, so the selection of the bench spots are absolutely crucial.
There are plenty of talking points from the game but I want to focus mainly on the Scottish defence.
I thought the shape was very good. Apart from one blindside attack when Scotland should have been a bit more passive, using the touchline as an extra defender, they didn't look under pressure in terms of numbers on their feet and players in the right positions.
They also seemed to complete more dominant tackles than in previous games, with John Hardie in particular throwing himself about to good effect.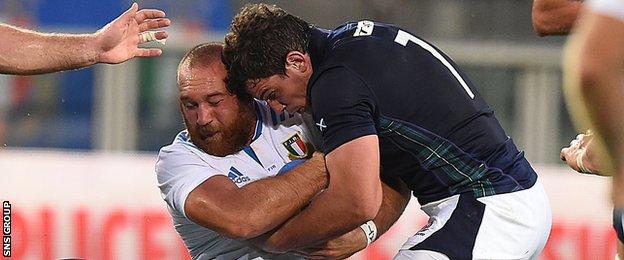 The balance between making your tackles and making big hits is critical though.
Often big hits are made through tackling a bit higher but more tackles are missed when tackling high and I felt this was noticeable on Saturday.
I've not seen the tackle stats and the completion rate would have been not too bad but there were several clean, fairly textbook one-on-one tackles missed that led to line breaks.
The mindset should probably be when its a two-man tackle, with one man high and one man low then a big hit is the goal but the one-on-ones should be a low 'chop' tackle.
Better teams than Italy would have made much more of these line breaks but Scotland were able to get their transition defence in place early and snuffed out the opportunities.
Scotland looked a little bit ruffled when Italy took them on physically with their runners coming hard off scrum-half Guglielmo Palazzani. It will be a bit of a concern for defence coach, Matt Taylor, as Ireland too found some easy yards the week before in the same area.
Numbers in the defensive line doesn't seem to be the issue so I think it's just a simple case of getting off the line a bit harder and whoever is involved in the tackle making a bit more of a nuisance of themselves to slow the ball down.
As far as predicting the 31-man World Cup squad goes, I think I would be very comfortable with 19 names.
I reckon I've got 10 of the 14 backs nailed on and nine of the 17 forwards. I wonder how much closer Cotter is after releasing seven from the squad?
Most of his experimenting and tinkering will be done by now and I look forward to his selection for the Italy return fixture at Murrayfield. I believe this will be a major indicator of his thoughts on his first XV for the World Cup opener against Japan.