Wales sevens player Carl Townsend given doping ban
Last updated on .From the section Welsh Rugby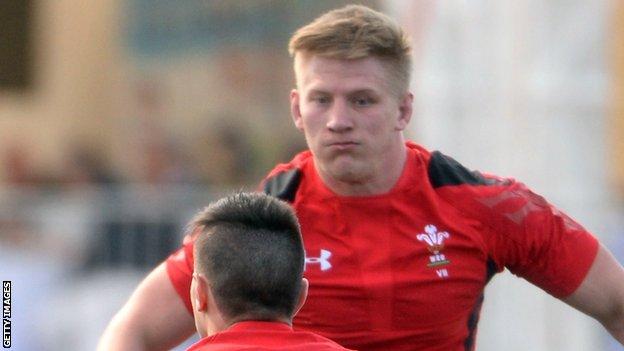 Wales sevens player Carl Townsend has been suspended for four years for an anti-doping violation.
The 27-year-old tested positive for the banned anabolic steroid Oxandrolone following the Rugby Europe Grand Prix 7s in Moscow, Russia, in June 2015.
World Rugby said the former Cross Keys flanker accepted that he had committed an anti-doping rule violation and had waived his right to an oral hearing.
Townsend's suspension will run until midnight on 28 June, 2019.
In a statement to the World Rugby disciplinary panel, Townsend said he believed that non-cleared food supplements had led to his positive test but accepted full responsibility.
"Following a decision to retire from semi-professional rugby early in February 2015, I did not have any intention of returning to the sport," Townsend had said in his correspondence with World Rugby.
World Rugby statement:
"[Carl Townsend] underwent an in-competition urine test on 7 June, 2015 at the Rugby Europe Grand Prix 7s in Moscow, Russia. Upon analysis, his sample was found to contain the presence of Oxandrolone, which is listed in Section 1.1a of the World Anti-Doping Agency's (WADA) list of prohibited substances."
"During this time I admittedly purchased over-the-counter protein, pre-workout powders and testosterone boosters that were not quality assured and batch-tested.
"I was selected to represent Wales development 7s in May 2015, and following notice of my selection I immediately returned to purchasing certified and batch-tested supplements to ensure that I was in line with doping rules and regulations of 2015.
"Following a doping urine test that took place during a representative competition in Moscow European Grand Prix 7s tournament, it came as a disappointment and surprise that I had tested positive for Oxandrolone.
"I regret the naive decision to have taken such supplements that were not quality assured, batch-tested and in this case had been contaminated.
"I am aware that it is my responsibility to ensure that the supplements consumed are batch tested and quality assured to be in line with the anti-doping rules and regulations."
Welsh Rugby Union statement:
"There is no room in the [World Anti-Doping] Code for carelessness or not knowing and players are encouraged to check the prohibited lists, found via the WRU website, which include over-the-shelf medication and supplements. The WRU advises all its national squads on anti-doping and ensures the professional regions and semi-professional clubs are fully aware of their responsibility to educate their players of the UK anti-doping rules and regulations."
World Rugby said Townsend should be dealt "in accordance with the mandatory sanction applicable" under the regulations.
"World Rugby operates a zero-tolerance policy on doping. Players are solely responsible for any prohibited substance found in their body and this decision sends a clear message to all players on the risks of taking a banned substance," read a statement from rugby's governing body.
"This particular case also highlights the dangers of using supplements and the need for players to be vigilant and aware of what they put into their bodies at all times, as the consequences to their careers could be significant.
"World Rugby has in place a comprehensive education programme which continues to evolve on www.keeprugbyclean.com and World Rugby continues to run mandatory education across its events. The latest e-learning programme highlights the dangers and consequences of doping.
"Given the time for an appeal has elapsed without the player exercising that right, the decision is now final and binding."