Borderer Robin Hislop thriving in English Championship
By Jamie Lyall
BBC Scotland
Last updated on .From the section Scottish Rugby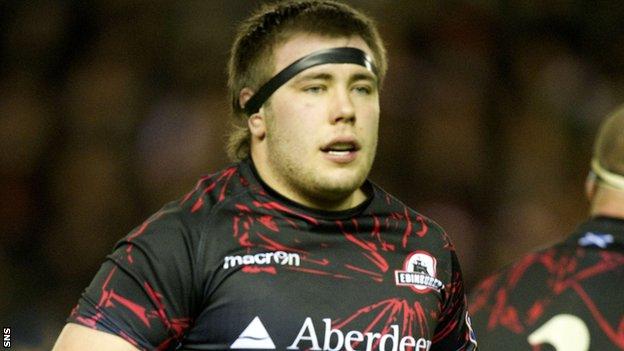 Nestled and confined to its modest boundaries by rippling hills and well-grazed pasture rests the picturesque border town of Langholm.
It is, as its bold welcome sign proudly testifies, the birthplace of Hugh McDiarmid, the great Scottish poet and journalist, and astronaut Neil Armstrong once ventured here to rapturous acclaim when an ancestral link to the clan that presided over these lands centuries ago was unearthed.
Like many counterparts in Scotland's southern reaches, Langholm has produced a fine vintage in Scottish rugby talent - men forged and hammered to gristle by the relentless toil of farming life.
In some respects, Robin "Bomber" Hislop, the impressive Langholm lad in exile at Rotherham Titans, fits this mould. In many others, the young prop is anything but conventional.
There's the nickname by which he is known almost ubiquitously on and off the field, inherited from father Brian in a manner that almost feels like a rite of passage.
And the lesser known moniker he'd rather forget that pokes fun at his physical resemblance to Pumbaa, the warm-hearted but crude-featured warthog from The Lion King.
There are the bohemian hairstyles of yesteryear, the mullets and rat-tails he cultivated and flaunted for, he concedes, "no real reason", and the unspoiled streak so often coached out of athletes his age that still proffers an outlet for Hislop to speak his mind.
He was raised by Brian - a Langholm stalwart, Scotland B prop and coach in the national age-grade set-up - on a diet of rugby and hard work.
"I wasn't that interested in school when I was younger," the 23-year-old says. "I thought I just wanted to be a farmer.
"But as I got into my rugby more and the game became professional, I was like, 'that's what I want to do'.
"I left school at 16 and worked on the farm for a year before I signed my first academy contract at Edinburgh. When that's all you know, you think that's sound, but looking back now, and when I go home I'm like, man, that's hard work."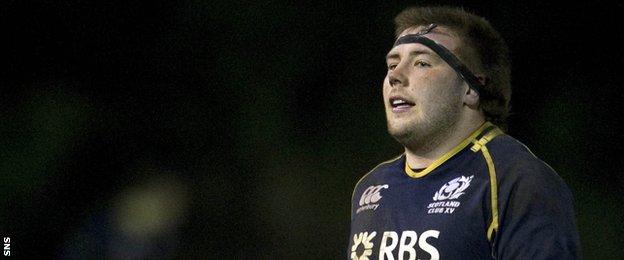 As fellow front-row and southern upstart Grant Shiells alluded to last week, the oft-insular Borders hotbed can kindle a tribal approach to the game, where home-town pride is channelled through parochialism.
Teenage Hislop took "quite a lot of heat" when he chose to progress his career via Hawick Wanderers over sticking by the less illustrious Langholm and their freshly established colts side.
"It probably is still there to a certain extent," he reasons.
"I think when you get out of that environment, you go live in Edinburgh for a few years and you come down here and look at it, you can think, 'that's a bit childish'."
Hislop was identified as a burgeoning talent by the powers that be, signing for the capital side, and featuring for the Scotland U20 team he would later captain a year younger than most.
A while back, he came across a programme from a 2011 U20 Six Nations fixture at Twickenham, taking a snap of the team sheets for his social media followers.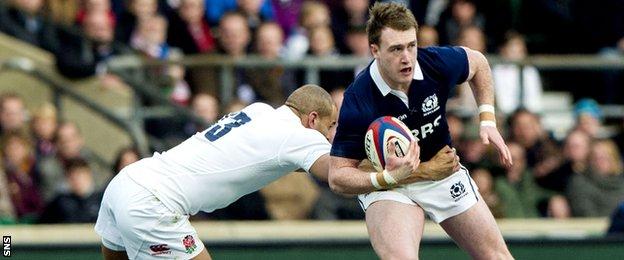 Scotland's squad was adorned by the names of Stuart Hogg, Mark Bennett and Hamish Watson.
But would-be stars and future British and Irish Lions peppered the English line-up. There was Owen Farrell, Jonathan Joseph, Christian Wade, Joe Launchbury, Mako Vunipola, George Ford and, such is the way of the modern game, Scotland cap Kieran Low.
"At the time, in the Scotland team there was maybe two professional players and five academy players, where that whole English team had played a lot of professional rugby.
"The step up to U20 probably wasn't as much for them.
"It's difficult in Scotland; there's still a massive gulf between club rugby and professional rugby. There's nothing between that.
"I remember when I was still at Edinburgh, (Scotland prop) Allan Jacobsen and (Welsh cap) John Yapp were ahead of me. If there's one injury I'm going to be involved in the team, but if not I'm probably going to be playing for Boroughmuir.
"No disrespect to that league (BT Premiership) but what I needed to get better at was scrumming, and scrumming in that league for me was pretty easy. To go from that to playing in a European Cup match was such a massive step up.
"I think it's better now they've started doing Edinburgh back-up against Glasgow back-up games, but even that's just came on in the last year."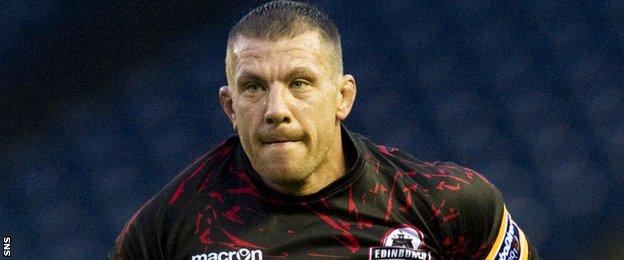 Such is the conundrum for Hislop, and that facing many young Scots jostling on the fringes of the two professional squads in Edinburgh or Glasgow.
His circumstances were exacerbated by a broken leg that felled him during the first months of Alan Solomons' Edinburgh reign, where the South African sought structure and discipline amid a turbulent period for the club.
"He just wanted his match 24 to train, and everyone else trained with the academy players or with their clubs," he says.
"That was a bit frustrating for me as someone who wanted to break into the first team.
"It's only recently I've started to appreciate he needed to do that, but as a young guy, I was like, I'm a professional player, I've done the whole academy thing, I want to kick on."
In the autumn of 2013, a recovered Hislop chose to look south in search of game-time and improvement in the Championship.
After an initial loan deal, two years on, he remains with Rotherham.
"It's helped massively playing week in, week out," he enthuses.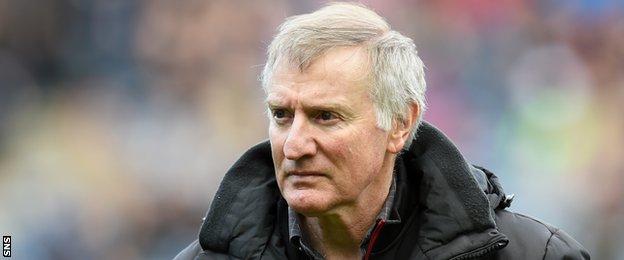 "It's maybe not as fast-paced as the Pro12, but up front it's very physical, it's set-piece orientated, it's an ideal league for a forward to learn his trade.
"Edinburgh didn't really want to let me go (permanently). I asked: am I going to play?
"They said, you're going to be second, third, fourth choice. Well, I don't want that.
"Could I have played loads for Edinburgh if I'd stayed? Maybe, but at that point in my career I just had to go play rugby week in, week out at the highest standard I could."
Hislop is 8kg of "good weight" heavier and a more formidable set-piece prospect as a result, since departing the capital.
"Bomber" is battle-hardened and matured at least to the extent that he sports a more conservative hairdo these days, but with one year left on his Titans contract, thoughts of progression have again begun to pervade his mind.
"I've not heard anything - ideally, the best situation for me would be there's a gig at Glasgow or Edinburgh," he says.
"But I don't want to go back to Scotland to not play again. Having played two or three years in the Championship, I don't want to go back to play club rugby.
"I've not had any chat about that, I just keep my head down and see what happens."
The follicular flamboyance has gone, and a trying path to the pinnacle of elite rugby lies ahead. It will demand yet more agricultural graft, and a perhaps a sliver of luck, but it may not be too long before little Langholm acquires another luminary.