Scotland's John Barclay 'surprised' by World Cup inclusion

By Brian McLauchlin
BBC Scotland
Last updated on .From the section Scottish Rugby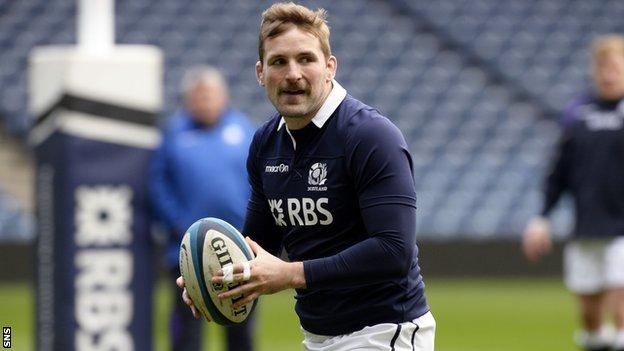 Flanker John Barclay says he was surprised to be offered a place in Scotland's Rugby World Cup training squad by head coach Vern Cotter.
"Once I had missed out on the Six Nations squad I said to my wife I had been playing well," he told BBC Scotland.
"I thought that if I didn't get in then that I probably would miss out."
Cotter names his final 31-man squad for the tournament on Monday, after Scotland face the Italians for the second time in as many weekends.
Barclay told BBC Scotland in May that, to a certain extent, he felt he had been "written off", but revealed he had met with Cotter and forwards coach Jonathan Humphreys after the Six Nations this year.
"Vern (Cotter) phoned me and said I was still in the picture," continued Barclay.
"He told me a couple of things to work on and focus on, and I played some pretty good rugby towards the end of the season, and was quite happy when he gave me a phone and said come up for the camp and we will have a look."
The 28-year-old says the squad assembled now under Cotter has matured and gained much-needed experience that is required for the modern day game.
"Some of the guys that I played with at Glasgow that were very young and even in the space of two years they have grown into regular starters for their club and into leaders so it is interesting to see that dynamic change," he said.
Barclay moved from Glasgow Warriors in the summer of 2013 and joined the Scarlets in Wales.
"I think the change has been good," added the back-row. "Would I be the same player if I stayed at Glasgow? I don't know.
"Gregor (Townsend) is one of the best coaches I have worked with and you look at how Glasgow have done to see testament to that, so I may be a slightly different player, but that may just be down to age and maturity."
Barclay says to make the final cut for the World Cup is still a reality, but he insists he will continue to strive for improvements to his game should he fail to earn selection.
"I know more than anyone here that you don't know when you are going to get a cap!" he said.
"Certainly four years ago I didn't think I would go two years without being involved and I don't think that is being overly arrogant.
"Personally I think you just have to put your best foot forward and do what you can do, and don't worry too much about what Vern will do."