Nevin Spence Centre opened at Ulster rugby ground
Last updated on .From the section Rugby Union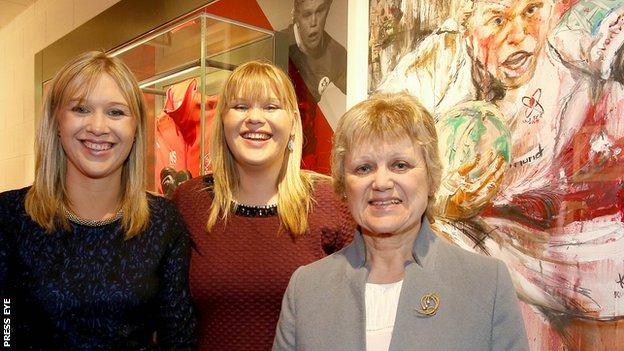 The family of an Ulster rugby star killed in a farming accident say they are honoured to have an educational centre established in his name.
The Nevin Spence Centre was opened on Thursday at Ulster's Kingspan Stadium in Belfast.
Visitors can explore the history of rugby and see the benefits of the game.
In 2012, Spence was killed along with his brother Graham and father Noel in a slurry tank accident at the family's farm near Hillsborough.
"It has been an honour to come and see how Nevin's name has been remembered," said the player's sister Emma.
"Every time somebody walks into Ulster's ground, they will see his name above the door and it is a privilege that he has been given such a legacy.
"Nevin was special to us, and now we find this centre special.
"I hope when people go there they will learn a bit about Nevin and the character he was.
"It is humbling that this honour has been given to him.
"We have learned very quickly that life is precious and that you have to make the most of life.
"We are just very privileged that Ulster are letting Nevin's legacy, and the person he was, live on."
The centre was officially opened by Sports Minister Carál Ní Chuilín and the ceremony was attended by Nevin's mother Essie, and sisters Emma and Laura.
It is housed in the Memorial End stand which was constructed as part of a major redevelopment of the Kingspan Stadium.