Tommy Allan: 'Unusual' Italy fly-half charts voyage of discovery
By Jamie Lyall
BBC Scotland
Last updated on .From the section Scottish Rugby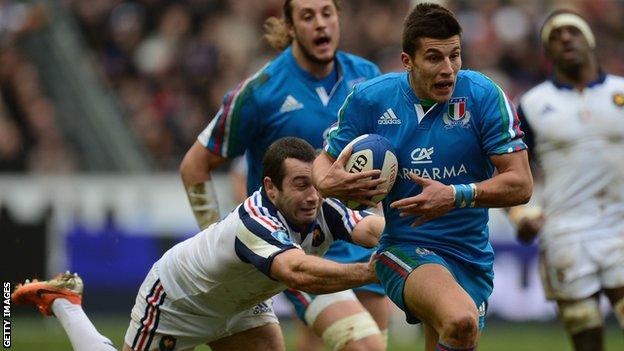 Scotland v Italy
Date:
Saturday, 29 August
Venue:
Murrayfield Stadium, Edinburgh
Kick-off:
15:15 BST
Coverage:
Listen on BBC Radio Scotland 810MW and online
"This is not usual, you understand."
Italian rugby's media chief, impeccably groomed and olive-skinned, is referring to the presence of media and the granting of interviews in the team hotel on the eve of a Test match.
It seems a grave statement, perhaps even a warning to tread carefully with the questioning.
But a beat or two later, his shoulders rise in a wonderfully continental shrug, and a grin spreads across his face.
"Twenty minutes doesn't change a life."
This is an unusual occurrence indeed. But then again, the player who lounges on the sofa opposite, tucking into a post-captain's run snack is no ordinary case.
To suggest Tommaso 'Tommy' Allan is borne of eclectic origins is akin to stating Scotland head coach Vern Cotter is partial to a baseball cap.
In the eyes of many in Scottish rugby, he will forever be the playmaker that got away.
The fly-half was born in Vicenza, in Italy's North East, to an Italian mother and a Scottish-born father, with an uncle who won nine Scotland caps (and 13 more for South Africa before international regulations prevented such crossover).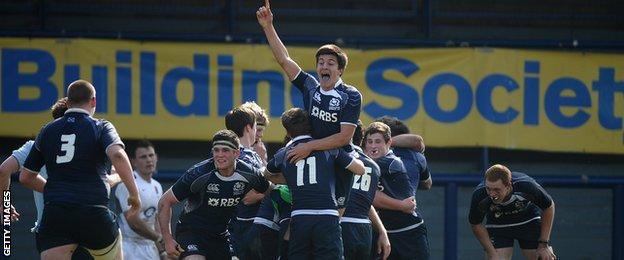 He represented Scotland at Under-17, Under-18 and Under-20 level, but was never offered a deal with either Glasgow Warriors or Edinburgh.
After moving to England with his family aged eight, he spent time in London Wasps' academy, had successful teenage spells in South Africa, where his father and uncle were raised, with Western Province, and finally settled in the French top-flight with Perpignan in 2013, where team-mates and coaches helped grease the wheels for his Italian representation.
Only when named in the Azzurri autumn Test squad of 2013 did Scotland's director of rugby, Scott Johnson, pick up the phone to query his intentions.
Allan's English is delivered with a pronounced South African edge, but he reverts seamlessly to the rich ebbs and flows of the Italian tongue as he weighs up a second World Cup warm-up encounter with Scotland in as many weekends.
"It's quite gloomy outside," the 22-year-old laughs. "It's a nice experience [being back in Scotland].
"I try and take it the same as any other game, don't let my emotions take the best of me.
"I don't give it any special treatment; it's just a rugby game in the end."
Just a rugby game it may be, but in a life of social and geographical upheaval, the sport has been Allan's sole constant.
In many ways, it has fuelled his wanderlust and shaped his remarkable voyage.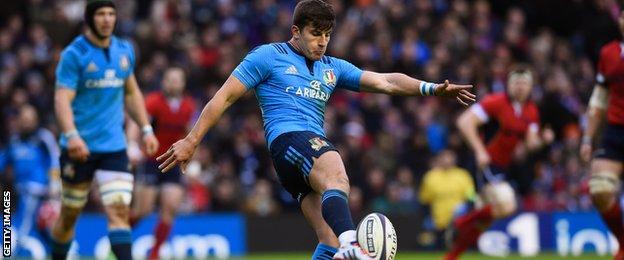 "It's always been there for me and it's helped and I'm thankful for what it's given me," he reflects.
"My dad was always watching the Springboks, so I'd wake up and watch the Tri-Nations (now Rugby Championship) with him. It was always kind of in my mind, in my body to play rugby.
"I always thought about it as a career. I just took it as it came but it went well for me.
"I made a lot of my decisions, like school-wise, linked to rugby. I changed school because of rugby.
"I've travelled a lot - that started when I was young as well. My parents moved a lot of houses. I liked moving around, I like changing environments, and it was nice to try different rugby cultures as well.
"It helps me build my own character and also my perception of rugby with different skills you learn in different countries."
Saturday's Murrayfield clash, hot on the heels of a turgid win for the Scots in Turin, will be the fourth time Allan has taken the field against Scotland, encountering former age-grade team-mates like Jonny Gray and Mark Bennett, and lining up directly opposite ex-colleague Finn Russell.
"It'll be quite fun," he beams mischievously. "Finn's a very good player as well, I rate him a lot and he's had a lot of success this year.
"It'll be interesting to see…there'll be a little bit of chat in the game. I'll just talk to him during the game. I can't say [what I'll say to him] now."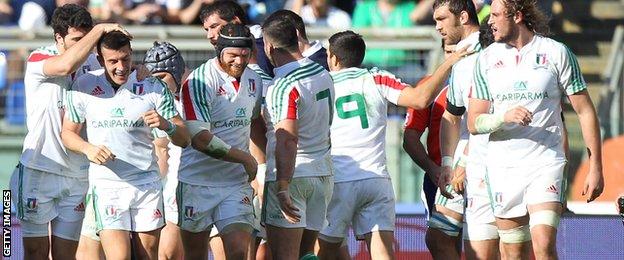 Its 16 months since Allan first tackled the Scots amid a frenzy of finger-pointing media coverage directed at those responsible for his perceived escape.
He was rawer back then - skinnier, less assured and his goal-kicking was notoriously suspect.
That Six Nations clash of 2014 showcased the good and the bad of the young pivot. He scored a fine try in the Roman sun, attacked with purpose, but was flattened by Sean Lamont as Scotland ran in a second try on their way to a last-gasp victory.
"I've bulked up a bit; I've gained 5kg and I feel it's helped a lot in contact," he reveals.
"I've worked a lot on my kicking these last three or four months. There's a guy at Perpignan and I went to see a guy in England.
"I feel a lot more confident, I have my routine set up - it's completely changed from three or four months ago.
"I think I've matured as a player. I think I've calmed down a bit; maybe I was a bit too frantic when I was younger.
"Even before the game last week I was very relaxed, I think that helped a lot. Maybe I've taken confidence in all the things I've done in the last few years and it's beginning to show."
Within Italian rugby, however, Allan is saddled with the unenviable burden that accompanies the number 10 jersey.
Fly-half is a position that has, most assert, never been satisfactorily filled since the great Diego Dominguez retired in 2003, occupied thereafter by a torrent of unsuccessful candidates.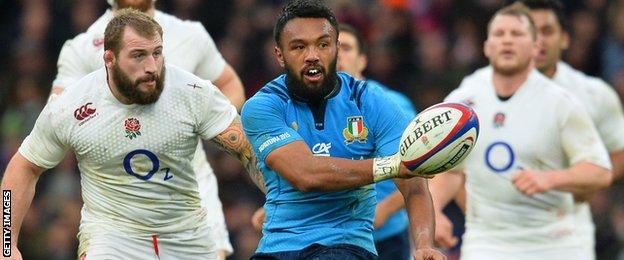 With the bruising Kelly Haimona nursing a broken arm, Allan heads into the World Cup as coach Jacques Brunel's first choice pivot.
"It is a pressure to play 10, but that's something that comes with the job," he reasons.
"It's been a problem [position]; I think the media make it more of a problem than the team does. They put a lot of pressure on the players that come.
"I don't try and think about the past, I think about my own game and how I can develop.
"There's only me that can make a fool of myself; if I train properly then I know I'll do well."
Allan is no fool; speaking in measured tones. At 22, he's already travelled further and experienced more in rugby than many seasoned professionals.
And 20 minutes in his leisurely company is ample reinforcement of the press man's salvo - the lad is not usual at all.