Scotland: Vern Cotter faces 'pretty big headache' over World Cup picks

By Phil Goodlad
BBC Scotland
Last updated on .From the section Scottish Rugby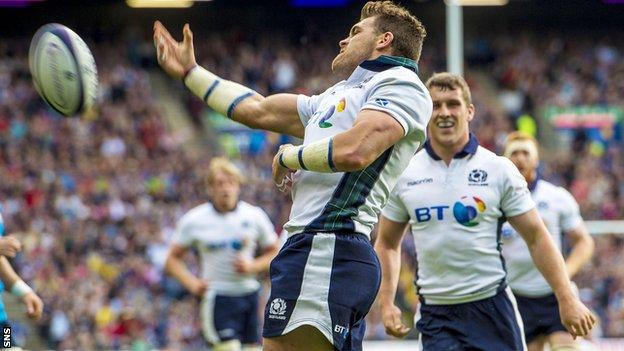 Vern Cotter admitted he faces a "pretty big headache" in selecting Scotland's Rugby World Cup squad after Saturday's six-try shellacking of Italy.
The head coach names his 31-man tournament party on Tuesday.
"We'll sit down and look through everything: combinations, mixes, injuries, availabilities, that sort of thing, and hopefully things will become clearer," he told BBC Scotland.
"We'll take 24 hours and start forming something on Sunday afternoon."
Cotter's current squad sits at 40 players, with a fourth and final warm-up fixture against France in Paris next weekend.
The head coach confirmed that centre Peter Horne came off as a precaution after suffering a second-half "'tweak to knee but walked off, so that's reasonable".
"Not everybody can make it - there's going to be some good players who will miss out - and we'll feel for them," he added.
"But the World Cup hasn't started yet; there's another game, so one of the messages we'll be giving players that don't make it is hang in there, because it (an injury) could be at any time."
While understandably pleased with much of the 48-7 victory, and the improvement on last week's narrow win over the same opposition in Turin, Cotter sounded a note of caution on any raised expectations.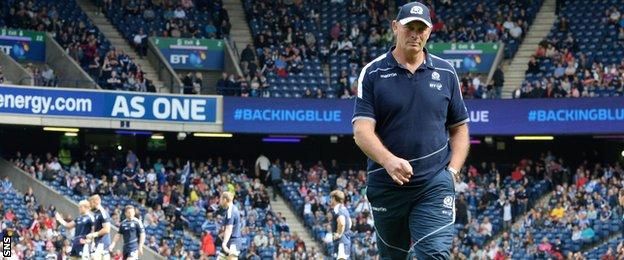 "Three of those tries came from interceptions, so we're not going to jump up and say we had it all our own way," he said.
"It was difficult at times, the positive thing was focusing on certain aspects of our game last week that didn't work well and improving them this week.
"We can't be satisfied with that, we were inaccurate, but there were some good things and we'll try and develop other good things and stick them on - and hopefully build a better performance."
The emphatic result sat in stark contrast with the winless Six Nations campaign earlier this year, with Cotter highlighting the mental strides his players have made during pre-season.
"Players are prepared to have a good look and ask questions of themselves and they've decided they want to improve and need to improve," he said.
"Humility and going to those awkward places where no-one pats you on the back and says well done, that's something that's developing within the group and they can be proud of it."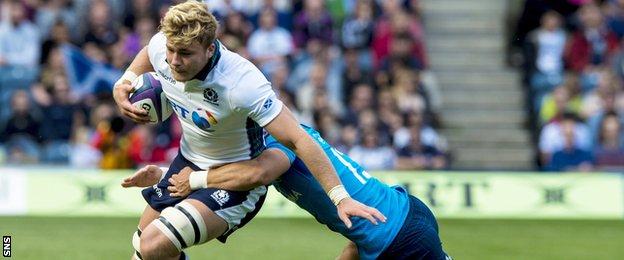 Number eight David Denton, who has rediscovered some of his most effectively bruising ball-carrying form, echoed his coach's remarks.
"We've just had some more time together," he said. "At the time (of the Six Nations), we were a team that hadn't had that much time together, with a lot of young players.
"I think you can see the hard work that's been put in this pre-season. We're getting into our shape really well, we're all well-conditioned.
"It bodes well going into the World Cup, but this isn't job done - nowhere near."
On his own World Cup prospects, Denton added: "I've been having many sleepless nights for the last couple of months, but we've all done everything we can. Its not in our hands anymore.
"It'll be a nervy time for a lot of players; there's 40 very good players and it's just the nature of the game."