Scotland's Alasdair Dickinson coy over World Cup place
By Phil Goodlad and Jamie Lyall
BBC Scotland
Last updated on .From the section Scottish Rugby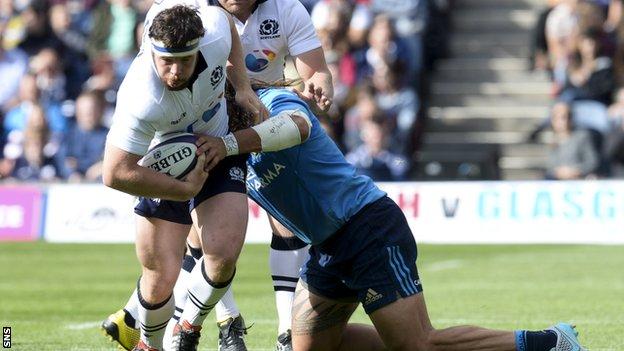 There is something very surreal about conversing with players all but assured of their berth at the impending Rugby World Cup.
Privately, subconsciously even, in their minds and among their peers, they know the golden ticket beckons.
They'll never admit to it publicly, of course, least of all before cameras and microphones and mischievous journalists, dodging the topic with ifs and buts and practised magnanimity, but their certain selection is the African-sized elephant in the room.
Scotland's Alasdair Dickinson is in the form of his life. He is Vern Cotter's premier loosehead and, at 31, is firmly within the age bracket where props are reckoned to produce their finest rugby.
Barring a lightning strike, a shark attack, or an impromptu and injurious five-a-side football match, he is nothing short of a veritable shoo-in.
"I've got to earn my place just as much as anyone else," he insists. "It's a waiting game. Vern keeps his cards pretty close to his chest."
There was a time not so long ago, though, when Dickinson was berated and typecast as a featherweight scrummager, useful in the loose, with deft hands, nimble feet and surprising pace, but powder-puff when tasked with the bread-and-butter set-piece duties.
It's a markedly different tale these days.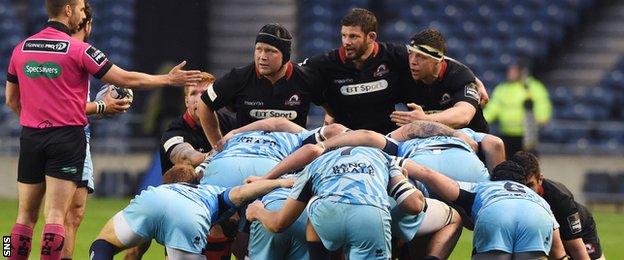 A ray of light in Scotland's gloomy Six Nations Championship, Dickinson earned the man of the match award as one-third of the Edinburgh front-row triumvirate, alongside Ross Ford and Willem Nel - the gruff Afrikaans sheep farmer recruited by Scottish Rugby three years ago with this very tournament in mind - that bested their Italian opponents on Saturday.
The 48-7 pummelling dealt by the Scots dosed a modicum of vengeance for Italy's Murrayfield raid six months ago, when the Azzurri ground their hosts into the turf with a ferocious forward bludgeoning.
That day, Dickinson appeared in the press box eloquent and level-headed as ever, but with an exasperated edge to his voice and anguish writ large across his face.
"We had a tough week's training; we're just a group of humble guys," he says.
"We looked at the video (of last weekend's win over Italy in Turin), we got a bit of luck last week and a lot of it was remembering back to the Italian game at Murrayfield in the Six Nations.
"That hurt a lot of guys. We've still got loads to work on, we're keeping our feet firmly on the ground but we're moving in the right direction.
"The Six Nations was tough - it was a real test of character. Somebody told me our average loss was six points, it was so close.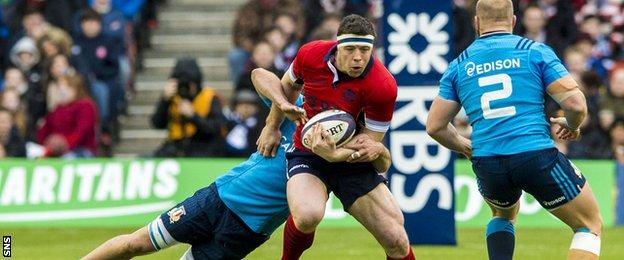 "The guys are good, honest guys and sometimes we didn't get what we deserved. But that's professional sport, so we had to take the criticism on the chin.
"Today we took a couple of strides but I'm sure the video's going to show we've got a lot to work on."
The prop has endured the brutal wound of missing World Cup selection before, Frank Hadden overlooking him for the 2007 showpiece.
But he saw both sides of the coin, as Allan "Chunk" Jacobsen, the man then in possession of the number one jersey, was injured in the first pool match against Portugal, and uncapped Dickinson was sent for.
"Back in 2007, I did all the training and was cut at the last minute," he recalls. "Fortunately I got called up when Chunk got injured, so I did experience it.
"There's not really much you can say - you can't argue your way back into the squad, you just take it on the chin. I got the call, and that was it.
"I was heading down to Gloucester, so I jumped in the car and off I went, tried to focus on something else.
"I had a good nine-hour drive to really let it sink in. You've got to try and focus on something else but again, you're thinking, I deserve my place."
The 40 players awaiting the outcome of Cotter and his coaching staff's deliberations should discover their fate some time in the next 36 hours before the final squad is announced to the public on Tuesday.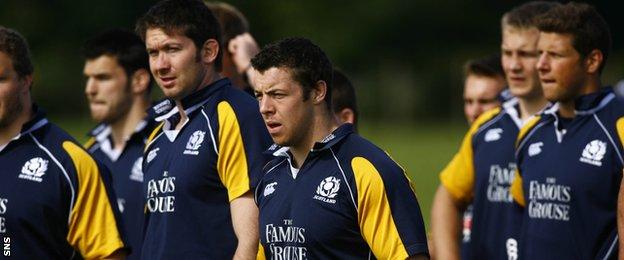 "You know when you first come in it's going to be a gruelling period, and Vern's going to make his choices," continued Dickinson.
"I can see where it's coming from from both camps, and it's really hard to take. But as a senior player in the camp you can say to the guys, it's tough but you're still in the mix.
"It's a brutal call to get, and I wouldn't want to be making these calls. It's hard, but that's what he (Cotter) is there for.
"You're just kind of left alone, but because we've got such a tight-knit group, you will phone up a guy who's not been selected and try and give him a bit of a shoulder to lean on.
"But a lot of the guys know the story. They'll go off to their clubs and get stuck in that way and just get on with it."