Northampton Saints: Jamie Gibson left Leicester Tigers over style
By Graham McKechnie
BBC Radio Northampton sport
Last updated on .From the section Rugby Union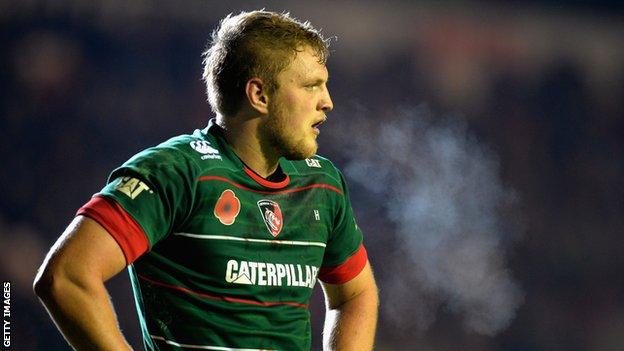 Jamie Gibson says he joined Northampton Saints from East Midlands rivals Leicester because of the style of play.
"There were frustrations - the way we played rugby was a certain way," Gibson told BBC Radio Northampton.
"I didn't feel that it necessarily allowed me to grow to my full potential. Northampton is a club that plays a different brand of rugby and I felt it might suit me."
He added: "Over the last two years as a player, I've grown immeasurably. Leicester is very much based on that work ethic - there's a physicality and there's a pressure because of the club's history. Two years there has made me a much better player."
Former Northampton back Ian Hunter
"I know that Richard Cockerill was gutted to lose him, but he's going to face stiff competition for a first-team place from my man of the season - Calum Clark.
"I have to admit I thought about a move to Leicester myself after the 1995 World Cup. One of the reasons I didn't was because of the rivalry. It just didn't seem right; a Saint playing for Leicester.
"Anyway, I don't think they missed me as they went on comfortably to win four Premiership titles."
But Gibson, who made 40 appearances for Tigers, rejects the notion that he, as an Oxford-educated classicist, might not fit in with director of rugby Richard Cockerill's regime at Leicester.
"Those views were totally ridiculous," he said. "Leicester is a very down-to-earth club and is all about getting things done.
"I'm relatively quiet and keep myself to myself to an extent and I wanted to work hard. I loved it at Leicester. I got on well with 'Cockers'.
"He's a character you can have your blow-outs with and I don't think you could name one player who's played at Leicester under 'Cockers' who hasn't, at times, disagreed with him.
"But he's a good director of rugby - he looks after his players and his squad, and the results over the past few years speak for themselves."
Gibson admitted that he was aware of the controversy about moving between the two East Midlands rivals, adding: "When I first started speaking to Jim Mallinder he said: 'Make sure you take your time because there are extra pressures on the decision that you don't normally get'.
"At Leicester the two big matches are Saints, number one and Bath, number two. There was no more intense game. The atmosphere around the ground on the day, around the club in the days leading up it, the way we trained - it was European Cup intensity.
"As players you get on with it, but you can't help but be involved in the history and get involved in the atmosphere surrounding these classic games."