Lawrence Dallaglio: Former Wasps skipper joins club's board
Last updated on .From the section Rugby Union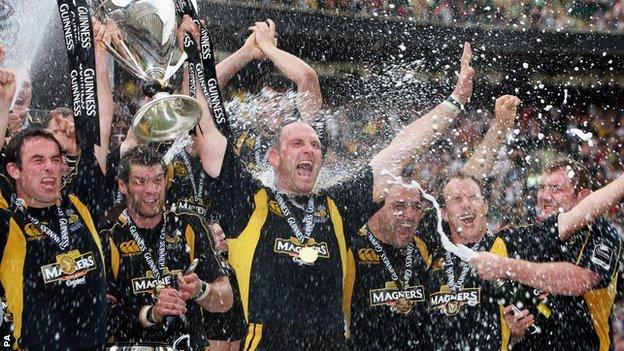 Former Wasps captain Lawrence Dallaglio has been appointed to the board of the Coventry-based Premiership club.
The 43-year-old, who played 85 times for England - 22 of which were as captain, said: "I am thrilled to have been asked to return to Wasps' board as a non-executive director.
"It's a very exciting time to be involved, to be part of Wasps' new era.
"Wasps has formed such a significant part of my life, having spent almost 20 years with the club."
The Dallaglio years for Wasps and England
Dallaglio won the World Cup in 2003, played three times for the Lions and led Wasps to five Premiership titles and three European trophies between 1990 to 2008.
Dallaglio, who is working as a Rugby World Cup ambassador, played a key role in the club's successful £35m retail bond issue earlier this year.
"I have been extremely impressed by Derek Richardson's vision and ambition for Wasps since he took over. The off-field transformation that he and Wasps' new management team have created in such a short space of time has been incredible to watch." he added.
"The ground-breaking move to the Ricoh Arena was a necessary and bold decision, which is now paying dividends for the club, as you can see by attendances having tripled and hospitality having increased by 500%.
"Through the drive shown by Wasps' management team, I am confident the club will re-establish itself as a force to be reckoned with in Europe."
Wasps are in action this Saturday (5 September, 16:30 BST) when they host Samoa at the Ricoh Arena, as part of Samoa's Rugby World Cup warm-up schedule.