World Cup: Mike Blair answers Scotland fans' questions
Last updated on .From the section Scottish Rugby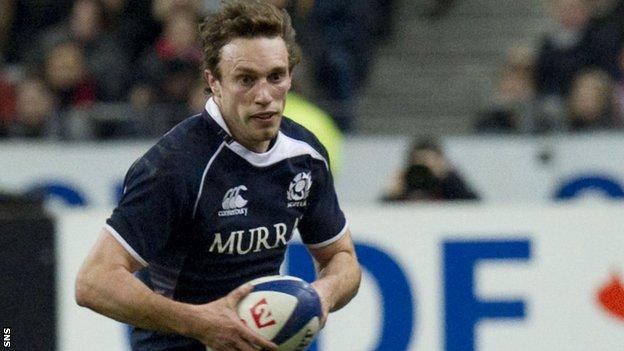 Former Scotland captain Mike Blair has been writing a column for the BBC Sport website as Scotland prepare for the Rugby World Cup.
Ahead of the final warm-up game against France on Saturday evening, the Glasgow Warriors scrum-half invited questions on subjects ranging from team selection to Scotland's chances at the World Cup.
Here Mike selects the best questions and gives his honest answers.
Duncan Alexander: I would like to question the inclusion of John Hardie for the Scottish side having never played or been to Scotland, it must have made a few of the incumbents like Blair Cowan and Adam Ashe feel that the honour of wearing the Scottish jersey has been diminished.
Mike Blair: Hi Duncan. Very tricky topic this one and there are many conflicting opinions on it. On Vern Cotter's side, he has to pick the squad/team that he believes gives Scotland the best chance of winning and everything he has done is within the rules, whether that be three-year residency like Willem Nel and Josh Strauss or through a bloodline like Blair Cowan and John Hardie. His role isn't to make political selections but to put, in his opinion, the strongest team on the pitch from the players he has available.
My personal opinion is that the three-year residency is too short and should be extended to five years, or possibly look at it having to be three years by the time you reach 25 years old so the players have to commit to the country earlier.
I certainly don't feel that it diminishes the honour of representing your country but there will be individual frustrations. I think a positive is that no-one is questioning the ability of the players mentioned and they will all bring something to this Scotland team on the pitch.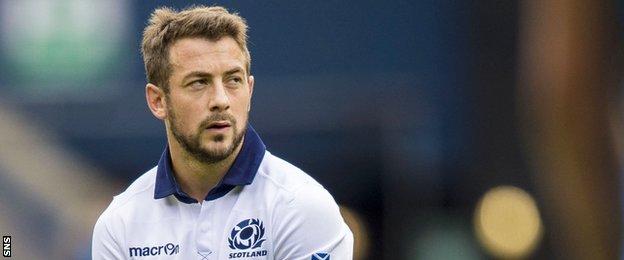 Richard Davidson: As a very experienced international scrum-half, who would your first choice No.9 be?
I think all three nines bring something different. Greig Laidlaw has a huge advantage in that he is the trusted first-choice goal-kicker. Sam Hidalgo-Clyne did a good job with Edinburgh but Duncan Weir kicked in front of him against Italy (a) and although Henry Pyrgos is a very competent kicker, too, he hasn't done it at international level. This immediately puts Laidlaw in the driving seat.
Pyrgos is maybe the most flexible scrum-half in that he can play a number of different styles but certain games will suit each nine. Laidlaw is a very good organiser and plays well within a structure and Hidalgo-Clyne is physically the most impressive - strong, powerful and quick - so I can see each player being "first-choice" depending on the style or opposition.
Michael Gillespie: What do you make of the back row selections?
I was surprised that they decided on five back-rows and four second-rows. To leave Cowan, Adam Ashe, John Barclay and Robert Harley out cuts down on the flexibility of selection and puts a lot of pressure on Hardie as the only specialist open-side. Ryan Wilson has good experience here, too, but there is no like-for-like replacement in the squad should there be a minor injury to Hardie.
I do like the look of the power in the back row, though, and am looking forward to seeing Ryan Wilson, David Denton and Hardie working together on Saturday v France. Strauss has the impressive ability of getting over the gain line on any type of ball so that will be a valuable asset when he gets his chance
Paul Timewell: What would be a good World Cup for Scotland, given that the target is to win it?
In my opinion a good World Cup is qualification for the quarter-finals and a positive performance in the last eight whether that be against Wales, Australia or England. It doesn't have to be a win but it needs to be a very competitive game. Scotland have been ranked predominantly 8-10 in the world over the past two-three years so realistically this would mean a good World Cup in my eyes.
Paul Brennan: I personally think that Finn Russell is the real deal and the man to get Scotland out of the group stages. What's your view?
I think Finn Russell has the x-factor. He is talented, confident and reads the game very well and definitely threatened ball in hand in his first summer Test against Italy last week. He needs players around him to take some of the responsibility off his shoulders but looked very comfortable last week and hopefully he will build on some of the attacking relationships in the game against France.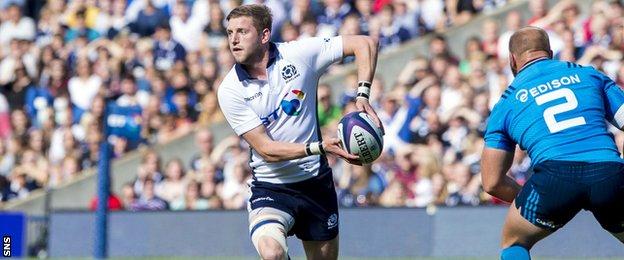 Andrew Nicholson: Has Cotter gone for physicality over skill with the key game being against Samoa?
I don't think so, Andrew. The selection of the XV for the game against France will be pretty much Cotter's first-choice team. I think there is a good balance between skill and physicality, especially in the forward pack. There is the grunt of Jonny Gray with the guile of his brother Richie and the bulk of Denton with the subtlety of Ryan Wilson.
In the backs, either 12 of Peter Horne or Matt Scott has the ability to be a genuine distributing second receiver and Mark Bennett is a natural deceptive runner, better described as being 'silky' rather than abrasive.
George Pilley: Will someone playing French division two be getting enough quality rugby to play at international level??
I played at Brive in ProD2 in 2012-2013 and to summarise the season there were probably a third top quality games, a third of games were ok and a third were a poor standard. It will be different for different positions but if you are talking about Alasdair Strokosch, who plays in the back row and whose game is based on physicality, then I believe he won't have any problems coming from Perpignan in Pro D2.
Tommy McKay: Do you think we need three hookers? You can't rule out multiple injuries but feel we could have used the space in another area.
I think you need three hookers. It's not just multiple injuries that would be an issue with two hookers but a pre-match overnight illness or slight niggle to one player would cause massive problems. You can't just have someone in Gloucester or Newcastle the night before a game just in case, as the replacement needs to be registered for 48 hours before being available, so in my eyes it is far too big a risk.