Manu Tuilagi: England centre denies assaulting police officers
Last updated on .From the section Rugby Union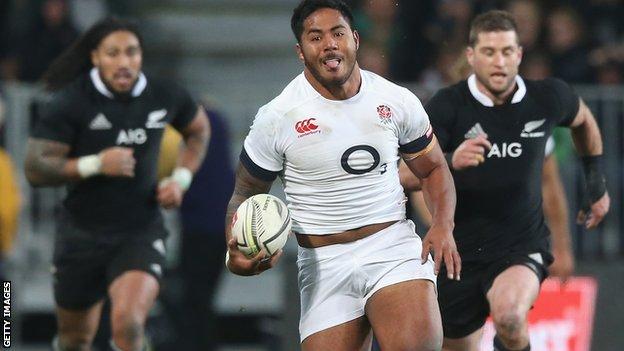 England and Leicester centre Manu Tuilagi has denied assaulting two police officers despite pleading guilty to the offence before magistrates.
"We pleaded guilty because we wanted the case done with," said Tuilagi.
"I didn't assault any of the police officers. It looks like I have basically beaten up the two police officers, which is not the case."
England head coach Stuart Lancaster banned Tuilagi until January following his court appearance, ruling him out of consideration for the World Cup.
However, Tuilagi said he would have missed the tournament - which begins on 18 September and is being hosted by England - because of a recurring groin injury.
The Tigers centre added: "I always own up to what I've done. I feel with this one that I've owned up to what I've not done. That's why I feel it's important to get my side of the story out.
"In a way I feel like I've been harshly treated. It's a bit harsh, but life is harsh, You've got to put it behind you. I'm still young, I can still hopefully make a good comeback."
Tuilagi's past misdemeanours
Tuilagi was warned by police and fined £3,000 by England rugby officials for jumping from a ferry in Auckland in 2011 during the World Cup
He was fined £4,800 by the International Rugby Board for wearing an unapproved mouthguard carrying the name of a sponsor
The Leicester centre was also banned for five weeks in May 2011 for punching Northampton's Chris Ashton
Tuilagi made a "bunny" gesture with two fingers behind David Cameron's head while posing for a photo with British and Irish Lions players in 2013
Tuilagi was arrested in Leicester city centre at about 03:00 BST on Sunday 26 April.
He is understood to have grabbed a taxi driver by the throat and kicked the vehicle's wing mirror before pushing two female police officers in the chest as they attempted to handcuff him.
Tuilagi claimed the officers approached him from behind "so I just pulled my hands away".
He added: "They touched me first and I had no idea they were police officers."
Immediately after pleading guilty in court, Tuilagi issued a statement taking full responsibility for his actions and "unreservedly" apologising.
"It is something I deeply regret and I totally accept the sentence given by the court," he said.