London Irish: 'Fitness key to improving discipline' - Tom Coventry
Last updated on .From the section Rugby Union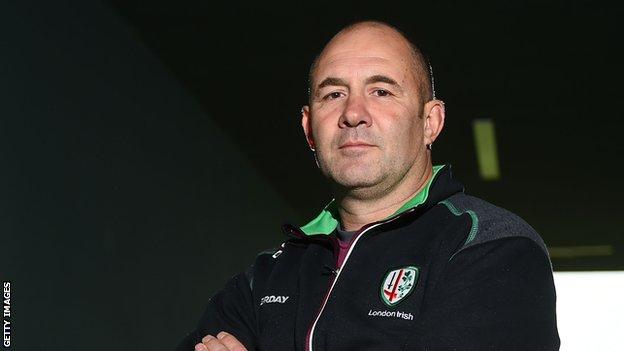 London Irish head coach Tom Coventry believes his players must get fitter to improve their disciplinary record.
Irish received 20 yellow cards, more than any other Premiership team last season with hooker David Paice (four) shown more than any other player.
"We aren't renowned as being the most disciplined team and that can sometimes be down to fitness," Coventry said.
"We've tried to get fitness levels higher to combat a lack of decision making at vital times in the game."
Speaking to BBC Radio Berkshire, Coventry believes that fitness can help his team turn around their poor record for discipline.
"I think the basis for any good sports team is you've got to be fit not just for getting yourself from A to B around the field but also for making good decisions on the trot," he added.
Since starting his role as head coach in January, Coventry says his team have been receptive of his coaching style, but is reluctant to heap praise on any individual in his squad.
"When you have new ideas and new coaching styles and possibly a little bit of friction with change, it can sometimes be a bit of a push back but the boys have been really encompassing.
"It's difficult to pinpoint anyone and I'm conscious of putting anyone on a pedestal at this stage but in our first fitness test we had 23 personal bests so obviously the guys are improving."