Rugby World Cup 2015: Lessons from South Africa shock defeat
By Bill Johnstone
BBC Radio Scotland commentator
Last updated on .From the section Scottish Rugby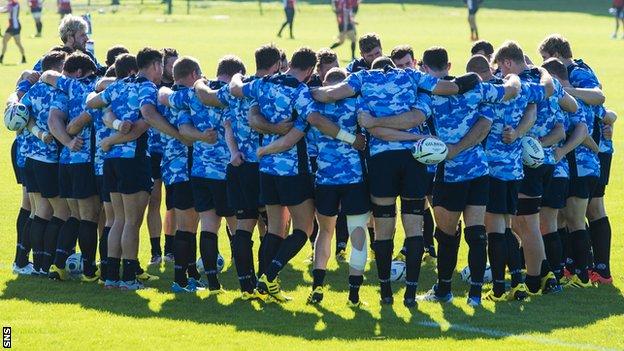 Rugby World Cup
Hosts:
England
Dates:
18 September-31 October
Coverage:
Live on BBC Radio 5 live and sports extra, BBC local radio, plus live text commentary on every match on the BBC Sport website.
Further coverage:
BBC Radio Wales, BBC Radio Cymru, BBC Radio Scotland, BBC Radio Ulster and BBC Local Radio.
I watched Japan against South Africa and I saw the Japanese create the biggest shock, certainly in the history of World Cups, and probably in the history of rugby union as well.
It was an amazing, amazing achievement. A minor nation against the third rated IRB country.
It has had repercussions all around the world with the South African press really getting stuck into the South African management and players, and they can be absolutely brutal out in South Africa in the press when their team doesn't match up to the public's expectations.
On the other hand I saw one quotation they were dancing in the streets of Tokyo, and Bill McLaren would have loved that, he'd have loved to sit and commentate on that great result.
Lessons for Scotland
Lessons for the Scots out of that in the way the Japanese played. They're very quick to break down, they flood the breakdown area.
They're not the biggest of men behind the scrum but they're quite beefy up front. They get there in a hurry and they put numbers in and they really contest the breakdown.
Any sort of squandered possession by Scotland is going to mean that the Japanese will love to run the ball back at them again. They'll run it from deep as they showed against South Africa.
Also they like to keep the ball in play. A lot of their kicking was downfield kicking but it didn't go to touch. It meant South Africa had to run it back at them and it was then the chance of a quick tackle, a quick turnover, and a Japanese counter attack with ball in hand coming from half way or even in the South African half.
It was riveting to watch. It was a great rugby match.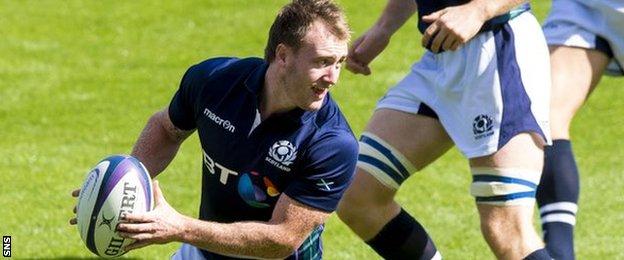 Scotland's starting 15 against Japan
I think Vern Cotter has put out a very strong team for this opening game with Japan.
When you speak to people in the Borders and in Edinburgh, the rugby community now feel Scotland has some very strong players. We maybe don't have the results that match up to that but we certainly have some strong players and the Scots would hope to put it over Japan this week.
They've played four international matches in the past and the Scots have won them all fairly comfortably, but Japan will be on a crest of a wave after that win over South Africa, and it's going to be very interesting to see whether Scotland's Bravehearts can beat Japan's brave Blossoms.
Cotter's gone with his strongest back row at the moment. Ryan Wilson is on form at the moment, John Hardie who has more than played his way in after his previous two caps, and big Dave Denton. Denton the Dunt as I call him because he just drops the shoulder and thumps himself into the opposition with such force, such velocity.
It's going to be interesting, intriguing, to see how Scotland play this game.
A lot will depend on Greg Laidlaw and Finn Russell. They will have to steady the ship, direct the play and keep the Scots going forward, don't let the Japanese run the ball back at them.
| | | | |
| --- | --- | --- | --- |
| Wed, 23 Sept | v Japan | Kingsholm Stadium, Gloucester | 14:30 BST |
| Sun, 27 Sept | v United States | Elland Road, Leeds | 14:30 BST |
| Sat, 3 Oct | v South Africa | St James' Park, Newcastle | 16:45 BST |
| Sat, 10 Oct | v Samoa | St James' Park, Newcastle | 14:30 BST |
Stuart Hogg's return from injury
Stuart Hogg can light up a rugby match like no-one else can. He'll play rugby the way the Japanese like to play it because he loves to counter attack and he does it at pace.
That's going to be another great wee cameo - Stuart Hogg, catching any Japanese kicks, coming back at them from deep and then taking the game to them.
I think it'll be brilliant.
South Africa v Samoa
We'll be covering that live on BBC Radio Scotland, and that is going to be a huge, huge game. South Africa really have to get themselves together because Samoa won their first game against the USA and they've got some big units there as well. It's going to be absolutely riveting.
South Africa had one or two guys who were off the pace against Japan and they were the older members of their squad. Their coach Heyneke Meyer may well clear out the old members and bring in some young blood.
More from rugby:
Get World Cup alerts direct to your phone
Rugby World Cup 2015 schedule
For the latest rugby union news, follow@bbcrugbyunionon Twitter