Finn Russell: From the golf course to the Rugby World Cup

By Tom English
BBC Scotland
Last updated on .From the section Scottish Rugby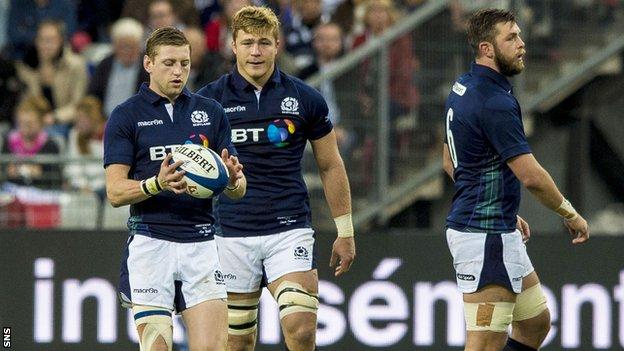 Rugby World Cup
Hosts:
England
Dates:
18 September-31 October
Coverage:
Live on BBC Radio 5 live and sports extra, BBC local radio, plus live text commentary on every match on the BBC Sport website.
Further coverage:
BBC Radio Wales, BBC Radio Cymru, BBC Radio Scotland, BBC Radio Ulster and BBC Local Radio.
He can't remember at what point during Japan's seismic contest with South Africa he started Face-Timing his girlfriend, but it was the second half, when the underdogs were growling and threatening to take a bite out of the Boks.
In those moments, Finn Russell had one eye on the game and one eye on his phone. "At the start of the match some of the boys were in our team room watching it, but as the minutes went by, the word must have got out and more and more of them turned up.
"I was on my phone just outside the room and there'd a big roar and I'd go running round the corner to see Japan scoring. Then I'd go back to my Face Time and the boys would roar again and I'd go running again.
"When the last play came we were all glued to it. You're kinda cheering for Japan, just out of excitement. You're supporting them because they took a hell of a chance. I've huge respect for them. Not many teams would have had the confidence to do what they did."
You ask would he have gone for broke, as Japan did, or gone for the posts and the security of a draw and he says there's no way of knowing. You can't simulate something like that, he tells you. It's all in the moment. Have you got the nerve? You only know when the time comes. If it comes.
Russell isn't short of nerve, that's for sure. Not short of class either, but definitely not lacking in big-game mentality.
Anybody who saw the stand-off's game-winning touchline conversion at the death in Glasgow's Pro 12 semi-final with Ulster would testify to his coolness under pressure. Anybody who spoke to him in the aftermath, when he was still in his playing gear, would tell you that he's not one to get carried by such things.
That night, minutes after sending Scotstoun scatty with excitement, Russell had the demeanour of a boy who had just played some routine stuff with Stirling County or Falkirk or Ayr, the clubs that contributed in their own way to his journey to Glasgow and onwards to this World Cup.
| | | | |
| --- | --- | --- | --- |
| Wed, 23 Sept | v Japan | Kingsholm Stadium, Gloucester | 14:30 BST |
| Sun, 27 Sept | v United States | Elland Road, Leeds | 14:30 BST |
| Sat, 3 Oct | v South Africa | St James' Park, Newcastle | 16:45 BST |
| Sat, 10 Oct | v Samoa | St James' Park, Newcastle | 14:30 BST |
It's only when he talks about what he was doing at this time four years ago that you realise how far he has come.
"I've got used to doing press conferences now, but when I was at school I was shy about speaking in front of the class. I just wasn't good at it. I wasn't the sort of guy who could stand up and do presentations and stuff. I tended to say as little as possible. I got nervous, I almost over-thought it. I knew pretty early that university wasn't for me.
"Four years ago, during the last World Cup, I was working as an apprentice stonemason. That was me, Monday to Saturday, 7.30am to 4pm every day. On days like this, cold and wet, it was pretty rubbish. Other days I enjoyed it.
"I'll tell you a story. We did bits of work up by Gleneagles golf club; some stone work on one of the big houses overlooking the Queen's course. Gorgeous place it was. I remember I used to go into this bush over the back wall and find loads of golf balls and bring them home.
"Three or four weeks ago I played golf at Gleneagles on the Queen's course and I walked by that same house and that same bush and I was thinking how different my life is. It was actually quite strange. It was funny looking at the house from the course rather than looking at the course from the house. It's four years, but it doesn't feel like four years."
Never mind years, we're down to days and hours now before his first World Cup game, against rugby's new darlings, the Cherry Blossoms. Every casual onlooker has been utterly charmed by Japan's success. They're rugby's own Cinderella story.
In their attempt to end the fairytale, Scotland are now cast in the role of the wicked stepmother.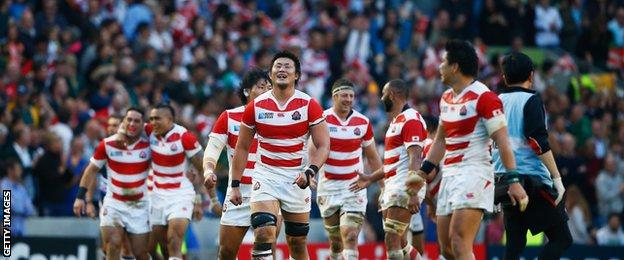 "I'm not surprised that Japan played so well against South Africa," says Russell. "I mean, three months ago I would have said South Africa were definitely going to win, but the more we watched Japan the more we thought that if they turn up on the day then they have a chance. And they turned up big-time. And we need to deal with that now.
"These teams haven't just come to participate, they've come to compete and win. They're not happy just to be here. Things have changed.
"What they've done might not yet have sunk in, but they'll be buzzing, they'll be loving the situation they're in, they'll be on a high. The media will be all over them, but I think they'll enjoy that.
"They have a really experienced coaching staff and they'll be ready to go again on Wednesday. I've no doubt about that."
Russell says he's ready to go right now. These past days have felt a bit like a gigantic house party that Scotland have listened to from the outside while gently tapping the window and asking to come in.
He's not content to sit and relax in their base camp, a country retreat in Gloucestershire. He rises early and tries to kill time. The other day he played a bit of golf. Another day he went to see an old mate of his, Murray McConnell, play for Nottingham at Bristol. Now he doesn't know what to do.
"Physio. Coffee. A bit of music. Another coffee. I'm not great at chilling out. I want to be busy. I just want Wednesday to come."
Not long to wait.
More from rugby:
Get World Cup alerts direct to your phone
Rugby World Cup 2015 schedule
For the latest rugby union news, follow@bbcrugbyunionon Twitter